Kappius 2-for-3 in Rocky Mountain Series
With his win Sunday at the third stop in the Rocky Mountain Endurance Series, Brady Kappius is two for three with two races to go. Pikes Peak Kappius won the Ridgeline Rampage in the hills of Castle Rock, Colorado, on Sunday, but not without challenges from the…
Heading out the door? Read this article on the new Outside+ app available now on iOS devices for members! Download the app.
With his win Sunday at the third stop in the Rocky Mountain Endurance Series, Brady Kappius is two for three with two races to go.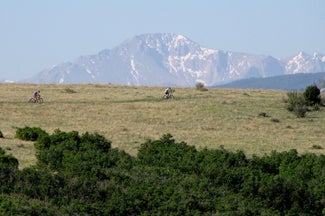 Kappius won the Ridgeline Rampage in the hills of Castle Rock, Colorado, on Sunday, but not without challenges from the competition and equipment. Each 10-mile lap offered views, flow and nearly 1,000 feet of vertical gain. Riders in the RME Ridgeline Rampage Marathon completed six laps, with the half-marathoners and junior riders completing three laps, and the Wrangle Sport and Wrangle Beginner fields completing two and one laps, respectively.
Kalan Beisel and fellow training buddy Kappius didn't waste any time establishing their positions at the front of the pack. Beisel, who won the second race of the series — The Front Range 60 — in May, attacked on the fifth lap and secured a solid lead over Kappius. However halfway through the last lap he flatted, and was caught.
"I was confident I had it. Then I heard that sound of death, and I knew it was a side wall," said Beisel.
Kappius, the winner of the first race of the series — the Voodoo Fire — had been battling his own compromised tire with a slow leak surfacing on the last lap. It was anyone's game.
Kappius ultimately took the win, blazing through the finish line with a time of 4:07:27 and 10 psi in the front, with Beisel taking second place with a time of 4:13:49 and rolling in on nothing but a rear rim. Kappius and Beisel destroyed the rest of the field, with third place nearly 20 minutes back.
In the women's marathon race Stacy Moller took the win with a time of 5:19:02. Sonya Bugbee was second just over two minutes behind.
There are two RME series races remaining this season: The Breckenridge 100 (or alternatively the B-68) on July 16, and the PV Cycle Derby on Sept. 4.
Check out the overall RME Series and event results here.