Levi Leipheimer Wins, But Suffers at Leadville
Levi Leipheimer and second-place finisher Jeremy Horgan-Kobelski both break Lance Armstrong's course record at the 2010 Leadville Trail 100.
Heading out the door? Read this article on the new Outside+ app available now on iOS devices for members! Download the app.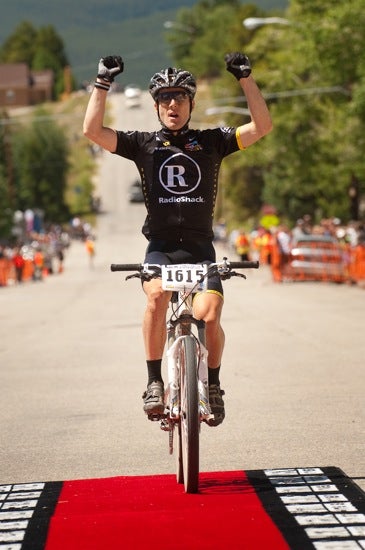 A fast course, favorable weather conditions and a blistering pace helped Levi Leipheimer crush by 12 minutes the Leadville Trail 100 course record set by his Radio Shack teammate Lance Armstrong last year.
The fast tempo also saw second-place finisher Jeremy Horgan-Kobelski (Subaru-Trek) top Armstrong's time by 3 minutes 30 seconds. Leipheimer stopped the clock at 6:16:37 and JHK at 6:25:21. Armstrong's time in 2009 was 6:28:50.
"That was just ridiculous. I don't know if I've suffered that much before," Leipheimer said moments after crossing the line in downtown Leadville, Colorado, elevation 10,200 feet.
Third place was cross-country national champion Todd Wells (Specialized Factory Racing). Wells finished in 6:30:31, just under 14 minutes behind Leipheimer. Six-time Leadville 100 winner Dave Weins (Topeak-Ergon) came across the line in fourth with Jeremiah Bishop (Cannondale Factory Racing) immediately behind in fifth. Wiens and Bishop crossed at 6:33:54.
After the race Wiens said he didn't have a watch on his bike to track his progress.
"The race felt fast," said Wiens, adding that the winning time of 6:16:37 was "smokin' fast. But the course was fast too" due to recent rains and riders packing the tracks.
Despite the machine-like efforts put out by some of America's top cyclists, the race wasn't without its mishaps. With a large group intact, Leipheimer missed a turn at the top of the Sugarloaf climb and was hit from behind by Wells.
"I was leading and I shouldn't have been and all of a sudden I thought there was a right turn and I hit my brakes," Leipheimer said. "Todd Wells hit me from behind pretty hard. I haven't been hit that hard for a long time."
The crash left Leipheimer, a past Tour de France podium finisher, on the dirt. It also took out spokes on Wells' front wheel about a third of the way into the race. But mountain bike legend and Wells' Specialized teammate Ned Overend gave up his wheel. That allowed Wells to catch up with a large leading group made up of, among others, Horgan-Kobelski, Leipheimer, Wiens, Bishop, Matt Shriver (Fort Lewis College), Tinker Juarez (Cannondale Factory Racing), Jay Henry (Tokyo Joe's) and Len Zanni (Honey Stinger).
"I almost wish I'd kept the wheel and pulled the plug," an exhausted Wells said jokingly post race.
Overend managed to ride the trashed wheel to the next feed zone where it took several minutes before he found a replacement. Even then, the new wheel rubbed on the brake for 70-some miles. Soon-to-be 55-year-old Deadly Nedly was still able to finish under eight hours, 1 hour 40 minutes off the winner.
The group stayed together until the bottom of the infamous Columbine, which tops out at 12,600 feet. That's where Horgan-Kobelski and Leipheimer gapped the bunch. Their battle against each other began after the turn around atop Columbine.
"I tried to keep it pretty close and catch up on the downhill," Horgan-Kobelski said after crossing the line. "But [Leipheimer] was strong from mile 85, 90 on. I had a fantastic race and couldn't have done any better. I'm really happy."
Rebecca Rusch (Specialized Factory Racing) topped her first-race win from last year by coming in at 7:47:35. She rolled over the course record by 11 minutes 17 seconds, which was 7:58:52 set in 1997 by four-time winner Lori Brandt. Until Rusch's win on Saturday, Brandt was the only woman to have broken the 8-hour barrier. The second-place woman on Saturday was Amanda Carey (Kenda-Felt) with a time of 8:12:54.
"That was one of my most painful days on a bike" said Rusch, who battled leg cramps in the latter stages of the race. "Up to Columbine Amanda was right on my tail. I kept trying to shake her, trying to shake her… I knew Columbine was the make-or-break and I think I got five minutes on the ascent a few on the descent and then I didn't look back."
As for LT100 first-timer Leipheimer, he said elevation on top of Columbine caused him to suffer. Post-race he said he may not have "respected" the difficulty of the race enough.
"I've been doing the road thing for so many years I wanted to do something different," he said. "Today I felt like everyone else out there; excited, nervous — going on an epic adventure. It was everything and more that I'd expected and dreamed of."
Leadville Trail 100 Photo Gallery
Top ten overall:
1. Levi LEIPHEIMER, Santa Rosa Ca, M3 in 6:37.2
2. Jeremy HORGAN-KOBELSKI, Boulder Co, M3 in 6:25:21.4
3. Todd WELLS, Durango Co, M3 in 6:30:31.1
4. David WIENS, Gunnison Co, M4 in 6:33:54.1
5. Jeremiah BISHOP, Harrisonburg Va, M3 in 6:33:54.4
6. Jay HENRY, Avon Co, M3 in 6:4in 6:51.4
7. Matt SHRIVER, Durango Co, M3 in 6:51:49.4
8. Alex GRANT, Salt Lake City Ut, M3 07:00:53.9
9. Gerry CODY, West Los Angeles Ca, M3 07:02:44.3
10. Stig SOMME, Denver Co, M3 07:07:34.1