Destination: Lost Coast, California
Singletrack designed by and for mountain bikers gives riders a reason to discover the Northern California coast near Shelter Cove.
Heading out the door? Read this article on the new Outside+ app available now on iOS devices for members! Download the app.
By Vicky Sama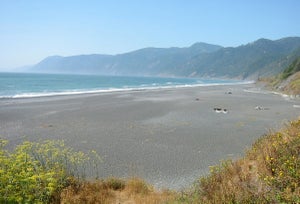 Mountain bikers are accustomed to sharing trails, but now they have one to call their own. Paradise Royale is a 14-mile singletrack loop on California's Lost Coast – a rugged and remote area 230 miles north of San Francisco.
"This is the first trail on public lands exclusively for mountain bikers in the state, if not in the country," says Joey Klein, master trail builder at the International Mountain Bicycling Association.
Paradise Royale is in the King Range National Conservation Area, in one of the most undeveloped stretches of coastline in the lower 48. The mountains jut out of the Pacific like knives and drop straight down to lush river valleys that are often compared to the Congo because of their dense vegetation. The trail is hard to reach but worth the trip. Cyclists can ride mountains in the morning and surf with sea lions in the afternoon.
To start, ride clockwise. Paradise Royale winds through groves of Madrone trees, identified by their orange bark that peels off like paper. The trail then drops downhill for two miles to the first of two creek crossings. After the creek, prepare for a sustained climb through tight switchbacks. It's technical but do-able by any fit rider. Atop this ridge is a small meadow with an ocean view – a perfect spot for a snack. There's a bit more climbing before the thrilling downhill that swoops and flows over tabletops, jumps and bermed bottom turns. Dare devils can launch air, while those wanting to keep their wheels on the ground can easily glide past the tricks.
The loop takes under two hours. Do a second loop if you want more time in the saddle. Some riders do it counter-clockwise but this forces you to climb the best descents. No doubt, Paradise Royale is a skillfully engineered piece of singletrack – and it will leave you longing for more.
But wait, more trail is coming. This fall, Klein will flag an eight-mile extension. Plans are also underway for a small free-ride park at the nearby Tolkan Campground.
If you go: Shelter Cove, California
Must-do trail: The only legal bike trail: Paradise Royale, a 14-mile singletrack loop with challenging switchback climbs and bermed descents. Short, yes-but oh, so sweet.
Bike shop: None in town, but you can pick up a spare tube at Allsport & Toys in nearby Garberville.
Best map: The Paradise Royale trail map is online at www.blm.gov/ca/st/en/fo/arcata/kingrange/mountain_bike_trail.html.
Best grub: The Cove Restaurant open Thursday to Sunday. Call for reservations: (707) 986-1197.
Best coffee: The Fish Tank, (near the north end of the airport).
Riding season: March to November. Avoid the trail in heavy rain.
Getting there: U.S. Highway 101 to the Redway exit. Follow signs to Shelter Cove. About 20 miles past Redway, turn right onto King Peak Road (dirt road). Go approximately two miles to Paradise Royale trailhead.
Lodging: Pitch a tent seaside in Shelter Cove or stay at one of the beach hotels such as the Inn of the Lost Coast. Note: most hotels rooms will cost $130/night or more.
Other: Surf, dive for abalone, fish or crack a cold one and enjoy the Pacific sunset.
Web site: King Range National Conservation Area www.blm.gov/ca/st/en/fo/arcata/kingrange/mountain_bike_trail.html