Luna's Pendrel is Top-Ranked XC Racer
Catharine Pendrel on the trail of the leaders in South Africa. Photo: Michal Cerveny ©Tamarac Along with going into the cross-country season as the overall winner of the 2010 World Cup, Canadian Catharine Pendrel is now the top-ranked racer in the world. After round 1 of the 2011 World Cup…
Heading out the door? Read this article on the new Outside+ app available now on iOS devices for members! Download the app.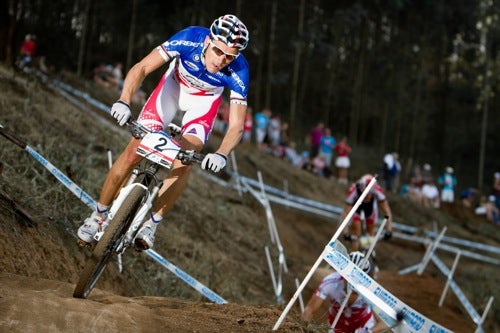 Along with going into the cross-country season as the overall winner of the 2010 World Cup, Canadian Catharine Pendrel is now the top-ranked racer in the world.
After round 1 of the 2011 World Cup in South Africa, where Pendrel finished fourth, the Luna Pro Team rider dislodged Elisabeth Osl from the number-one spot in the Internatinoal Cycling Union's rankings. After 20 months as the rankings leader, Osl, who hails from Austria and finished 10th in South Africa, is now six points behind Pendrel.
2010 XC world champion Maja Wloszczowska of Poland is in third. The next rankings won't be published until after the World Cup in Dalby Forest, UK, May 21-22..
Meanwhile, Jaroslav Kulhavy of the Czech Republic remains number one in the elite men's rankings. The Specialized rider managed to defend his leadership when he took over first place after his silver medal at the World Championships. Kulhavy is ahead of Scott-Swisspower rider Nino Schurter by 164 points. In third place is the Orbea rider Julien Absalon.
As far as the Olympic qualification system by nation, Switzerland is still leading in both women's and men's rankings.
Following Switzerland in the men's ranking it's the Czech Republic followed by France, Spain and Germany. While the top 4 are fairly secure, Germany has to pay attention to the U.S. and Italy. The first five nations in the men's category will get three spots for London, while those down to13th place are allowed to send two riders. To secure at least one spot, the nation has to be ranked a minimum of 24th.
The women's ranking sees the U.S., Canada, Poland, Germany, Slovenia, France and Austria on top. Those countries are allowed to send two riders to London next year, but Russia and Norway are close. In the women's category, two spots are given up to eighth place, while those up to 18th place are allowed to send only one rider to the Olympics.
The qualification period runs from May 23, 2010 to May 22, 2011. Points of the three best  placed riders from every country are added.