Crankbrothers Highline
The Highline is the best Crankbrothers dropper post yet. It affords the most ergonomic lever we've tried, but it has limited size options.
Weight
580 grams
Price
$350
Brand
Crankbrothers
---
Heading out the door? Read this article on the new Outside+ app available now on iOS devices for members! Download the app.
Dropper posts are here to stay in the mountain bike world — even World Cup racers are running them for extra-technical tracks. New brands are offering more options, but Crankbrothers is not a first-timer in this segment, having licensed one of the original dropper designs, Maverick's Speedball, way back when. After more than three months of testing, the Highline seems to be the best, most reliable Crankbrothers post yet.
Like a KS LEV Integra post, the Highline runs a shifter cable to actuate the cartridge in the post, which routes internally through the frame. However, unlike the KS, which has an air cartridge that can be pressurized to adjust dropper speed, the Highline is entirely hydraulic and speed isn't adjustable. We were satisfied with the post's speed and smoothness, but if you like a particularly fast rebound, the lack of adjustability may be a knock against the Highline.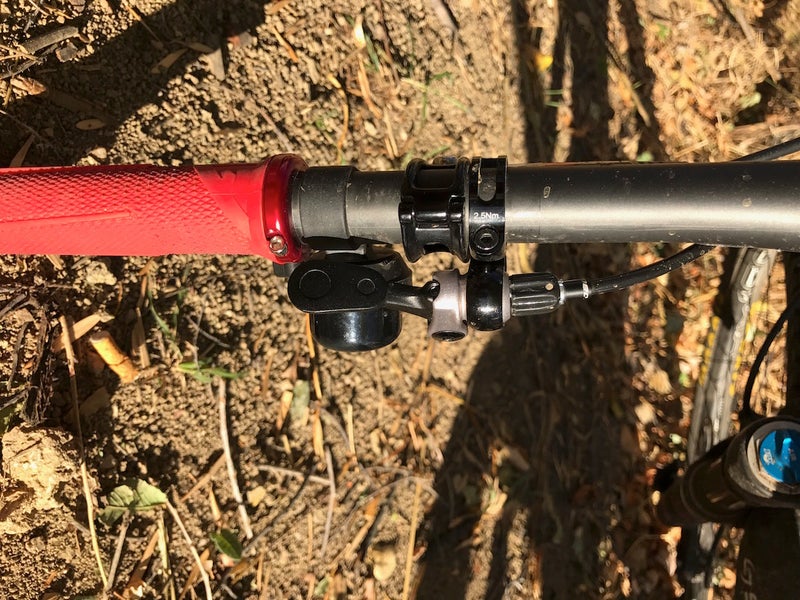 Priced at $350 and weighing 580 grams, the Highline is quite comparable to the LEV. But in one very noticeable way, Crankbrothers has the edge. The Highline lever is arguably the best dropper post button we've used so far. Designed with an ingenious ball-and-socket mount, you can position it in nearly limitless ways: above or below the bar, in or out to accommodate a bell (like ours). The lever is large and wide, affording ample leverage, and is easy to find on a bumpy trail.
In other respects, the Highline is competitive. It was easy to install and adjust. After months of riding, there is only minor seat wiggle, which is not noticeable while riding. The lever action remains relatively smooth.
While our overall experience with the Crankbrothers Highline has been positive, there are a few drawbacks (not flaws per se) that might turn you off. Crankbrothers doesn't offer an external-routed cable option on this post, so your frame has to accept a dropper line. The post diameter is limited to 30.9mm and 31.6mm sizes. These are very common for mountain bikes, but know that KS offers 27.2mm and 34.9mm posts. Also notable: The Highline's only travel option is 125mm, while the LEV is offered in 100mm, 125mm, and 150mm travel lengths.
What about RockShox's ubiquitous Reverb? Priced at $471 and distinguished by its full-hydraulic lever and cable, there isn't a direct comparison between a Highline and a Reverb. However, if you've got an extra $121 to burn and don't mind bleeding the hydraulics periodically, RockShox offers an array of sizes, travel lengths, as well as an external-cable option.
So if your old dropper is tired or you want to join the party that is modern mountain bike technology, measure first. Will the seatpost diameter work? Do you need more or less than 125mm travel? Can you route an internal cable? If the Highline passes those tests, it's a fine option if you want that great ergonomic lever or aren't keen on RockShox's full-hydraulic Reverb.