Update: Rock Shox's 5.5 inches for 29ers
Update: We thought this 140mm fork was worthy of replaying after Sea Otter. What's so special about it? It's 5.5 inches of travel for 29er rigs.
Heading out the door? Read this article on the new Outside+ app available now on iOS devices for members! Download the app.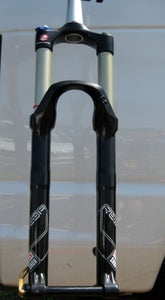 The Singletrack.com crew saw a ton of new gear at Sea Otter, but one item in particular is worth repeating: A single-crown Rock Shox fork.
Big deal, you say? Well, yes, big as in 140mm. The secret fork was seen tucked away in the Niner booth with its 140mm of travel, a tapered steerer and 20mm thru-axle. That's right, it was spotted in the Niner booth.  Hmmm…
Update:  Our, umm, plan worked.  The oldest trick in the book, publishing inaccurate information on "hush-hush" product, apparently still makes media liaisons sing like birds. Ha!
So, ignore the guesstimations we previously made, here's the new, official story:
This fork is in fact a Reba.  It comes stock with a maximum 140mm of travel, which can be reduced in 10mm increments via internal RS spacers.  The 20mm thru-axle is the only drop-out option, as is the tapered steerer; no quick release or 1 1/8″ versions will be available.  The fork we saw did have a lock-out, and Rock Shox didn't mention anything about that going away, so we're going to assume that will be included with the production fork.  Speaking of production, they are still keeping quiet on availability, and if there will be any changes before it hits the market.
We were also told that we will get a chance to ride this fork at the Rock Shox demo next month in Durango, so stay posted.