Down and Dirty: Interbike's Outdoor Demo
Without further ado, here's some nuts and bolts — and the fun stuff — from day-one of Interbike's Outdoor Demo in Bootleg Canyon outside Las Vegas..
Heading out the door? Read this article on the new Outside+ app available now on iOS devices for members! Download the app.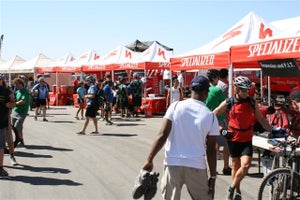 Blustery winds and a subsequent 10- to 15-degree cool down from Sunday's century-mark were welcomed by exhibitors at Interbike's Outdoor Demo in Bootleg Canyon outside Las Vegas on Monday.
Dozens of manufacturers, big displays and scores of attendees indicated that things are pretty good in the bicycle industry. While the Outdoor Demo appeared healthy there is a definite, albeit low, grumble that the indoor show, which starts Wednesday morning, may offer a different story.
More major manufacturers – Felt, Giant, GT and Schwinn – join the likes of Cannondale, Trek, Yeti, Santa Cruz and others, who for the last few years have sat out. Stay tuned for what actually transpires on Wednesday.
So without further ado, here's the fun stuff from day-one of the Outdoor Demo.
Crankbrothers
The team from Laguna Beach, California has been busy this summer dreaming up new color schemes and getting its wheels out to niche-brand bike manufacturers.
The Cobalt and Iodine wheelsets are currently available in limited edition colors on both Ibis and Titus bikes. The brand's pedal line takes on all five of SRAM's Design Your Ride colors for 2010 in an effort to give riders further control over the look of their bikes.
Jason First, crankbrothers' athlete liaison and marketing team member spent a month this summer in the Rocky Mountain region, where every shop asked him for a 29er wheel. That wheel was already in the works and it will be ready for sale this November. The new wheel uses the same rim extrusion, hubs and extended nipples as the Cobalt wheel, but with a longer 1.6mm triple butted spoke and larger diameter hoop. The wheels are 9mm QR and 15QR compatible, weigh a claimed 1720-grams and cost $950, the same price as the 26-inch Cobalt
Felt Bicycles
The first question for Felt was: Where is its new cross-country race full-suspension platform? We saw prototypes at the Sea Otter Classic and were hoping to see the real thing at Interbike, maybe even ride it. Alas it's still in prototype form and only available to sponsored racers and shop employees.
"It's a place we know we want to be," said Andy Holmes, Felt's mountain bike product manager. "It's all proven technology, but we're still tinkering to make sure we hit our target square on its head."
Holmes was happy to show us the new Six LTD frame, which is made using the same Ultra Hybrid Carbon with Nano Resin as the brand's Tour de France-proven F1 and AR1 frames. A medium frame tips the scale at just 1050-grams, according to Holmes, and the complete bike, built with a full Shimano XTR group and RockShox Sid World Cup weighs a claimed 19-pounds. This complete 26-inch hardtail runs around $7,000.
At a slightly more attainable level is the Six Team, which is built using the same mold, but with a less expensive material and weighs a claimed 1,200-grams. The complete bike built with a SRAM X.0, Truvativ Noir group and Fulcrum's Red Metal 1 wheels costs $5,000. The complete bike weighs a claimed 20-pounds
Felt's Nine Team, easily the hottest mountain bike in the company's tent on Monday, is in the same price range, built out of the same material using most of the same components, but with larger 29-inch wheels. The Nine Team isn't far behind in the weight game at 22-pounds. A recurring theme: Hardtails made sexy again with big wheels.
Felt continues with the trend of mirror image 26- and 29-inch carbon hardtails at the $3,000 price point with the Six and Nine Elite models. It's an interesting way to do it. The mirror image choice will surely be fun for the consumer to test ride back to back, but it might be tough on the dealer, who has to make the right choice of what to stock.
The attention to detail on the Felt line is top notch, highlighted on these bikes by their bolt on carbon chain watchers and replaceable carbon and Kevlar belly plates. Other details include matching alloy cable ferules and housing.
Yeti Cycles
Yeti doesn't have a 29er – yet, but it does have the mirror image choice in its new ASR 5 trail bike frame. Consumers have a choice between the ASR 5 Carbon and the ASR 5 Alloy. Both bikes share the same carbon rear end, which is 50-percent stiffer than the old ASR's carbon rear end, but differ by front end material choice.
The ASR 5 Carbon, obviously, has a carbon front end. It weighs 4.75-pounds and costs $2,450. The ASR 5 Alloy, with a 7005-series front triangle, weighs 5.2-pounds and carries two prices $1,900 in a solid color and $2,000 in Yeti's turquoise team paint.
Both new ASR 5s share the same feature set, which includes a 1.125- to 1.5-inch headtube, 5-inches of travel and the option of a standard 135mm quick release rear end or the new 142x12mm Syntace thru-axle standard. The bike's rear dropouts utilize an interchangeable chip system to switch between the two standards.
Why another standard you may ask? Peter Zawistowski, one of Yeti's two in-house engineers, says that the quick wheel changes the Syntace system affords are what sold Yeti on the technology. Since the dropouts are stepped, the hub quickly nestles in when re-inserting the wheel on the trail or in the stand.
You may also be wondering where the ASR 5 fits in Yeti's line. Zawistowski says that it rides much more like the now discontinued 4-inch travel ASR, but with an extra inch of travel. Its leverage ratio provides a stiffer feel throughout the stroke than the 575, especially mid-stroke, making it an efficient pedaler. Yeti will continue to produce its ASR C, the carbon 4-inch travel cross-country racer with an integrated seatmast.
Yeti's newest world championship winning bike is its DJ, which just won the 4-cross championship in Canberra, Australia under Yeti team rider Jared Graves. The Yeti crew said that after a season racing BMX in 2008, due to the Olympics, Graves came back to his mountain bike and found it too flexible, especially in out-of-the-gate efforts. The alloy bike shares the tapered head tube of the ASR 5 alloy and features burly aluminum tubes. The DJ has vertical sliding dropouts that allow for chainstay adjustment from 395mm to 410mm and the ability to tension the chain in a single speed configuration.
Jamis
We'll look deeper into Jamis' line in a separate story, specifically its 650b-wheeled bike, but the manufacturer also has a new carbon 29er called the D29, which is available in two models, Team and Pro. The bikes hit the respective price points of $5,475 and $3,475.
To be honest the Ritchey WCS 10-degree sweep riser bar found on the Team is what pulled us in for a closer look of the D29. The bar is wide with a big sweep, but without rise making it perfect for use on the already tall front ends associated with the big-wheeled bikes. Jamis puts forth quite an effort with the D29 Team by incorporating BB30 and FSA's new compact 386 mountain double K-Force Light crankset.
While we've just begun to skim the surface of what's new for 2010, it's all we have for now. Be sure to check back to Singletrack.com and VeloNews.com everyday this week for reports from the Outdoor Demo and when we go indoors on Wednesday.
[imagebrowser id=29]