First ride: Giant Anthem X 29er W
The first women's-specific full-suspension 29er from Giant is a competitive bike at a competitive price
Heading out the door? Read this article on the new Outside+ app available now on iOS devices for members! Download the app.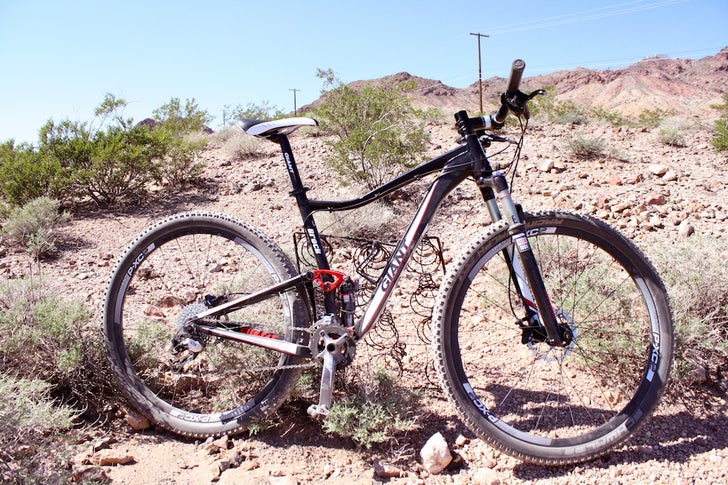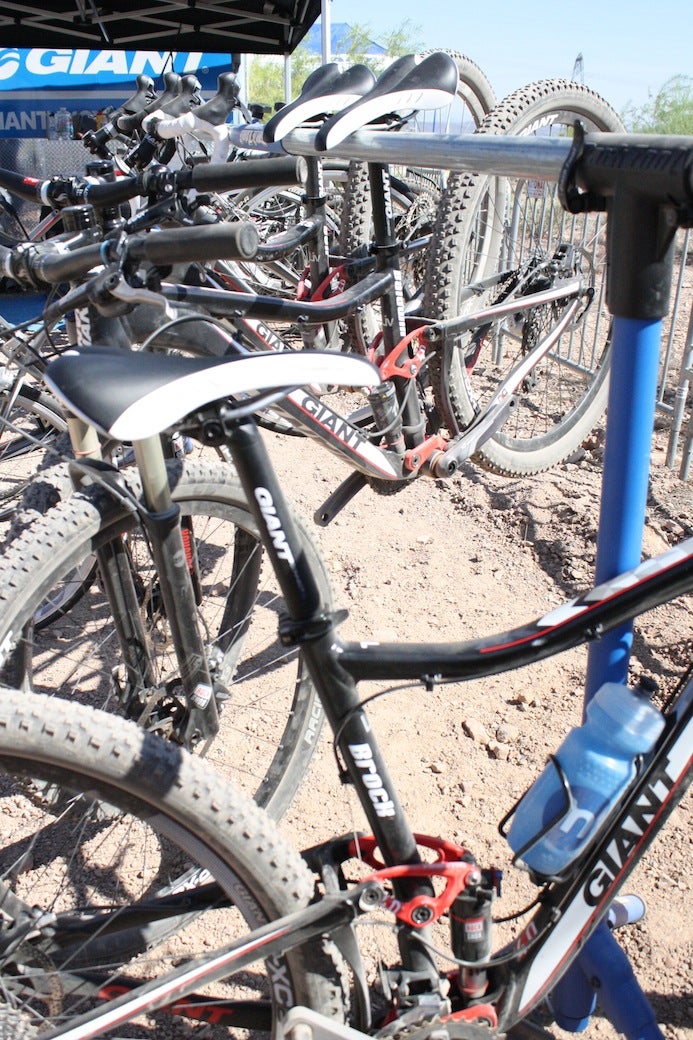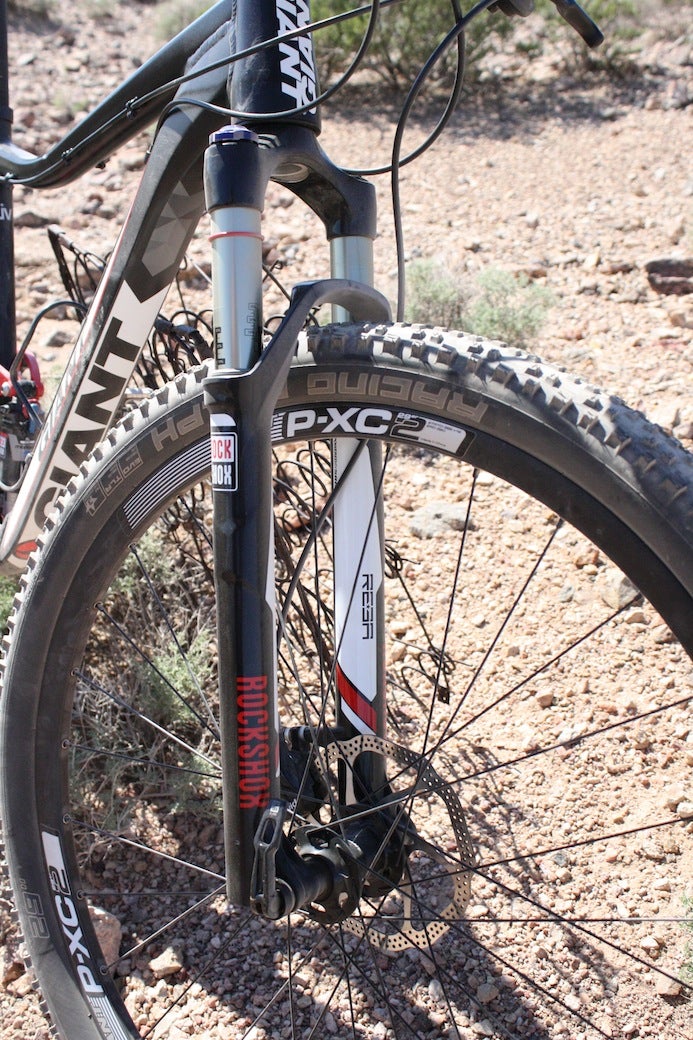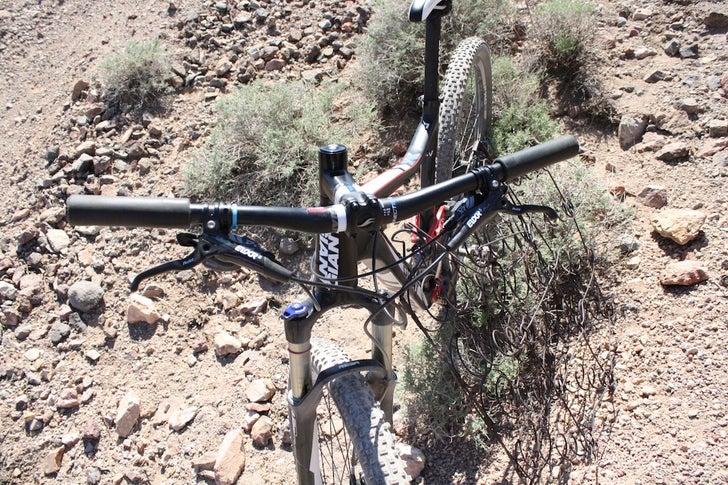 The lowdown: The first women's-specific dual suspension 29er
Heading to the Interbike Outdoor Demo, I knew that I madly wanted to swing my leg over a Giant Anthem X 29er W.
Leading the charge in women's-specific full-suspension 29ers, Giant used the popular Anthem X as a model for the bike billed as the world's first. Giant, and more specifically Liv/Giant, the women's segment, is devoted to being cutting-edge in women's cycling, in tune with what women want.
Giant had already won me over with a Liv/Giant booth at Outdoor Demo, dedicated solely to women's bikes, and the fact that their bars are in front of their competition's in women's mountain bikes at the moment since the release of the Anthem X 29er W. Already somewhat smitten, I set out on Brock.
Before I got everything dialed in, I didn't really know what to think. It felt quite upright, and after just getting off a ride on a Cannondale Scalpel, I didn't find it quite as responsive. Once I made a few adjustments, I began to feel at one with Brock.
For the first in women's dualie 29ers, it definitely didn't ride like a first attempt, or like Giant had rushed the arms race to be the first.
It is intended to be a versatile bike, good both for racing and cross-country riding. No doubt it would be comfortable for long days in the saddle, but is still aggressive enough to slither gracefully through trees and over rocks. Kelli Emmet rides one on the World Cup circuit, which answers the question of competitive caliber.
Emmett was part of the design and development of the bike, as well, and her input helped Giant create an aggressive frame designed specifically for women's needs.
At first appearance, the major difference between the men's and women's Anthem models is the hydroformed top tube on the women's bike, to give a lower stand-over height, and, in turn, more confidence on technical trails. Often curved top and down tubes kill the aesthetic in the women's bikes, in my opinion, but the Anthem is a tough-looking bike and is feminine without being powder-puff.
Another divergence from the men's geometries is the shorter top tube and a more dramatic angle of the seat tube, which address women's lower center of gravity.
All geometry choices follow the Liv/Giant philosophy that fit, form and function (what Liv/Giant refers to as "3F") are inseparable, and all accepted standards should be taken to the drawing board to address women's needs.
The 170mm cranks on most sizes are also shorter to address toe overlap. The tapered steerer tube is designed for precise and responsive steering. With 4 cm of rear Maestro Suspension, the Anthem X 29 is a smooth ride.
Based on my first ride, I'd say the Anthem X 29 W would be a solid choice for a woman looking for only one mountain bike, but mixes technical singletrack with endurance riding, and is looking for a balance of aggressive and comfortable. It's a lot of bike for $2,975 for the lighter, more advanced model 0, and $1,925 for the entry-level model 4.
Built, the 0 model tends to be just over 26 lbs, while the 4 is closer to 28 lbs.
With sizes ranging from 14.5 (XS) to 20 (L), few small women won't be able to fit them. I am under 5'9″ and I rode a large.
The women's Anthem is only available in aluminum, unlike the men's Anthem X Advanced 29er, which allows Giant to offer the extra-small sizes to a smaller audience (no pun intended) in a reasonable price range.
That said, the popularity of the bike suggests that the audience is only small in stature. Giant claims that the demand has been so high that the bikes barely hit the floor due to back-orders. It isn't clear how long it will be until the other major brands have a women's full-suspension 29er, but Giant's answer to the demand is a solid choice, especially for small women who couldn't fit men's sizes.
---
Emily spent her infancy in the back of a women's team van while the team built wheels around her. She spent part of her pre-teen years in Europe following the major European mountain, road and gravity races and touring cycling product factories. College was the first time she lived in a home without a frame building shop in her garage or basement. Her favorite style of riding is getting lost in singletrack trail networks and taking her time finding her way back.