Gear&Tech: Birtch's Bitchin' Niner Singlespeed
Slideshow: Consider adding Dejay Birtch to your list of the "lucky cyclist." Birtch manages and races for the Niner-Ergon mountain bike team, riding and traveling for most of the summer with an Air 9 Carbon.
Heading out the door? Read this article on the new Outside+ app available now on iOS devices for members! Download the app.
[album id=57 template=extend]
Some guys have all the luck. You know the type. The person enjoys a seemingly charmed existence of riding, traveling, racing and generally living the good life 24-7 while the rest of us punch clocks or keyboards, waiting for the weekend.
If he's not on it already, consider adding Dejay Birtch to your list of the lucky. He manages and races for the Niner-Ergon mountain bike team, riding and traveling for most of the summer.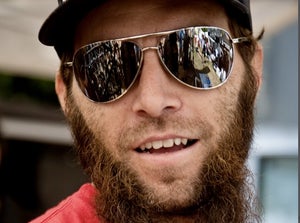 "I've been on the road since Sea Otter," said Birtch in the middle of a month-long Colorado stopover.
Birtch was recently in the Rockies for upcoming events, including the national championships weekend in Sol Vista, Colorado, where he collected a national title in the Cat 1 30-39 Super D. Birtch is also a singlespeed national champion.
"It's pretty good, man," said Birtch.. "By no means am I complaining, but there's days when the work has to get done. But for the most part it's on my own terms and I do what I want, when I want."
Of course, more often than not people make their own luck. Along those lines, Birtch has certainly blazed his own trail in the circles of the cycling world. Starting a few years back with the Tucson-based inflation company Genuine Innovations, he long ago laid the foundation for the nomadic life of riding and traveling, and hasn't looked back. Birtch still resides in Tucson during the off-season, but he's usually on the road spreading the word about Niner Bikes.
One Light Bike
Dejay Birtch rides a Niner Air 9 Carbon. Marking Niner's first foray into carbon fiber, the California-based company turned heads when it introduced this lightweight frame last fall (Check it out). It's loaded with sweet details including an eccentric bottom bracket and interchangeable rear dropouts for either geared or singlespeed setup.
Naturally, Birtch has his bike set up as a singlespeed with a rigid Niner carbon fork. All dressed up with Stan's wheels, a Rotor 3D crankset, Salsa handlebar and Ergon GR2 grips, his race rig weighs just 17.8 pounds. Interestingly, he's actually using a Rotor Q-Ring oval-shaped chainring.
"I'm always trying something different and new, and you listen and read whatever, and get intrigued by what it may offer," said Birtch about the Q-Ring chainring. "Just like all the other rings out there that they make for mountain and road, it's to help eliminate the dead spot on top. For singlespeeding, that's a pretty vital thing to eliminate if you can, especially torquing through some slow moving technical stuff, if you can just throw the pedal over the top that much quicker then you're going to be better off," Birtch explained.
Of course, an oval chainring on a bike without a derailleur or chain tensioner means that the chain becomes alternately slack and tight as it rolls over the chainring. Birtch set his up so that it's tight at three o'clock in the pedal stroke, and loose when the cranks are vertical. "At the loosest spot, there's more chain wrapped around the chainring – there's better contact so it's less likely to fall off," said Birtch. "I've actually never had it fall off until just last weekend, and that was because I actually went to jump this double thing, and actually cased it on the other side and it spun my eccentric therefore loosening my chain considerably. It wasn't anything's fault except my poor riding technique."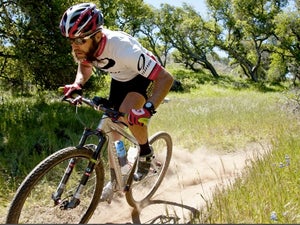 Birtch digs the Ergon grips. "I've been on the Ergon program for four years now," he said. "The grips help a lot. I do a lot of longer endurance style races (and rides, for that matter). Just the little bit of flex in the paddle part really saves the wrist. Actually before I switched to those I had an elbow issue that pretty much went away once I started riding those," said Birtch. "Especially running rigid a lot of the time as well, that little extra suspension in the grips helps."
Depending on the course or terrain of the day, Birtch sometimes installs a DT Swiss 100mm suspension fork.
"Just depending on the course or if I want to increase the little bit of fun factor," he said. "You ride a rigid fork for three weeks straight then throw a suspension fork on and everything gets drastically easier."
Just as he sometimes swaps forks, Birtch is not above riding a geared bike now and then. He's got a Jet 9 set up as a 1×10 for super D races. "It seems to be a good weapon for the courses," he said. "It's a fun bike."
Finally, Birtch commented on the Continental Race King 29er tires. The German company's rubber is increasingly common among singlespeed 29er riders.
"They're working out pretty good, really fast rolling," said Birtch. "I just started riding them this year, and living in Tucson where there's a fair amount of kitty litter on the trail, my first thought was, 'I'm gonna die on these tires,' because the profile's so round. But they actually hook up quite well, and they're very predictable actually," he added.
With only three sidewall cuts since December, Birtch said he feels like they're holding up well given the amount of racing and harsh desert riding that he does.
What's Next?
When we asked what's on the horizon, Birtch said it will likely be more being on the road and riding.
"I'd like to elevate the Niner team a little bit more. I have visions of promoting a larger scale grassroots program under Niner, so that might entail a larger workload in the future," he said.
For a guy that makes a living out of traveling and riding, it doesn't sound so bad.
"Event-wise, you're always kind of doing the same thing over and over again, but going out and hitting some new trails is always great," Birtch said.
Sounds great to us.