Goin' Down: 2010 Downhill Showcase from Interbike
Check out the lines of 20 big-hit bombers in a slideshow from the rocky trails and bright lights of Interbike 2009. What was the take-away from Vegas? Options, options, options.
Heading out the door? Read this article on the new Outside+ app available now on iOS devices for members! Download the app.
By Seth Lightcap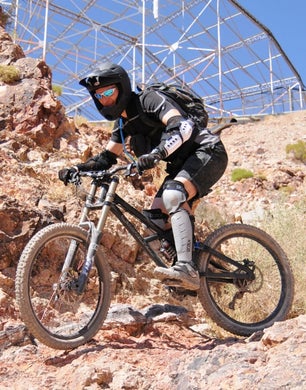 With the viral news from Interbike 2009 focused thus far on XC action like twitchy 29ers and svelte carbon hardtails, it's high time to switch up the script and report back on the latest advancements in the freeride and downhill scenes.
I took up the task of bringing back the gravity news in a peanut butter – not popcorn – fashion. So open your eyes wide, as I have updates and images from 40 sick sleds to spread eyelid to eyelid.
Freeride and Slopestyle
Now both legitimate market segments, there was a solid array of freeride and slopestyle bikes on display at Interbike. The ever-evolving "freeride" moniker was typically slapped on frames with seven inches of rear travel, slightly steeper angles than your average downhill rig (67 degree head tube and 69-75 degree seat tube), and an overall geometry best paired with a seven-inch, single-crown fork.
The design intention of these plush-but-maneuverable bikes is to be capable of sending serious hucks yet keep you balanced and pedaling tough over dental-floss-thin skinnys and poppy jump take-offs – two challenges where a raked DH frame with a boat-load of sag doesn't hang.
Unique new freeride rigs that collected drool included Trek's Scratch, Giant's redesigned Faith, Santa Cruz's Driver 8, Ibis' Mojo HD and Lenz's PBJ 29 – the first ever seven-inch freeride 29er.
A BIGGER SHAFT
Another new development in the DH world is Fox Racing's debut of the DHX RC4 rear shock. The RC4 features a larger diameter damper shaft and separate knobs for both high speed and low speed compression damping.
The result? Overall better compression damping, and hence, a more stable platform that's less prone to bucking than the old DHX 5.0. Most of the top tier DH bikes will offer RC4 this coming season.
The slopestyle bike designs ran the gamut from obviously dirt-jump specific geometries to freeride-like geometries with a lowered standover height. Built to huck and whip, these SS frames were lighter than their freeride brethren and packing less travel, some as little as four inches, but most with six.
Intense's Slopestyle, Banshee's Wildcard, Rocky Mountain's Slayer SS, Scott's Voltage, Commencal's Absolut SX and Black Market's Kill Switch were a few of the hot slopestyle bikes on hand.
Downhill Developments
The downhill scene was defined, as usual, by World Cup winning/proven frame designs – i.e. uber-stable suspension platforms that are as stripped as they can get and still hold down 8-inches plus of stiff rear travel. Average geometries seem to remain unchanged with most of the DH race rigs flaunting 65 degree head tubes and 17.5 in chainstays. Seat tube angles varied the most with some frames coming in slack at 58 degrees, while others kept your saddle cocked higher, like Santa Cruz's V-10 which sports a 71-degree seat-tube angle.
Trek's revamped Session 88 features eight inches of plush travel courtesy of Fox's new DHX RC4 rear shock. Photo by Seth Lightcap

One of the notable improvements in newly designed DH bikes was the potential to slightly customize the geometry of your cockpit. Adjustable rear travel was the least of it, as head tube angle, BB height, chain stay length and wheelbase were adjustable on some designs.

The means of adjusting the dimensions ranged from ingenious linkage repositioning such as that featured on Evil's Revolt, to multiple shock mount positions like the Intense 951, or shimmed pinch-bolted head tubes found on the Revolt and the Commencal Supreme DH. Expect to see more and more freeride and downhill frames to offer such plus-minus, one-degree-or-inch-variable geometries, as riders should flock to it. Who doesn't like options?

New-and-improved downhill designs that were debuted included Intense's 951, Yeti's Three Zero Three, Evil's Revolt, Commencal's Supreme DH and Knolly's Podium.

The Showcase

Ok, enough blah, blah, blah. Let's get to the pretty pixels of the sexy top tubes and unique pivot positions on the latest downhill rigs spied at Interbike 2009. Here are more than 20 downhill frames to gawk at.

Check out another huge slideshow featuring freeride and slopestyle rigs.

[imagebrowser id=33]