Interbike 2010: New(ish) Players on the 29er Field
Slideshow: Singletrack.com's Caley Fretz hit Interbike's Outdoor Dirt Demo hard and found that Yeti, Scott and Breezer are now in the big-wheeled game with their new 29er hardtails. Orbea has refined its offering in the category.
Heading out the door? Read this article on the new Outside+ app available now on iOS devices for members! Download the app.
By Caley Fretz
[album id=90 template=extend]
29ers are no longer the novelty item or 'next big thing' of Interbikes past. They are undeniably here to stay, and the race has changed from one of introduction to one of refinement.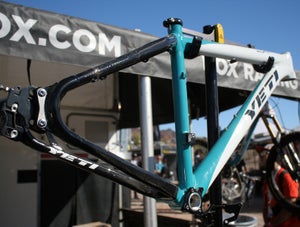 I took some time at the Interbike Outdoor Demo to take a look at a few companies that weren't 29er pioneers, but have taken a measured and insightful approach to building their own big-wheeled hardtails, reflecting their own concept of the ideal in their geometry and engineering choices.
Yeti Big Top
Yeti has a long history of race-bred bikes, but with the Big Top the company set out to create a bike that was just as fun to ride as it was fast. The result is a lesson in contradiction to the point of balance. (Check out the Singletrack.com Big Top video from Sea Otter 2010.)
The geometry, which includes a relatively slack 70-degree head tube angle, tips undeniably away from the "race" end of the spectrum in favor of a bit more versatility. But a springy carbon rear triangle, race-worthy parts spec and competitive weight tip the scale back towards sprightly.
The Big Top seems fit for anyone equally unsure of their own focus, which seems to be just about everyone.
As with 29ers everywhere, short chain stays were a primary goal with the Big Top. Yeti uses a direct mount front derailleur to add a bit more space, allowing them to drop the stays down to 17.1 inch — the shortest of the four bikes I checked out. Yeti uses an increasingly popular 1.5-1.125 tapered head tube to stiffen up the front end as well.
In a further nod to versatility, Yeti designed the Big Top with replaceable dropouts and the ability to swap between geared and single (sliding dropout) setups. The frame also includes a removable ISCG chain guard mount, making it perfect for a 1×1, 1×9 or 1×10 setup.
The singlespeed dropouts are an extra $125 on top of the $1,100 frame itself, and a complete bike with SRAM X.9-range build can be had for $2,750. Yeti also sells an $1,800 frame, Cane Creek headset, and Fox fork combo.
Rolling in from my Outdoor Demo test ride, where I managed to not eat it into the pile of rock razors that is Bootleg Canyon, I ran into Yeti demo guy (and the former president of my own collegiate cycling team) Nick Truitt. He uttered a quick string of words that seems to sum up the Big Top better than I've been able to in a few hundred: "It's like a big, fun BMX bike."
If that's Yeti's goal, they hit the nail on the head.
Orbea Alma 29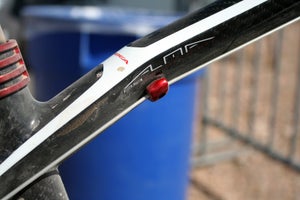 Spanish manufacturer Orbea has actually been making a carbon 29er for longer than just about anyone, but the previous version of their big-wheeled Alma was light on frame sizes (18 inch only), which limited their spread. The new Alma 29, like the Alma it is replacing, is a thoroughbred designed with racing in mind. Singletrack.com covered the new Alma earlier this year, so I won't re-hash all the details, but thought it important to note a few new developments.
Most importantly, the Alma 29 will be available at a much lower price point in the coming months with the addition of an aluminum model to the lineup. Same race-bred geometry, just a whole lot cheaper. Orbea says the new hydroformed aluminum bikes will be available mid-October and will start at $1,699 built up.
We also have word that the first carbon Alma 29's shipped last week, and should be available as I type. The carbon version will start with a SRAM X.9 build (as in the gallery below) at $3,199.
Scott Scale 29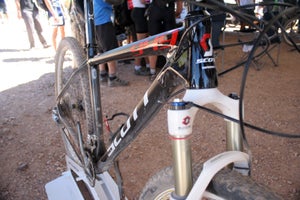 Scott is just now jumping into the world of 29ers, but they appear to have done their homework. As usual, they've debuted a stunningly light product — the frame is guaranteed to be less than 949 grams for the top-of-the-line version — as well as taking geometry and design cues from more established frames.
The Scale 29 RC frame includes a BB92 bottom bracket, allowing for super wide down and seat tubes, which Scott says are 25 grams lighter and 20 percent stiffer than last year's Scale. The top, head and down tubes are molded as a single unit (Scott calls it the Integrated Molding Process), which cuts another 15 grams also increases lateral stiffness. Scott didn't take any risks with geometry, sticking to a the usual 71 degree head angle, short stays and sloping top tube.
Scott's old 26-inch Scale included an extra bend in the chain stays, very much like Orbea's Four Point Triangle stays, which as been moved further towards the bottom bracket on the 2011 29er version. The extra bend is designed to increase leverage over the rear axle, providing a softer ride. Scott claims its Shock Damping System (SDS), essentially flex built into the frame, provides 4.6mm of vertical compliance within the frame itself. To allow the seat stays to bend freely, disc brake tabs have been moved to the chain stays.
Prices range from the aluminum Scale 29 Comp at $899 to the 29 RC at $6,400, and models should start hitting shop floors soon.
Breezer Cloud 9 Carbon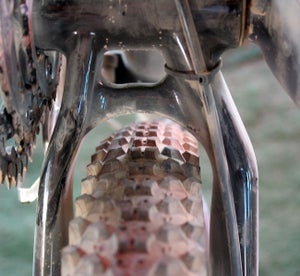 Joe Breeze's return to building mountain bikes deserves its own story, and it will get one later this week. For now, I turned my attention to his first foray into big wheels, the Cloud 9 Carbon. I got the low-down from Joe himself, and then took the Cloud 9 for a quick ride.
Breeze combines experience gained over decades of building mountain bikes with a host of modern features. He believes that "tubing is the star of the show," and that anything that interferes with tubing hurts ride quality. Gussets and other excessive joinery fall into that category, so Breeze uses his famous compact Breeze-in dropouts, now in carbon, and tries to keep joinery to a minimum throughout the frame. He also includes a tapered head tube and BB92 bottom bracket.
In an effort to keep the chain stays short, which Breeze says was a must given his own preferences for frame handling ("I love the tight twisty stuff," he said), the Cloud 9's chain stays are asymmetrical. "It's the best way to move the tire in," he explained. "We can add more material to the outside of the left stay without it getting in the way of anything."
Like the Scott Scale, Breeze places his disc mounts on the chain stay. His reasoning is two-fold: first, interruption of a chain stay has less of an effect on ride quality than interruption of a seat stay, and second, with the brake on the chain stay braking forces push the axle into the dropout, rather than pull it out. The result is 30 percent better torsional rigidity while braking.
I got a brief ride in on a Cloud 9 Pro, and, while I'm reticent to pass any real judgment after 20 minutes, I can say that my first impressions were very good. The solid and above all predictable handling was much appreciated, and Breeze seems to have nailed the 29er geometry.
The Cloud 9 will be available this fall in Limited Edition and Pro builds for $4,999 and $2,599, or as a frameset for $1,799.