Interbike tech: 9:Zero:7 unveils Sliding Rear Dropout fat bike
This fat bike can be built up nearly however you like and can run any mountain bike hub
Heading out the door? Read this article on the new Outside+ app available now on iOS devices for members! Download the app.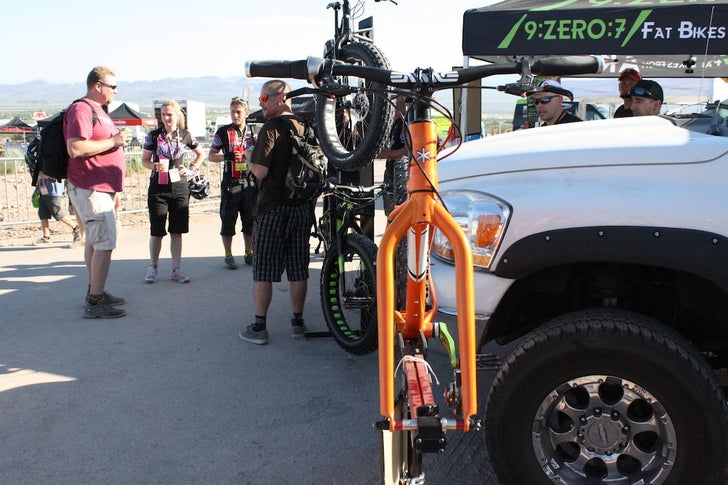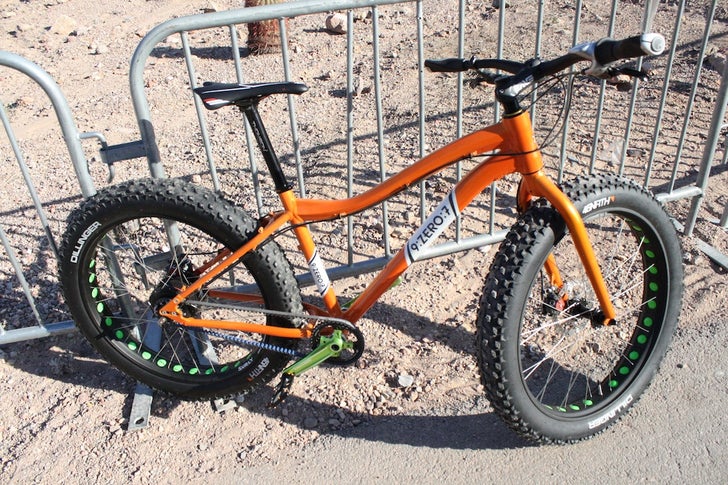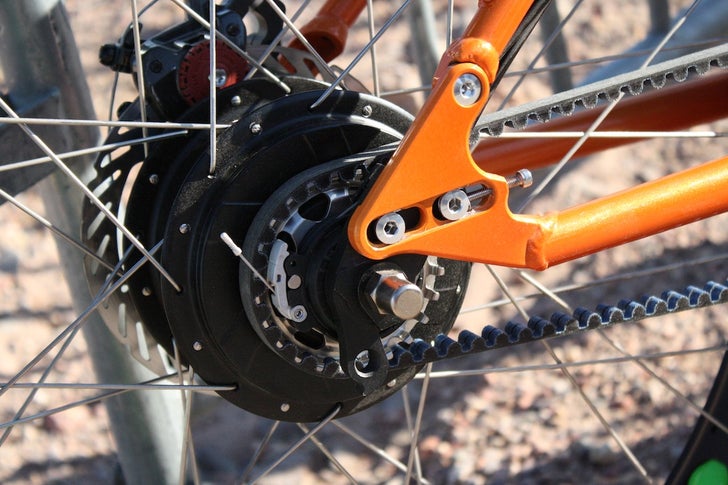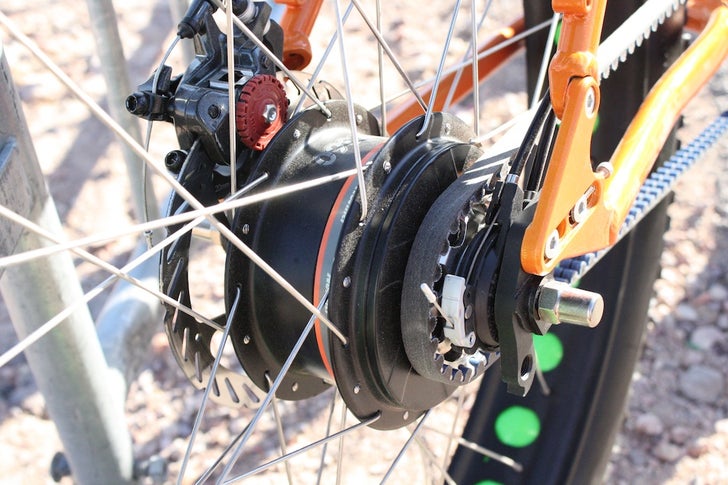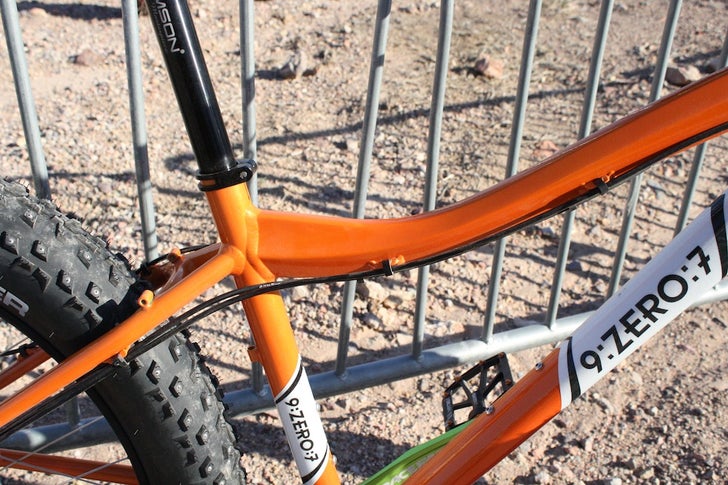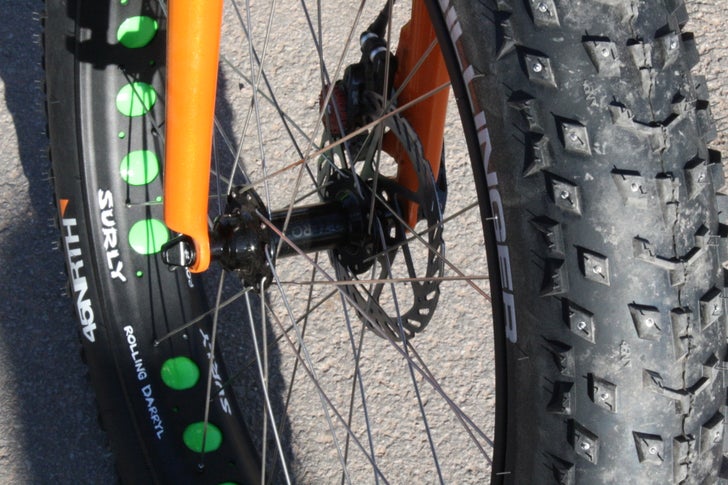 The lowdown: This Alaskan fat bike can accommodate any mountain bike freehub, including an internally geared belt drive, single-speed or standard gearing
I took my first ride on a fat bike up the wash at the Interbike Outdoor Demo on Tuesday.
I was most intrigued by getting a feel for fatter tires, because they are blowing up the scene, and reaching far beyond snow and sand. Riding on snow and sand are both right up my alley, but more and more people are hyping going fatter for cross-country, with companies like Surly and Salsa pushing their fat bike lines and I wanted to try it for myself.
For a cross-country ride on a rigid frame, I was reasonably impressed with the 170mm Aluminum model I took out, but it certainly is not a bike that you can throw around with grace and ease, or one that gently rolls whatever you take it over.
Feeling fairly uninspired, I turned up the wash to try the ride out on really loose gravel and deep sand. (Yes, I was off-trail, but I wasn't rolling over vegetation, so breathe.) Suddenly a whole new world of possibility opened before me. Deliberately pedaling erratically, slowing and jumping and swerving back and forth, the bike didn't spin out a single time.
Once I rolled back to the trail, I found myself at the bottom of a very steep little ramp up loose desert dust. From nearly a dead stop, the bike rolled right up the loose terrain without even a threat of a skid.
When I returned the bike, the enthusiastic staff insisted that I come back the following day to check out the new Sliding Rear Dropout carbon belt drive-equipped bike. I spoke to co-owner Bill Fleming about its use as a cross-country bike.
"I am flattered that people want to ride our bikes on singletrack, and I certainly won't tell them they shouldn't, but I believe in a tool built for a purpose, and this bike was built to ride on snow," he said.
Of that there is no doubt. The brand, named after the Alaska area code, is comprised of native Alaskan riders with a passion for riding pow'.
The Sliding Rear Dropout model could be a more diverse ride, as it can accommodate any mountain bike hub setup and the rim of your choice.
The model on display was set up with a carbon belt drive and internal gearing. Fleming told me that the best application he had used that setup for was busting through the surf. While everyone else's drivetrains were shredding in the salt water and sand, his gearing was sealed from damage in the Nu Vinci CVC hub and his drivetrain stayed sand-free.
Paying extra attention to the demand for stand-over clearance, as riders are frequently dismounting into a snow drift or deep sand dune, the hydroformed top tube allows for increased stand-over height from the original model without adding weight. The large frame has a 73.4cm stand-over height.
The frame also has an elongated chainstay, which improves stability in the soft conditions. Horizontally sliding rear dropouts make the seatstay length adjustable to either 450mm or 470mm and it can accommodate 100mm rims and 4-inch tires.
The bike can run a range of standard forks, and fork crown clearance has been addressed with the hydroformed down tube.
Fender and rack mounts are a necessary feature for many conditions in which the Sliding Rear Dropout will see action.
The pumpkin orange of the frame on display won't be a commercial option, as frame colors will be limited to black powdercoat and anodized gray. The frame weighs around three pounds and 9:Zero:7 expects the anodized option to weigh about 4.3 pounds. Beginning in October 2012, small, medium and large sizes will be available to public. Extra-small and extra-large will be released later down the road. Frames will run $799.
With so much versatility and opportunity to build the frame into whatever you want it to be, this fat bike would be a great option for someone looking for a ride that could be altered for a variety of conditions.
---
Emily spent her infancy in the back of a women's team van while the team built wheels around her. She spent part of her pre-teen years in Europe following the major European mountain, road and gravity races and touring cycling product factories. College was the first time she lived in a home without a frame building shop in her garage or basement. Her favorite style of riding is getting lost in singletrack trail networks and taking her time finding her way back.