New Feature for Fox in 2011
Fox Racing Shox says distinctive gold-colored Kashima Coat maintains better lubrication for lower friction — plus it's tough.
Heading out the door? Read this article on the new Outside+ app available now on iOS devices for members! Download the app.
By Singletrack.com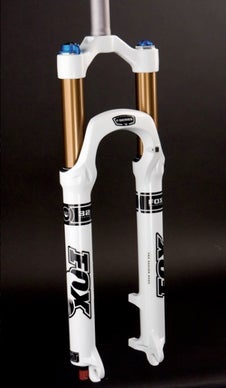 Fox Racing Shox is partnering with a Japanese company for the exclusive use of a special stanchion coating in the 2011 model year aftermarket fork line.
After testing under race conditions, Fox managers said the distinctive gold-colored Kashima Coat developed by the Miyaki Company maintained better lubrication characteristics, and the aluminum components treated with the coating attained a level of hardness and abrasion resistance four times tougher than standard hard-anodized aluminum.
Before Fox started using Kashima Coat, select racers were testing electroless nickel coated upper tubes over the past two seasons, said Mark Fitzsimmons, Fox Racing Shox mountain bike race manager.
"Although the friction properties were decent, the nickel's durability was not," Fitzsimmons said. "The Kashima parts we raced on maintained the low friction requirements we were after and exhibited excellent durability — a very rare combination to find at the World Cup level with its wet and muddy conditions."
Beyond added durability, the significant decrease in friction provided a tangible increase in suspension performance, said 2008 Downhill World Champion Gee Atherton.
"The Kashima coating made the forks so much more reactive to the small hits that I would normally feel on rough terrain," Atherton said. "When the forks were skittering over tiny bumps they could soak up the impact much more quickly, without giving me so much feedback throught the bars. That's a huge advantage on long courses."
Fox Racing Shox marketing manager Elayna Caldwell said although it has applications for rear shocks as well, Fox will only introduce the coating on its forks for 2011. Fox will release the specifics on which forks will receive the treatment at the Sea Otter Classic in April.
In the Kashima Coat process, lubricating molybdenum disulfide is deposited, via electrical induction, into the billions of micropores on the surface of hard-anodized aluminum.