New Gear: 29ers Take Center Stage at Specialized
Slideshow: There's a 29er option in every single family of Specialized bikes, including Stumpjumper HT hardtails, Epic XC race bikes, the new Camber trail bikes and even Stumpjumper FSR trail bikes.
Heading out the door? Read this article on the new Outside+ app available now on iOS devices for members! Download the app.
[album id=52 template=extend]
Check out Todd Wells' carbon S-Works Epic 29er
There are still more 26-inch wheeled bikes in Specialized's 2011 line than there are 29ers, but the gap is small.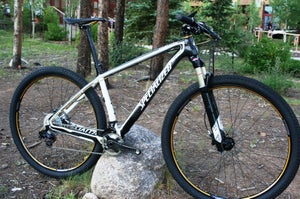 In fact, there's a 29er option in every single family of Specialized bikes, including Stumpjumper HT hardtails, Epic XC race bikes, the new Camber trail bikes, and even Stumpjumper FSR trail bikes. Only the bigger, longer travel Enduro and Demo platforms remain dedicated to smaller wheels.
The S-Works Epic 29er ridden by Todd Wells takes top billing in the Specialized line. It's modeled after the popular and successful 26-inch Epic cross-country suspension platform. First rendered last year in aluminum as a 2010 model, the S-Works Epic 29er takes the proven formula to a new level with carbon fiber construction. The company claims that the production bike is the lightest full-suspension 29er ever at just 21.3 pounds. It's built with 11m carbon, Specialized's Mini-Brain rear suspension system, an integrated 2×10 carbon crankset, a custom tapered-steerer Rockshox fork, Roval carbon wheels and a 142mm X-12 rear thru-axle for added stiffness in the back end.
Multiple configurations of the carbon S-Works Epic 29er will be offered, but they're all built for light weight. There's even a 1×10 model with a single front chainring and a Specialized-built chain guide that mounts where the direct-mount front derailleur would typically live.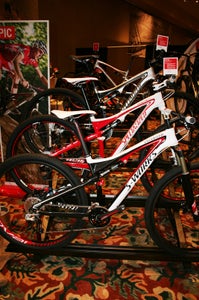 Of course, the Epic family will still include a range of 26-inch models. The original Epic remains more or less unchanged for 2011, but by the looks of the company's marketing material, it will have to live in the shadow of its newborn big brother's big wheels.
Specialized's line of carbon and aluminum hardtail 29ers also grows to include not only several 1×10 single-chainring models, but proper singlespeed bikes with eccentric bottom brackets. For 2011, more than ten models of Stumpjumper HT bikes are offered — most of which are 29ers.
Camber
The mid- to lower-priced Camber family is new from Specialized. As the Stumpjumper platform has grown to longer travel and more rugged build kits (and pricier carbon fiber frame construction) the Camber bikes are meant to be more attainable and split the difference between elite XC and elite trail bikes. The Camber platform looks like the Epic and Stumpjumper families, with FSR suspension design. But the frames are rendered in M4 hydroformed aluminum and the Brain suspension technology is replaced by standard lockout Fox rear shocks. Both 26- and 29-inch wheeled models are available.
In the longer travel, 140mm Stumpjumper FSR line, there are few changes for 2011. Options between carbon and aluminum frames remain, as does the 29er aluminum option.
Stay tuned as we get some test bikes in the building to check out for ourselves.