New Gear: GT Mountain Bikes
Slideshow: After a decade or so of "being dark," GT is making a push to relaunch its brand, with hopes of using GT's race-rich heritage as a platform to do so.
Heading out the door? Read this article on the new Outside+ app available now on iOS devices for members! Download the app.
[album id=61 template=extend]
After a decade or so of "being dark," as GT's Global Director of Marketing Tyler Barnes puts it, the bike company is making a push to relaunch the GT brand, with hopes of using their race-rich heritage as a platform to do so.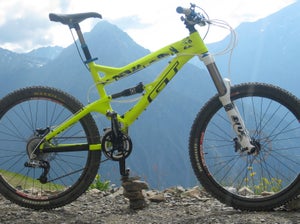 With a new slogan, "Earn your wings," and new graphics, colors, component package options and some minor technological updates to their mountain bike line aimed at capturing GT's status of yesteryear, we'll be curious to see how the once-powerful GT camp fares with its new campaign.
The mountain bikes themselves as a whole won't see any major changes though.
"Call us a little crusty if you want, but we're sticking to what we know," Barnes said. "Some brands may take more risk with new technology, or make their bikes lighter. We don't. We're sticking with what's tried and true."
Distortion
On the full suspension side of the line, GT is sticking to the Isolated Drivetrain across the board. The newest packaging of their I-Drive design comes as the Distortion. Somewhat distorting the lines between endurance and gravity, the frame pairs 100mm of rear travel with a relaxed, 67-degree 140mm fork, a low, 12.1-inch bottom bracket height, and a 12mm Maxle Lite in the back.
As GT's Product Manager Todd Seplavy described it, "it's a hucker's cross-country bike, or a cross-country rider's downhill bike. Or, if I had to just choose one bike, it'd be this one."
Sanction
Though not a new model globally, GT will be offering the Sanction in the U.S. for 2011. Described as an "Euro enduro bike right out of the box" by Seplavy, the Sanction features 150mm of rear wheel travel on a 6061 monocoque I-drive frame, a 12mm Maxle Lite in the back, and a Fox Talas 36 up front (on model tested) with 20mm thru-axle.
Zaskar
As for the endurance end of the line, GT has decided 29-inch wheels are, as Barnes said, "in fact not merely a trend," and plan to offer all models falling under their endurance umbrella in a big-wheel version.
First out of the gate will be the price-point Sensor, a 120mm frame offered in three component packages, as well as a women's version.
For fans of Zaskar, GT is resurrecting the flagship race horse for 2011, and will be available in both 26-inch and 29-inch versions. The 29er Zaskar will feature replaceable dropouts; vertical dropouts and a derailleur hanger for gears, or horizontal dropouts for a singlespeed setup. Holding true to Gary Turner's 1973 BMX frame design, the carbon Zaskars will have Triple Triangle Geometry, which is said to stiffen up both rear and front triangles.
No word yet on when said 2011 models will be available.
Ruckus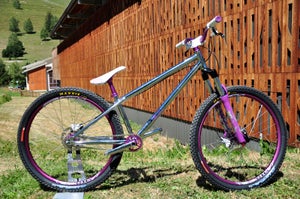 The GT media event was heavy on mountain bikes for the usual target
 market. But quietly, almost stealthily, someone rolled out a
 display-only 2011 Ruckus DJ 1.
With its chrome, 4130 steel tubing
 that looks pencil-thin to all modern things alloy or carbon, it
 sparked memories of what GT meant to me back in 1984, when I was 
skidding around on my bright yellow Mach 1 (which my hickish,
11-year-old pronunciation of it was "match 1").
The Singletrack.com boss may
 say a dirt-jumper isn't something our target audience has any interest 
in, but for those old-skool BMX-bred mountain bikers out there, I felt
 throwing up a few shots of this one was worth going against the grain
 on. Enjoy.