New Gear: 2011 Orbea Alma 29er
Orbea's Alma 29er isn't exactly new, it's been re-worked big time by the engineers at the venerable Basque company.
Heading out the door? Read this article on the new Outside+ app available now on iOS devices for members! Download the app.
[nggallery id=148]
VIDEO: Check out the Orbea-USA crew's run-down of the Alma 29er
RACE-TEST REPORT: Zach White races the Alma 29er at Mellow Johnny's Classic
When thinking of 29ers and the companies involved in the development of the big-wheeled bikes, Europe isn't the first thing that comes to mind.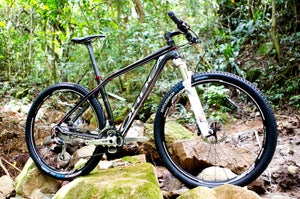 But Orbea, a company based in the Basque Country of Spain, first trotted out a carbon 29er five years ago. While World Cup cross-country king Julien Absalon does his business on a 26-inch Orbea Alma, the company has a carbon and two alloy 29ers in its lineup.
But the push is on to introduce a re-tooled carbon model for 2011 — the Alma 29er. The new Alma 29er was rolled out to the public at the Mellow Johnny's Classic on Lance Armstrong's Texas ranch over Memorial Day Weekend — and with great success, as Georgia Gould of the Luna Pro Team won the women's cross-country race on her new Alma 29er. While the Luna team rides Orbea 26-inch Alma rigs, it was the first time Gould had raced the new-and-improved 29er.
"As far as 29ers and Orbea USA goes, we have always been believers," said Ronnie Points, Orbea USA National Sales Manager. "Thanks to the consumer 29er crowd supporting Orbea carbon and aluminum 29er bikes, I finally got the blessing back in July 2009 to work with [Orbea MTB engineer] Xabier Narbaiza and take it to the next level."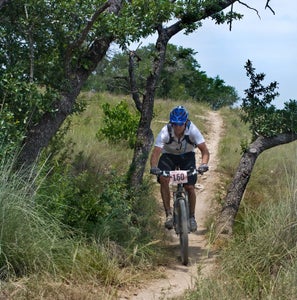 That meant moving the old Alma's fiber blend to Orbea's mid-modulus "Silver" level, similar to what the current Orbea Opal road bike uses. Points said the move accomplished two things: A frame that is more fracture resistant than a super high modulus and it allowed the Orbea to go to market with a $1,799 frameset featuring a tapered head tube, BB30 and redesigned 29er-specific 439mm chain stays.
"As a matter of fact we used Kenda 2.2 Nevegal tires as the benchmark and still achieved 4 to 5mm clearance on either stay," Points said. "Seat stays have about 7 to 8mm clearance, so this bike will handle serious conditions."
The second-generation Alma goes from 80mm of travel to 100 and features DCR Cable Routing that was developed by Orbea with the assistance of GORE, which Orbea USA's Lonnie Kinkade said offers a third more life and 50 percent less stiction.
Orbea uses its Size Specific Nerve (SSN) technology for different optimized carbon structures and layups for each frame size, and with the Alma 29er sizes will be 16.5, 18.5 and 20.5. Points said 150g to 200g have been dropped from Orbea's first Alma 29 frame depending on size.  Look for the Alma 29 late summer or early fall.