New Gear: SRAM XO 2011
[album id=36 template=extend] New for 2011, the X0 cranks are all carbon with aluminum inserts for both spindle and pedal interface, as well as a removable alloy spider.  The spiders themselves will be the key to running either a two-ring or three-ring set up, and are interchangeable via three T25…
Heading out the door? Read this article on the new Outside+ app available now on iOS devices for members! Download the app.
[album id=36 template=extend]
New for 2011, the X0 cranks are all carbon with aluminum inserts for both spindle and pedal interface, as well as a removable alloy spider.  The spiders themselves will be the key to running either a two-ring or three-ring set up, and are interchangeable via three T25 bolts.  Other choices will be 170mm or 175mm length, BB30 or GXP bottom bracket, and either black, red, gold or blue graphics.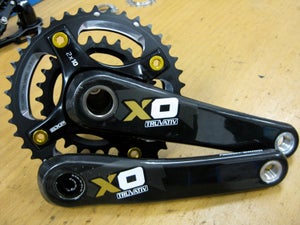 As far as strength for the new carbon cranks is concerned, SRAM says they've been testing at levels strong enough to their World Cup-level downhill standards, but aren't quite freeride-rated. Furthermore, point of failure is said to still be at the spindle and spider before the carbon fails.  The weight penalty over XX cranks?  Merely 60-grams.
Derailleur Down-Low
One of the most revamped components in the 2011 X0 group is the rear derailleur.  Taking several steps to improve durability and general tolerance for abuse over the previous design, SRAM's idea of offering an "extremely durable" group seems sincere.  The first thing we noticed was the relocation of the classic C-clips that used to hang off the bottom of the parallelogram.  Though not considered a catastrophic failure my any means if one of the C-clips were to get yanked off by a rock/root/etc., SRAM felt that the clips would be better housed on top of the parallelogram and therefor out of harm's way.
And while on the subject of treating your bike like a bumper car, SRAM also opened up the clearance between the parallelogram and the B-knuckle, allowing much greater chances of unaffected shifting if the derailleur takes a hit hard enough to bend it.
On the more mechanical side of changes to the derailleur are the omission of that annoying little plastic thread engagement insert for the limit screws, and a reduced actuation link, allowing for a cleaner, less-stressed angle on the shifter cable.  Still available in short, medium and long cage lengths, all three versions are obviously now compatible with 36-tooth cogs.
Sexy Cogs
Still in prototype phases is a cassette that will fit in the X0 family — the 1080. With only one prototype on hand, flown in that day straight from Germany, the 1080 features all stamped cogs that are pinned together in order to both keep weight low and mud-crud shed-ability high. No word on what part of 2011 they'll be available, how much the production version will weigh, or how much it'll cost though.  But, we will say it sure is purdy.