New Gear: Yeti SB-66
Two years in the shop and on the trails and the result is Yeti's new six-inch SB-66.
Heading out the door? Read this article on the new Outside+ app available now on iOS devices for members! Download the app.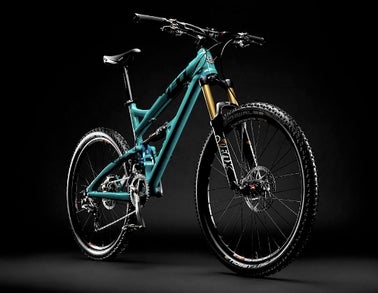 Two years in the shop and on the trails and the result is Yeti's new six-inch SB-66. The story about the bike is the linkage, called Switch Technology. It's a dual-link design that uses an eccentric mechanism that switches direction as the bike moves through its travel.
At the beginning of the travel the eccentric link is rotating in a rearward direction, guiding the lower pivot of the swing arm back. The counter-clockwise motion together with the initial rearward wheel path produces a stable pedaling platform.
Once the SB-66 gets to about 100 mm into the travel path, the eccentric link starts to rotate in the forward (clockwise) direction. This means the rate at which the chainstay grows drops off quickly, allowing the suspension to work independently of chain forces and pedal feedback allowing for smooth movement through the entire suspension cycle.
The alloy frame is said to weigh in at 7lbs, and to keep stiffness a one-piece swing arm is used and connected with 17mm and 15mm link pins on the top and bottom respectively.
Continuing with the effort at stiffness, Yeti uses its Chip System that allows for using a  standard QR setup or a 142 x 12mm wheel.
Yeti uses splines on the SB66 BB shell to accept a removable ISCG 03′ or 05′ tab. Yeti says the splined system is lighter than a conventional welded tab and allows for many chain-guide options.
The SB-66 is designed to run a 150mm or 160mm travel fork. Running a 160mm travel fork gives the bike a slacker head angle and a higher bottom bracket. The SB-66 is slacker than Yeti's warhorse 575 — 67 degree head tube angle vs. 68 — this is to accommodate the longer travel.
That said, the 575 and its single-pivot design will remain in Yeti's lineup at a lower price point than the SB-66.
YETI SB-66
There are multiple builds offered on the 7lb (3.17kg) alloy frame and shock, with a carbon version is set to follow in December and be a pound lighter. Alloy frame and a Fox RP23 Kashima shock will run $2,200.
• $3,500 for the SB-66 Enduro spec (X9/X7)
• $4,500 SB-66 Race (XT Kit)
• $6,150 SB-66 Pro (XTR Kit)