Review: Fezzari Signal Peak Pro
Fezzari finds a balance between XC-worthy efficiency and all-around capability for rocky, technical descents with the Signal Peak mountain bike.
Size Reviewed
L
Price
$6,399
Brand
Fezzari
---
Heading out the door? Read this article on the new Outside+ app available now on iOS devices for members! Download the app.
There is often a clear divide between a cross-country race bike and a mountain bike for epic adventures and rough descents. Fezzari looks to be bridging that gap with the Signal Peak.
This 120mm-travel bike borrows traits from XC bikes to create a bike that pedals well enough for marathon races but is also eager to take on technical terrain. While it has limitations on both ends of that spectrum, the full-carbon Signal Peak proves itself an ideal choice for the do-it-all rider who doesn't yearn for enduro glory — or someone who can only afford a one-bike quiver.
Fezzari may be a new name to you, but the company has been selling its bikes consumer-direct for 13 years. Based out of Utah, Fezzari used its rocky local trails to help form the Signal Peak's design.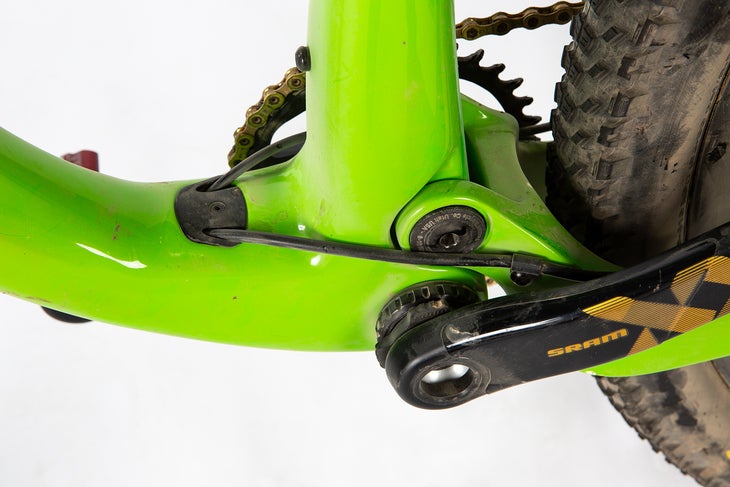 When it comes to geometry, Fezzari trended toward the XC side of the spectrum. The head tube angle is 68 degrees. We expected that to lead to a nervous ride, particularly on descents, but that didn't play out. In fact, the front end felt relaxed. This was aided by a short, 45mm stem and wide riser bars, component details you can specify during the order process.
While this bike goes cross-country with its head tube angle, the steep 75-degree seat tube is more akin to trail and enduro bikes. For those with shorter legs, this helps position you right over the bottom bracket, especially on steep climbs. As the seat tube angle encourages a forward position, the roomy cockpit (468mm reach) isn't too cramped. These factors combine to make the Signal Peak a comfortable climber. It encourages you to settle in for long grinds. However, unlike more nimble, pure XC bikes, it isn't quite as maneuverable on tight switchbacks.
The good news is that once you're at the top, the bike's geometry encourages a fast, fun trip down. The 1,182.5mm wheelbase (frame size large), though it might feel a bit long on a technical climb, is quite confident on the downhills. The Fox Transfer dropper post may add some weight but it adds to the bike's versatility on descents.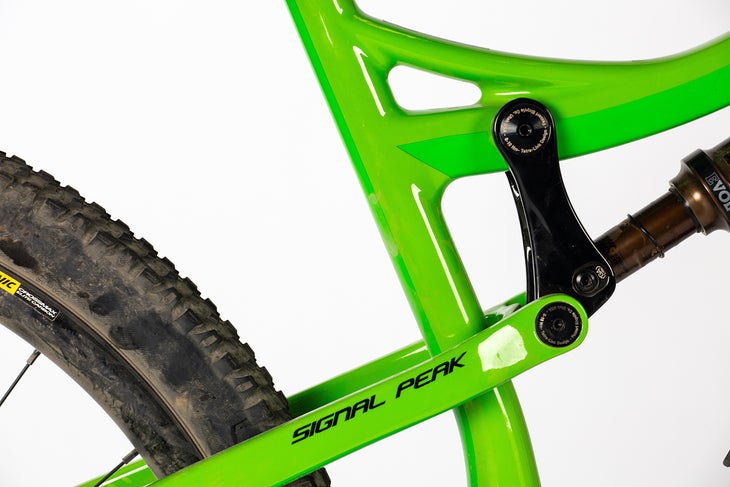 Part of the Signal Peak's chameleon personality is due to the suspension tune. Its 120mm-travel "Tetra Link" suspension relies on a Horst Link, similar to the suspension design found on Specialized, Transition, and Norco bikes. Our test bike's rear shock was tuned to be sensitive, more like what you'd see on a trail bike, rather than a firm XC compression damping tune. That meant the rear suspension felt soft at 30 percent sag. For general cross-country riding, 20 percent sag was better, offering a firmer pedaling platform. We also found ourselves switching the Fox Float DPS shock's three-position lever to the firmest setting more often, even on some smooth and rolling descents. The switch's middle "trail" setting was ideal on most downhills — only the hairiest rock gardens necessitated the open setting. That full-open position provided a bottomless feel, but it was vital to switch back to the firmest setting for rolling terrain or fast, out-of-the-saddle accelerations.
Fezzari will soon offer shock tune customization options on its website, so you can choose the suspension feel that will be most appropriate for the type of riding you do. If you live in a place with generally smooth trails, or you tend to be more of an XC racer than a trail shredder, opt for the XC tune. If you're looking for a smooth, bottomless feel on descents and don't mind reaching down to flip the switch when you hit a climb, the trail tune is right up your alley and contributes to the bike's overall versatility.
Up front, Fox's Step-Cast Factory Float DPS fork was a great blend of light weight and steering precision — ideal for this bike. With a three-position lockout lever, external compression damping adjustment, and the usual rebound knob, it was easy to match the rear suspension feel. Unless you are a World Cup XC racer, it is hard to imagine why you'd want another fork, despite the slight weight penalty.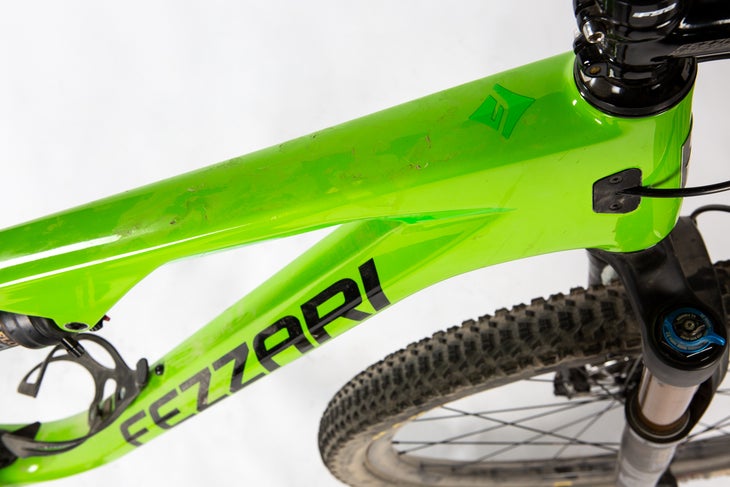 It's fitting that our Signal Peak was green because its chameleon nature comes out when you start customizing what this bike can be. That's the beauty of Fezzari's consumer-direct model: the Signal Peak can be whatever you want it to be. Use it as a trail bike with a dropper post and meaty tires, or opt for a more XC-oriented ride with lighter wheels and low-profile tires. It accommodates 27.5 x 2.8″ tires, or 29er tires up to 2.6″ with a geometry adjust link with two settings for either wheel size. Add the shock tune options and the Signal Peak could be most anything you need it to be, aside from an enduro ride. (And did we mention it fits two water bottles? Big win.)
Beyond the Pro model we tested, with SRAM Eagle XX1 and top-of-the-line parts, there are three other, less-expensive Signal Peak models. The Signal Peak Comp is the most affordable in the family at $2,999.
Unless you want a pure, stripped-down cross-country race bike or a full-gas enduro racer, Fezzari's Signal Peak has enough options to adapt. Our test bike ultimately felt more like an XC bike than a trail bike, even with the trail suspension tune. Given how much we raced aboard this bike, that was ideal. And don't worry, even if you pass on the green color scheme that we rode, this mountain bike is still a chameleon.