Review: Rapha Explore shoes
The new Rapha Explore shoes are designed for comfort on gravel and trails, offering a generous fit and a moderately flexible sole.
Size Reviewed
42
Price
$295
Brand
Rapha
---
Heading out the door? Read this article on the new Outside+ app available now on iOS devices for members! Download the app.
The cycling world's growing interest in gravel and bikepacking has led to a much-needed trend in footwear. Over the last couple of years, shoes have become far more comfortable. It seems obvious, right? Unfortunately, for many years, riders seeking high-quality cycling shoes often had to endure brutally stiff carbon soles and stripped-down upper materials.
Rapha's new Explore shoes are the latest entry into the growing range of footwear meant for long days of mixed-surface riding. We are happy to report that they have been comfortable for long miles on rough terrain, and they are relatively efficient as well.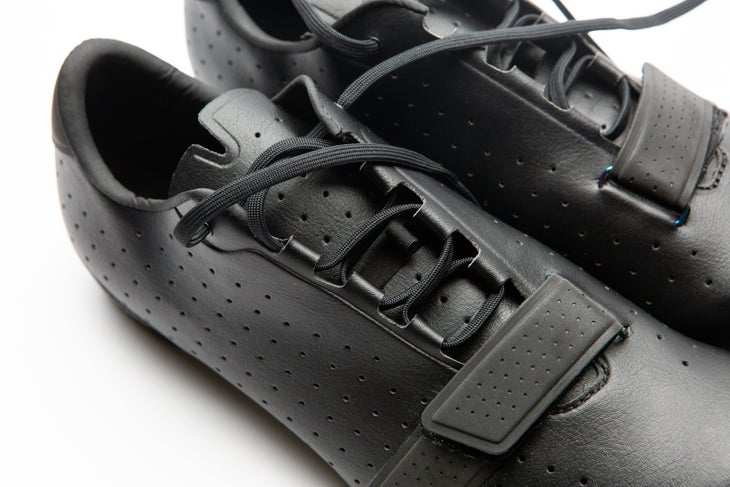 Unlike previous Rapha-branded shoes, these were designed in-house by the London-based apparel company, along with its new road shoe, the Classic. The result is impressive, right out of the box. The perforated black microfiber feels like soft leather. The aesthetics are subdued (unless you want the bright pink color option), but Rapha incorporated some subtle details like a reflective velcro toe strap and sprinkles of color in the natural rubber treads.
When we first laced up our Explore shoes, they felt secure. Around the midfoot, the upper is two-layered, offering wide loops for the laces, rather than conventional eyelets. Those laces rest on a flexible tongue with ample padding. The velcro forefoot strap is a nice way to adjust the shoe's volume, but we didn't fiddle with it very often.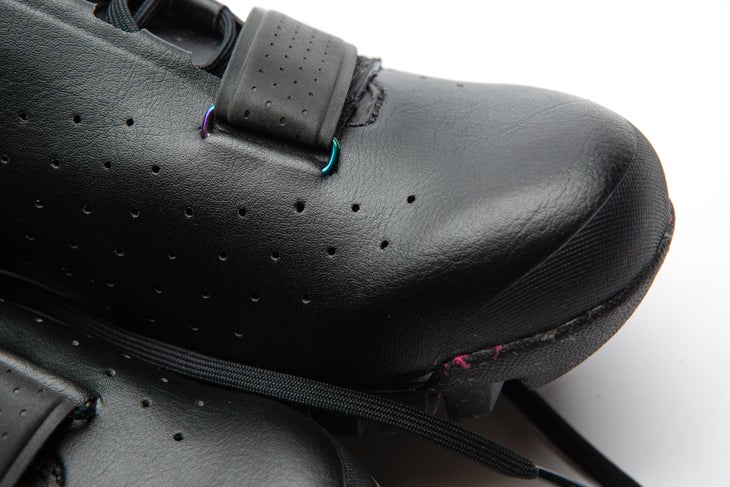 Inside, Rapha's insoles can be customized with a high or medium wedge for your foot's arch. We opted to velcro the high support onto the pink bottom of the footbeds, which was moderately supportive, but not as much as a custom insole would be.
Out on the roads, gravel, and trails, the Explore shoes remained just as comfortable as they were when we first slipped them on. The forefoot shape is generous. There are no pinched little piggies or cramped metatarsals. If you are more accustomed to a "European" shoe fit, with a narrower, bullet-shaped toe, the Explore might feel a bit too roomy.
The heel cup has plenty of padding, which we always appreciate on rocky, rough terrain. It's still stiff and supportive back there, but not to the point of discomfort.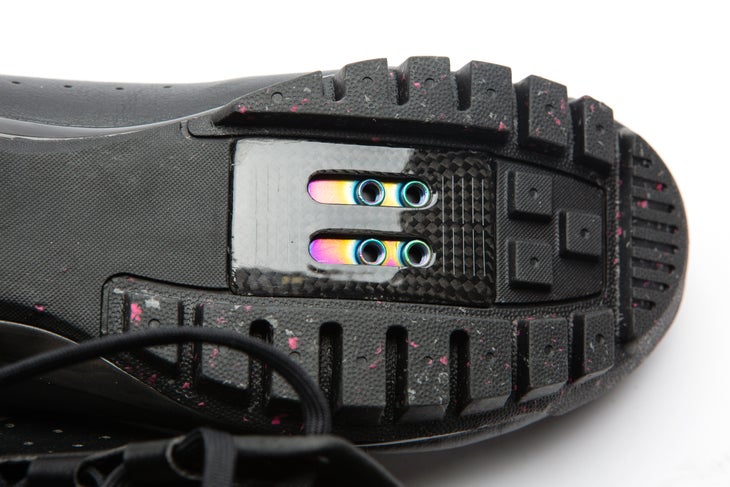 Down below, the heart and sole of the shoe stays true to this relaxed and comfortable fit and feel. The treads are grippy, making it easy to walk around on all but the most freshly waxed convenience store floor. That walkability is also made possible by the forgiving sole. The Explore's carbon sole stops short of the heel and toe at 3cm and 2cm, respectively. And here is where you'll have to decide if Rapha's new gravel shoe is right for you.
On the one hand, the sole is comfortable. It's no problem to walk around, and it doesn't abuse you on rough trails or roads. But on the other hand, if you'd like to mix it up at the front of some faster rides or perhaps a gravel race, you might find yourself wanting a higher-performance shoe, like something you'd wear in an XC mountain bike race.
The cool thing about the trend toward mixed-surface riding and racing is that it's a broad spectrum, from relaxed adventures in your local backcountry to 200-mile endurance tests in the middle of Kansas. Rapha's Explore is a fine addition to the growing number of shoes tailored for gravel and dirt. It might not satisfy hardcore gravel racers or those with narrower feet, but when we wanted pure comfort, we usually laced up the Explores.