Sea Otter: New Enve M-series bars are stiff… But not too stiff
With its new M Series mountain bike handlebars, Enve is throwing a new variable into the mix: ride quality.
Heading out the door? Read this article on the new Outside+ app available now on iOS devices for members! Download the app.
PACIFIC GROVE, California (VN) — How do you choose a mountain bike handlebar?
Conventional wisdom says you find the bar that fits your reach, and then decide how much you're willing to spend for the lightest possible weight. Components manufacturer Enve has thrown a new variable into the mix: Compliance.
On Friday Enve unveiled its new M-series line of carbon-fiber mountain bike handlebars and stems, which feature differing levels of compliance. According to the Utah company's extensive testing and development, different types of riders require different levels of handlebar stiffness. And stiffer isn't always better.
The M-series is comprised of five handlebars (M5, M6, M7, M8, M9) and two stems (M6, M7). Larger numbers correspond to a higher level of stiffness to suit more aggressive riding styles. Enve says the new M-line is designed for all types of mountain bikers, from cross-country racers to downhill shredders, as well as two carbon stems to complement the bars.
The M5 and M6 are for cross-country riders. The former is essentially a flat bar with just five millimeters of rise and no upward sweep. The M6 has either 7.5mm rise or 25mm rise.
In the middle of this new line, the M7, is Enve's trail/enduro handlebar. It is also the first and only bar Enve has made with a 35mm stem clamp. And finally, the M9 is Enve's downhill bar, a whopping 810mm wide.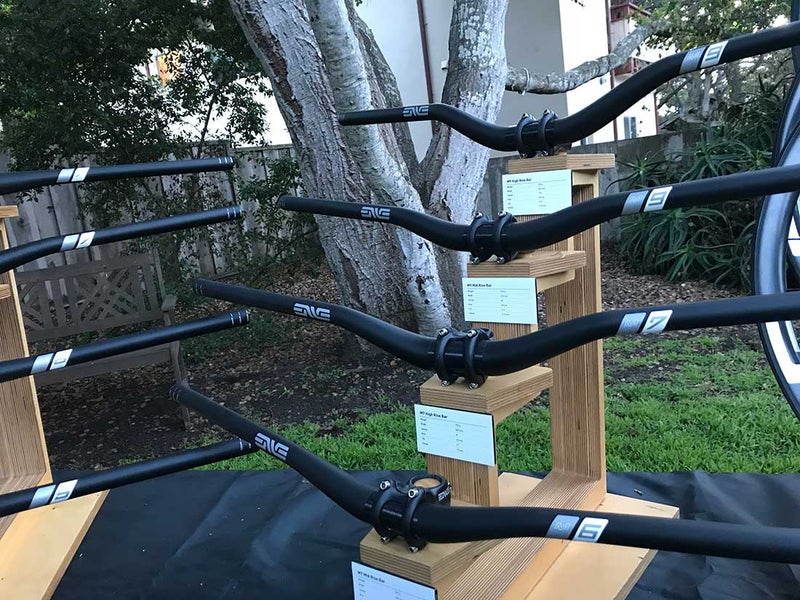 Prior to this new cockpit line-up, Enve had two bar options: one for trail riding and one for downhilling. After collecting in-house feedback as well as input from pro riders and even consumers, engineers went to the lab to translate those needs into product design.
Once it had prototypes, Enve sent the bars out on the trails. And in fact, there were times when testers felt the new bars were too stiff. That happened with the M7 bars.
"Within that range of bars we identified that the 7 low [10mm rise] had a different flex profile than the 7 mid [25mm rise]," says Jake Pantone, Enve's marketing manager. "It was noticeable, riding them back to back it was like 'I think the 10mm rise feels too stiff.'"
The lab data reinforced that subjective impression, Pantone said. However, the testers often went out into the field without knowing what the data showed about those bars, to avoid coloring their opinions on the ride quality.
It is unlikely that Enve is the only company going to these lengths to tune ride quality in a place you might not expect it. However, the launch of these new M-series bars indicates how components beyond the frame and suspension — which usually get all the hype — can impact comfort.
"I'm sure that other manufacturers take a look at these things," says Enve engineer Blake Jenssen, "but from our perspective, we take it very seriously … I'm sure that a lot of manufacturers are not, and I'm sure that some manufacturers are."
Enve's M-series handlebars are all priced at $170 each. The U.S.-made M6 and M7 stems are $280.
M5 bars: 31.8mm clamp, 9-degree sweep, 180g, 760mm width, 5mm rise
M6 bars: 31.8mm clamp, 9-degree sweep, 195g, 780mm width, 7.5mm or 25mm rise
M7 bars: 35mm, 8-degree sweep, 240g, 800mm width, 10mm, 25mm, or 40mm rise
M9 bars: 31.8mm clamp, 8-degree sweep, 250g, 810mm width, 30mm or 50mm rise
M6 stem: 31.8mm clamp, 40mm, 55mm, 70mm, 85mm lengths, 85-104g, +/-6 degree rise
M7 stem: 35mm clamp, 35mm, 50mm, 65mm lengths, 85-99g, zero-degree rise