Sea Otter Tech: Easton Haven
SEA OTTER: Nope, ain't done yet with the cherry gear. Easton Haven grows from a pair of wheels into a full family of lightweight but sturdy parts. Check 'em out in the slideshow.
Heading out the door? Read this article on the new Outside+ app available now on iOS devices for members! Download the app.
[album id=23 template=extend]
Easton wowed us with the first Haven wheelset back at Interbike in September. The company said it would weigh 1650 grams, have an internal rim width of 21mm and cost $850.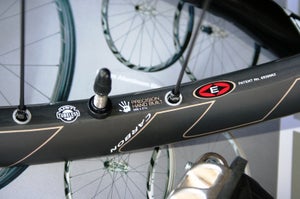 Sure enough, they were right. The Havens were beautiful to behold, not just because of their polished magnesium-look finish, but because they marked the dawn of a new age in burly parts. Suddenly, stout components didn't have to come with the typical weight penalty we've come to expect.
But Easton's engineers were apparently not content to coast on the achievement of a lightweight, tubeless-ready, all-mountain wheelset. Instead, Easton used the new hoops as just the starting point for an entire collection of lightweight yet rugged parts, and they all wear the Haven moniker.
At Sea Otter, Easton's display was modest compared to the garish tents and trailers of larger manufacturers. But the pair of black ten by ten pop-up tents housed an impressive collection of new Haven parts, including a stem, bar, seatpost and, most impressively, the Haven carbon wheelset.
About Those Wheels
We've got a pair of Haven aluminum wheels waiting in the office for local trails to dry out. But before we could even unpack these originals, we found ourselves in Monterey, lusting after Easton's latest version of the Havens – the Haven Carbons.
Everything we love about the original Havens persists in the new hoops. They're fully UST tubeless compatible. They're available in multiple hub configurations, including standard 9mm quick release and various thru-axle versions. They're also available in either 26- or 29-inch sizes.
But now there's more (or less) to love, depending on your outlook. Easton claims to have shaved fully 200 grams from the original Havens, such that the Carbons are said to tip the scales at 1450 grams. Plus, they come with a two-year, no questions asked warranty. You break 'em, you can get 'em fixed or replaced for free.
Easton reps poured tons of engineering muscle into these wheels. The details can get a little techy even for tech weenies, but previously untapped grades of carbon fiber and resin make for impact strength that tests better than Easton's aluminum wheels. Clever and precise molding negates the need to drill spoke holes through the tire bed, keeping it airtight. Likewise with the reverse-threaded spoke eyelets, which are popped into place after the rim is molded and permit spoke nipples to both thread into place and also tighten the spokes they secure.
The only downside is that there's a lot more to love (or hate) when it comes to the price: at $2,300 you'll have to want these babies pretty bad.
Check out the photos for more details on the Haven wheels, and the rest of the new Haven component line. Most Haven parts should be available by June.