Smoother, Lighter, Slicker: Fox Racing Shox for 2011
Fox has revamped its Terra Logic "intelligent" damping system, expanded the Boost Valve to more rear shocks, rethought the Talas travel adjuster, lightened and lengthened the 36 forks, introduced more 29er forks and a new 4-cross/dirt jumping/dual slalom fork model, lightened and beautified the 15QR through axle and added a low-friction coating to its upper fork legs.
Heading out the door? Read this article on the new Outside+ app available now on iOS devices for members! Download the app.

Read Zach White's test of the Fox Talas 32 FIT Terra Logic
With Interbike coming next week and flood of 2011 product news about to break, here's a bit on what Fox will be showing. The company has brought back a revamped Terra Logic "intelligent" damping system, expanded the Boost Valve to more rear shocks, rethought the Talas travel adjuster, lightened and lengthened the 36 forks and given them new dampers, introduced more 29er fork options and one new 4-cross/dirt jumping/dual slalom fork model, lightened and beautified the 15QR through axle, and added a low-friction coating to its upper fork legs.
FIT (Fox Isolated Technology) dampers
The FIT damper is surrounded by a rubber bladder rather than being an open oil bath sloshing around inside of a fork's inner leg. The bladder allows expansion of damping oil with heat without affecting damping performance, and it requires less oil and hence less weight. First seen in 2004 in downhill forks, last year it was available in some Fox 32 (32mm stanchion) models (the 2010 FIT RL/RLC); now it will be found in the 36 models as well.
The 32 models with FIT dampers in 2011 will be: FIT Terralogic, FIT RLC, and FIT RL. FIT-damped 2011 36 models are: FIT RLC (160 only), FIT RC2 (36 VAN and all 36 180 models). The 40 and 36 FIT RC2 dampers have a new inverted design to reduce un-sprung weight, decreasing fork reaction time and improved bottom-out control. The inverted design offers the same ultra-wide range of adjustability, but the new high and low speed adjusters are now atop the fork crown.
Terra Logic

Terra Logic first appeared when Fox was working with Specialized on its Brain shocks that distinguish between bumps and pedaling inputs. A patent spat ensued between the two companies, and Fox was not satisfied with the delay in reacting to bumps, so it discontinued the dampers in its forks. Happier now with the performance of this new generation of Terralogic and feeling that it offers the buttery damping Fox is known for, it is back in the line. Suspension damping that automatically responds to bumps and not to pedaling without having to flip levers or knobs is of course always the holy grail, and Fox's new Terralogic is smoother and faster to engage and disengage.
I'm riding a Talas 29 with Terra Logic and a tapered steerer and have been impressed with the stiffness as well as with the quicker, smoother action of the damper. Soon, Zach White will be filling you in here on Singletrack.com on his experience with the new Terra Logic damper.
When I first got a Terra Logic F80X in 2005 and then an F100X a year later, the TerraLogic inertia valve indeed worked like an automatic lockout, but the fork was only for cross-country use, and it could give you a slight jolt before blowing into the travel when you hit a bump and was slow to lock out again on smooth surfaces. Now, Fox has dialed in the damper so that it responds faster and more smoothly and is designed to be tunable for cross-country racing, all-mountain riding, and downhill shuttle runs with one external adjustment while still having customary Fox damping control.
As it did in its first incarnation, Terra Logic still depends on a cylindrical brass mass sitting atop the piston in the oil-filled damper, but now that's a FIT damper with a rubber bladder enclosing it. The "brass mass" gets knocked upward on bump impacts, uncovering holes for the oil to pass through and free the fork's movement. But once the brass mass settles down through the oil over the holes, pedaling nor pushing and pulling on the handlebars will dislodge it, making the fork effectively locked out.
The new FIT Terra Logic damper will be available in the F-series, F29, TALAS 29 and TALAS forks for 2011.
New 36 families

Fox fork numbers correspond to the diameter of the upper legs. The second number is the travel. So a "36 160" fork has 36mm upper legs and 160mm of travel. All of the family members are now lighter and have more travel. Increased bushing overlap and stiffer crowns enhance the ride quality of the 36 series.
The 36 160 family weighs in the range of 2.04 to 2.37kg; the new 36 Float FIT RLC 160 weighs 4.47 lbs, a full 10 percent lighter than a 2010 36 Float RC2 160. In addition to having the new and lighter FIT RLC damper in the Float and TALAS, all 36 160 models have new, lightweight crowns and upper tubes. The 36 160 Float, TALAS, VAN have 6.3 inches of travel and are lighter.
Fox says its new 36 TALAS 160 2-position travel-adjust is the world's lightest 160mm fork while having the best demeanor on the trail. It has a 160 to 120mm travel adjustment, and it, like the 36 Float 160 comes with the new FIT RLC damper.
The new FIT RC2 damper comes on the VAN, and the R open bath damper is available on other models.
The 36 180 long-travel, single-crown forks are new from the ground up.
All 180 models also get new single crowns, upper tubes, steerer tubes and lower legs that are optimized for long travel to retain the legendary Fox control you desire. They are now available with the new bladder-encased FIT RC2 or an open-bath R damper specifically designed for 180 mm of travel. Fox claims that the 36 Float is the lightest 180mm single-crown fork on the market.
The 36 180 Float, Talas and VAN single-crown forks are bigger, stiffer, and lighter long-travel forks. Weighing 2.37 to 2.73kg, Fox says these are the lightest 180mm forks on the market with the best trail performance. They come with 180mm or 170mm options or on the TALAS with a 180 to 140mm travel adjustment.
Boost Valve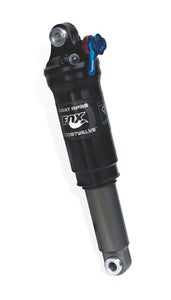 Fox's patented Boost Valve technology is found in the 2011 DHX series and Float RP series rear shocks. Designed to offer superior square-edge bump performance, the compression damping is position-sensitive as well as velocity-sensitive to provide selected damping characteristics at the beginning, middle and end of the shock's stroke. The Boost Valve shocks also have a very wide tuning range to work on lots of bikes.
VAN RC rear shock
Fox's "low-end" VAN RC gravity shock offers performance, simplicity and reliability to the crowd that points their bikes straight down the mountain, yet it does it on a budget. At $360, it saves $200 off a DHX and is built on the same platform, at the cost of limited adjustability.
TALAS
Fox narrowed the TALAS travel adjustment range and now offers only two travel positions. For instance, the 32 TALAS 150 now will be adjustable from 120 to 150mm of travel, rather than from 110 to 150mm with three positions, and the 36 TALAS 160 for 2011 is adjustable from 120 to 160mm down from 100 to 160mm of travel (with three positions).
15QR
The new 2011 forged 15QR through axle is 21 grams lighter, looks nicer, and is just as stiff as the original one.
Additional 29er forks
New for 2011, Fox has both F29 and TALAS 29 models with Terralogic dampers. The TALAS is adjustable (two positions) between 95mm and 120mm.
831
New for 2011, the 831 is a specific 4-cross, dirt jumping and dual slalom fork with a strong chassis, stiff damping, and a progressive spring rate.
Kashima Coat
Produced by Miyaki of Japan and exclusive in the bike industry to Fox, this slick, golden, molybdenum disulfide coating is deposited on Fox's high-end upper tubes via electrical induction, into the billions of micropores on the surface of hard-anodized aluminum. By reducing friction, Kashima Coat improves front end traction and small bump absorption while lasting longer than other super-slick coatings.
40
The 40 downhill fork, with 203mm of travel and weighing in at 3.09kg is improved for 2011 with a new FIT RC2 damper, a new low-friction spring system and the low-friction Kashima coat on the upper tubes.
Readers can send brief technical questions directly to Lennard Zinn.
Technical writer Lennard Zinn is a frame builder (www.zinncycles.com), a former U.S. national team rider and author of numerous books on bikes and bike maintenance including the pair of successful maintenance guides "Zinn and the Art of Mountain Bike Maintenance" – now available also on DVD, and "Zinn and the Art of Road Bike Maintenance," as well as "Zinn and the Art of Triathlon Bikes" and "Zinn's Cycling Primer: Maintenance Tips and Skill Building for Cyclists."
Zinn's regular column is devoted to addressing readers' technical questions about bikes, their care and feeding and how we as riders can use them as comfortably and efficiently as possible. Readers can send brief technical questions directly to Zinn.
Follow Lennard on Twitter.