Snow Riding: Dressing the Part
Snow-bikers have worked out several different systems for staying warm
Heading out the door? Read this article on the new Outside+ app available now on iOS devices for members! Download the app.

When the temperature plummets, for most of us so does the motivation to go outside and ride. Unlike many outdoor winter activities, riding a bike in cold temperatures has the added difficulty of dealing with wind chill and since it's non-impact, keeping feet warm is challenging.
To make the situation even more difficult, since arm use is minimal but full-finger function is needed for braking and shifting, keeping blood flowing in the hands also poses a challenge.
Luckily, there are many sports out there that are played in cold weather and have figured out how to combat the cold. It's just a matter of adapting their techniques to cycling.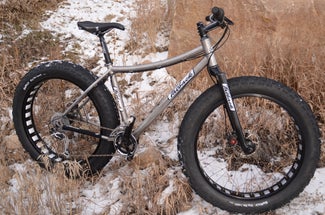 Snow-bikers have worked out several different systems for staying warm and the hundreds of riders in Alaska have figured out how to ride year-round in temperatures that regularly plummet to -40 degrees F.
Snow-bikes have the added advantage of rolling slower due to the terrain, helping reduce the wind chill, as well as slightly more upright geometries helping to take some pressure off the hands and increase blood flow to the fingers.
While there are many approaches to staying warm, they tend to fall under two distinct categories. People who try to stay warm by staying dry aim for wicking materials next to their skin to keep their skin and clothing dry. People who aim to stay warm by not letting their insulation get wet accept the fact that they will sweat during physical activity, and put a water-proof layer next to their skin to keep the moisture in and prevent their sweat from soaking their insulating layers.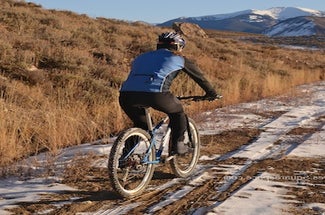 The Dry and Warm crowd subdivides yet again into two categories: Synthetic Material Lovers and Wool Snobs. Both materials wick moisture away from the skin and evaporate it effectively.
Wool has the added bonus of staying slightly warmer, even when wet, and tends not to get as smelly as many synthetic blends do after extended use. Layering on top of this base layer is an art that requires balancing temperature regulation and too much sweating.
The key to making this system work is to wear exactly enough clothing to stay warm without producing too much sweat. Excessive sweat will soak the base layer and, depending on the ambient temperature, it may never dry, causing rapid heat loss once the activity intensity has slowed down or stopped.
For moderate activity, a base layer and a soft-shell jacket will suffice for temperatures well below freezing as soft-shell jackets tend to breathe fairly well.
For bottoms, many companies are starting to make wool shorts that add an extra bit of warmth. A pair of baggy mountain bike shorts will go a long way towards blocking the wind in sensitive regions.
A pair of Nordic skiing pants will also breathe well and block the majority of the wind on the legs. As the temperature drops, a set of light long underwear under Nordic ski pants will generally be adequate down to 0 degrees F.

Current outdoor clothing marketing has led us to believe that wet is cold. Companies tout 'breathable' clothing as the way forward, and 'wicking' being a necessity in the cold.
But ask cold weather aficionados (be it a hunter, runner, or cyclist) and many of them claim that wet is better, as long as insulating layers stay dry.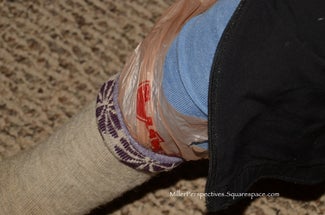 The buzz-word is 'vapor barrier' and the concept is simple, if counterintuitive: wear water-proof clothing next to the skin and keep the sweat in next to the skin instead of allowing it to evaporate.
It's an indisputable fact that the body is going to sweat during physical exertion and clothing is going to get wet. It's when this sweat is wicked off the surrounding clothing that body temperature drops.
Imagine standing in 50-degree weather and being perfectly comfortable and then standing in 50-degree weather after just getting out of a pool and freezing. The concept is the same.
Instead of allowing the sweat to saturate insulating layers, vapor barrier clothing prevents the sweat from evaporating, thereby preventing evaporative cooling on the body.
Vapor barrier clothing can range from something as simple as plastic bags underneath warm socks and a garbage bag over the torso, to lightweight and durable vapor barrier clothing that will hold up to the rigors of time.
Full vapor barrier outfits can be purchased, including jackets, vests, socks, gloves, and pants. Any amount of insulation can be added on top of the vapor barrier layer. These layers will keep heat close to the body without the added worry of getting the crucial insulation wet.
To stay comfortable with a vapor barrier setup, sweating does need to be regulated to avoid excessive pooling of sweat. Therefore, this set-up is most effective for people engaging in steady, aerobic activity at very low temperatures.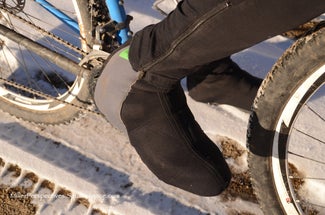 Equally important to keeping the core temperature regulated is keeping hands and toes warm. Nothing will ruin a ride faster than frozen toes or numb fingers that lose their ability to shift or brake.
For the feet, there are several companies making shoes for cold weather. It is recommended to buy these at least a size too big, if not more, to be able to fit warm socks without cutting off circulation.
Thick socks insulate the foot, keeping the heat near the skin. If a tight shoe reduces circulation, blood flow will be so reduced the foot won't produce heat, rendering insulation useless, so be sure to choose a shoe that will still fit with warm sox.
In colder temperatures, wearing shoe covers over the winter shoe provides added warmth.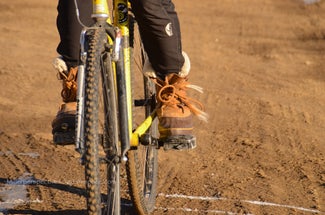 Most snow bikers abandon clipless pedals completely for snow riding since they tend to clog up with snow quickly. Instead, many people ride with a pair of warm boots and platform pedals. While some power transfer is lost with the flat pedals, this eliminates the issue of pedals clogging and also makes the inevitable hiking in the snow more comfortable.
For their hands, snow-bikers will put pogies on their bikes. Pogies — essentially an outer glove fit over the grips, shifters and brakes — attach directly to the bike rather than the hand.
They are made of an insulating windproof material. They cover the hand like an extra glove, allowing the rider to wear thinner gloves inside the pogie, which increases finger mobility for braking and shifting.
Because the pogies aren't in direct contact with the hand, they also don't absorb sweat nearly as rapidly as heavy gloves next to the skin would.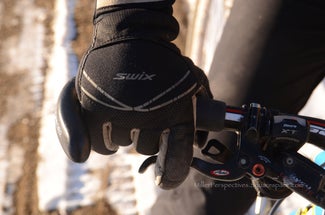 For cold weather where pogies would be overkill, but warm gloves are still necessary, check your local Nordic skiing shop for gloves. Nordic athletes deal with many of the same cold weather challenges as cyclists.
Riding comfortably in the cold is an acquired skill. The key is being able to constantly adapt to changing temperature and changing exertion levels since a body will make significantly more excess heat climbing a hill than coasting down it.
Wet or dry, warm is always the goal.
---
Eszter Horanyi lives and mountain bikes in Crested Butte, CO.  She has dabbled in road racing, cyclocross racing, and cross country mountain bike racing, but has gravitated towards ultra endurance and multi day self supported racing in the more recent past.  She firmly believes that nothing tops a good ride with good friends on good trails, thus she spends her life in search of all of the above. All articles by Eszter.