Tech FAQ : Old Bikes, New Forks and Bottom Brackets
Readers ask bike guru Lennard Zinn about running a new suspension fork on a 15-year-old bike as well as an  external  bottom bracket on an even older rig.
Heading out the door? Read this article on the new Outside+ app available now on iOS devices for members! Download the app.
Dear Lennard,

I have a custom-built 1995 Igleheart steel MTB frame that fits me really well and is in good shape.  The RockShox Judy XC fork is totally worn out and needs replacement.  I think it has 50mm (or maybe 65mm) of travel, and new shocks seem to have at least 80-100mm (not to mention they are designed for disk brakes and I have v-brakes).

I'm wondering how handling might be affected by installing a fork with 80-100mm of travel. Perhaps other Singletrack.com readers might be interested in how replacing a fork with a longer-travel one might affect handling as well.
-North
Dear North,
It will slow the handling down, making it more stable and less responsive to steering inputs. Obviously, installing the longer fork will tip the bike back, making the bottom bracket higher and the head angle and seat angle shallower (less steep). The handling of a bike is largely determined by the fork trail, which is the horizontal distance between the intersection of the steering axis with the ground and the tire contact patch. The contact patch "trails" the steering-axis intersection point the same way the caster on a shopping cart flips around backwards to trail behind its axis of rotation and essentially follow the cart.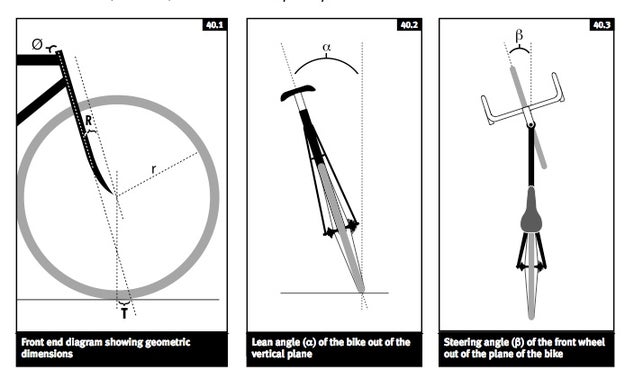 Increase the fork trail, and the stability of the bike increases as well. It can be demonstrated that increasing the trail causes the front wheel to flop further out of the plane of the bicycle when leaned over. While this might seem intuitively to be a less stable situation, it is actually the opposite. This is the bicycle's self-righting mechanism – to get the line of the contact patches of the front and rear tires back under the rider's center of mass as quickly as possible. On a bike with less fork trail, either due to a steeper head angle, greater fork offset (rake), or smaller wheel (tire) diameter, the front wheel will fall out of the plane of the bike less when leaning it over.
Don't believe me? Try leaning a downhill bike, or, better yet, a Harley Hog, to the side and look how dramatically the front wheel falls into the direction of lean. Compare that with what happens when you lean over a steep-angled bike (or even set the rear tire of the downhill bike up on a block to simulate a steeper head angle); the front wheel will fall into the lean much less.
Decreasing the head angle by putting on a longer fork, thus tipping the bike back, increases the fork trail. This will make it more stable and better able to hold a line at speed. On the other hand, it will reduce its maneuverability.
-Lennard
Dear Lennard,

Are there any external bearing press fit bottom brackets on the market that will fit a 1991 Fat Chance Wicked?
-Jason
Dear Jason,
No, I don't think so. That is a tiny bearing size – the same size as on old Merlins, I believe, and I don't know of any bottom bracket that will adapt that to an external bearing/integrated spindle crankset. The bottom bracket is too small for any conventional or external bearing set-up.
The bearings themselves are a conventional size; I think QBP still stocks replacements. But of course, you are stuck with a square-taper spindle.
-Lennard
Dear Lennard,

A lady crashed into me yesterday and apparently bent my rear derailleur hanger. I'm trying to find a new hanger, but in the meantime, is it OK to have the bent hanger straightened?   I'm really concerned about durability as I do long solo rides, and I really don't want anything to break out there on my own.

Not sure if this is going to be an issue or not, but it seems that bending and straightening would weaken the hanger considerably.
-Bob
Dear Bob,
Derailleur hangers are generally very soft aluminum and are very weak after being bent and then bent back. Yes, you can straighten it to get by for a short while, but it will take only a light hit to the derailleur to bend it again, and it could easily get snapped off. So I wouldn't head out on those long solo rides until you have replaced your derailleur hanger (and have a spare).
You can get replacement derailleur hangers for a wide array of bicycles at Wheels Manufacturing, Inc. I would not leave on a long ride without a spare one in my pack as well.
-Lennard
Readers can send brief technical questions directly to Lennard Zinn.
Technical writer Lennard Zinn is a frame builder (www.zinncycles.com), a former U.S. national team rider and author of numerous books on bikes and bike maintenance including the pair of successful maintenance guides "Zinn and the Art of Mountain Bike Maintenance" – now available also on DVD, and "Zinn and the Art of Road Bike Maintenance," as well as "Zinn and the Art of Triathlon Bikes" and "Zinn's Cycling Primer: Maintenance Tips and Skill Building for Cyclists."
Zinn's regular column is devoted to addressing readers' technical questions about bikes, their care and feeding and how we as riders can use them as comfortably and efficiently as possible. Readers can send brief technical questions directly to Zinn.
Follow Lennard on Twitter.