Tech FAQ: Saddle Suggestions
LZ weighs in on the when's & why's of saddle replacement
Heading out the door? Read this article on the new Outside+ app available now on iOS devices for members! Download the app.
Dear Lennard,
I replace my grips every one to two years depending upon how much riding I do. I have never replaced my saddle. Should I be replacing my saddle once in a while and, if so, how often (mileage) do you recommend?
-Tom
Dear Tom,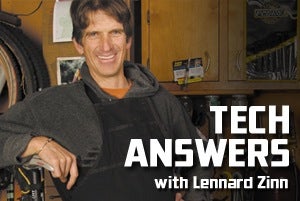 That's a good question with no one answer. I definitely don't think that one can make a blanket recommendation based on mileage. It depends on how heavy you are; how heavy the saddle is (i.e., does it have solid cromoly rails, hollow cromoly rails, solid titanium rails, hollow titanium rails, or carbon-fiber rails?); how far aft in the seatpost clamp the saddle is positioned; the type of seatpost clamp it's in; and what kind of riding you do.
At a minimum I suggest inspecting your saddle's rails at the edges of the seatpost clamp every month or so. If you see any bending or stress cracks there, replace it immediately. If a side corner of the saddle is chewed up from having been crashed hard, replacement is a good idea. And if the cover is worn out, it's due for replacement.
If you do a lot of seated riding on rough terrain, especially without suspension, then annual saddle replacement — even if the rails are not showing early indications of impending failure — is a good idea if you're riding a lightweight saddle. If you jump onto the bike while it's moving and land hard on the saddle, you should replace your saddle often (cyclocross racers break a lot of saddles and seatposts for the above two reasons).
The replacement interval is accelerated if your saddle is pushed way back. The force of your butt cantilevered way back on it is multiplied and makes the rails highly susceptible to breakage, and being positioned so far back, the chances of your butt not landing on the rear tire if it does fail are reduced.
Finally, some seatpost clamps have a tendency to snip saddle rails like a pair of wire cutters. Mostly, these posts have disappeared from the market, but they are superlight seatposts whose clamp consists of a crosswise tube sliced lengthwise and nesting in a transverse groove atop the post. The crosswise tube halves have notches cut in either end for the saddle rails. The clamp is held together by a pair of vertical bolts ahead and behind the split tube pulling down on a plate over the crosswise split tube. Having no solid platform for the rails, these clamps point-load them and cause premature rail breakage.
If, however, you're lightweight and are riding with suspension on mostly smooth trails, and especially if you have a saddle with solid steel rails that are clamped in a more forward saddle position on a seatpost with a proper rail platform, that saddle could lasts you many, many years.
-Lennard
Readers can send brief technical questions directly to Lennard Zinn.
Technical writer Lennard Zinn is a frame builder (www.zinncycles.com), a former U.S. national team rider and author of numerous books on bikes and bike maintenance including the pair of successful maintenance guides "Zinn and the Art of Mountain Bike Maintenance" – now available also on DVD, and "Zinn and the Art of Road Bike Maintenance," as well as "Zinn and the Art of Triathlon Bikes" and "Zinn's Cycling Primer: Maintenance Tips and Skill Building for Cyclists."
Zinn's regular column is devoted to addressing readers' technical questions about bikes, their care and feeding and how we as riders can use them as comfortably and efficiently as possible. Readers can send brief technical questions directly to Zinn.
Follow Lennard on Twitter.