Tech News: Shimano's All-New 2011 XTR Group
Stop waiting and start drooling: Take your pick of top end XC or trail-worthy parts in 2x10 or 3x10, light brakes or big brakes, and everything else you need to hotrod your ride.
Heading out the door? Read this article on the new Outside+ app available now on iOS devices for members! Download the app.
[album id=41 template=extend]
For 2011, Shimano gives a nod to XTR's roots as a finely polished silver aluminum finish of new M980 series parts replaces the gunmetal matte grey of current M970 series components introduced in 2007.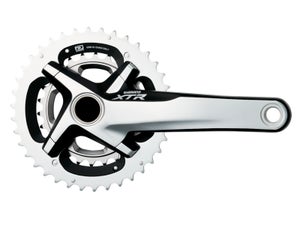 The futuristic look complements a group that's built for the contemporary needs of today's mountain biker. Shimano's newly adopted "Rider Tuned" philosophy pervades the new parts kit, resulting in a wide array of premium, high-end parts configured to the widely divergent riding styles in modern mountain biking.
Within the new XTR group, some parts are configured for cross-country use, and some for trail. For example, the choices include a double or triple crankset and ultra-light or beefed-up brakes, among others. But the best news is that whatever you want, it's lighter than what you've got.
"Weight-wise, in the lightest XC configuration (double crank, I-spec shifter/brake lever combo, XC brake levers and pads), a person could save over 200g vs. XTR M970 w/disc brakes," says Shimano's Devin Walton. "In the trail kit (trail brakes and pads, triple crank, standard mount shift levers), a person could save almost 60g vs. XTR M970 w/disc brakes. So they could get trail/all-mountain performance at 60g lighter than our lightest XC group used to be."
Pricing is yet to be released, but XTR has never been for the budget conscious and isn't likely to change course now.
The Choices are Yours
Can you believe that 18 years have passed since Shimano's vaunted XTR group first adorned elite mountain bikes? The original 1992 XTR M900 group sported gem-like, polished aluminum parts honed to race-caliber perfection. Smoothness and precision were dialed up to new levels. The exotic group sported a triple crank spinning on a square-taper sealed cartridge bottom bracket, an 8-speed cogset, cable-actuated cantilever brakes, and an integrated shifter/brake lever called STI (Shimano Total Integration).
Back in 1992, mountain bikers were just that — mountain bikers. There was no distinction between cross-country, trail, all-mountain, freeride, or downhill. Riders just rode. A 46-36-26 chainring combo, 12-23 8-speed cogset, and cantilever brakes and had to be good enough for everyone.
But these days everyone on knobby tires rides differently, especially at the elite level. It's why bike brands have built their rigs to suit, with suspension travel ranging from zero inches for hardcore hardtail thoroughbreds up to eight or even ten inches of travel for knuckle-dragging downhillers. They're also building a whole subset of bikes with big wheels. It's also why a parts group that might suit the needs of a cross-country racer isn't likely to be sturdy or powerful enough for an aggressive, all-mountain rider.
Shimano saw bike builders strapping M970 XTR parts to their high-end bikes ranging from their carbon hardtails to 6-inch travel aluminum trail rigs, and decided to build the new 2011 XTR group not for one bike (and rider) or the other, but both.
"The concept behind 'Rider Tuned' is really behind everything we're doing," said Shimano product manager Matt Robertson. "We don't care if you're a cross-country racer, trail rider, or if you fall somewhere in between, or overlapping, or you don't really know where you fit. We're gonna have a drivetrain to match your riding style. We're gonna have the control and efficiency that you want with the brake options, and then great ergonomics for your riding style."
Big Ideas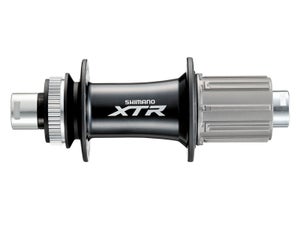 Shimano broached the 10-speed barrier with the 2011 XT and SLX groups introduced in April. They sport the so-called Dyna-Sys drivetrain with three-chainring, closely geared cranksets and broad 10-speed cogsets. Shimano says their approach optimizes stability and efficiency without compromising low-end gearing for the less fit among us.
New XTR drivetrain parts also wear the Dyna-Sys moniker, but the choices broaden to include a double crank for the weight-conscious and XC-inclined, or a triple crank for the gravitationally-challenged.
A number of gearing options are available to suit everything from lightweight hardtails to burlier all-mountain rigs. There's even a double-chainring option mounted to the triple crank, such that the inner two positions hold the chainrings and the outer spider position is free to accept a chainring guard.
The rear derailleur is now all Shadow, all the time. The reverse-spring (low-normal, a.ka. RapidRise) option is gone, but choices in long- or medium-cage length persist. The front derailleur will be available in fully five different mounting options plus specific cage profiles for either the triple or double crank. Cable pull in the shifter is re-tuned to maintain the same light feel across the entire shifting range, but the detents are slightly sharper for a more tactile response. And the shifters can integrate with the brake levers for those who so desire.
So how are the brakes "Rider Tuned?" The M985 XC brake levers are stripped down for lightweight and they sport shorter levers with less mechanical advantage on the integrated oil reservoir. On the other hand, the Trail lever set has a Servo-Wave mechanism to boost power, plus larger levers and finned brake pads for heat dissipation.
Both brakesets have newly shaped, dimpled lever blades; Saint-quality brake hose; improved oil routing for easier bleeding; and one-piece calipers with ceramic pistons. The rotors come in a range of four sizes from 140mm to 203mm and have three-layer construction — stainless steel outer surfaces sandwich an aluminum core and mounting spider.
Finally, Shimano brings two pedal options to the table. The new XTR cross-country pedal drops a few grams and gains mud clearance, while the trail pedal gets a big body for more platform.
Sweet and sick or Sad and Slow?
We scored one short ride on early pre-production parts back in March. But if the final goods ride anything like the bits on our bikes back then, they'll be worth the wait AND the (less) weight.
Shimano's distinctive silky and precise but light and buttery shifting persists in the new XTR, but it's even better. With smaller size jumps between front chainrings and a wider range of usable gearing from the rear, the already great XTR drivetrain gets even better. The double-chainring option provided plenty of gearing and characteristically accurate shifts.
Braking was smooth and predictable, and powerful enough for one-finger feathering. The new lever blades feature a perfectly arced index-finger hook, and shifter ergonomics are similarly comfortable. Fit and finish, even in pre-production, was typically fine.
Stay tuned for a long-term test as soon as we can lay hands on Shimano's return to the future.