Tested: 2011 XTR 980 Pedals
Singletrack.com's Zach White puts his foot down on Shimano's 2011 XTR pedals. What's his conclusion? Subtly outstanding…
Heading out the door? Read this article on the new Outside+ app available now on iOS devices for members! Download the app.
[album id=84 template=extend]
On paper, the new Shimano XTR pedals read as though they'd visually stand out from prior year's Spuds like a sweet potato in a pile of russets.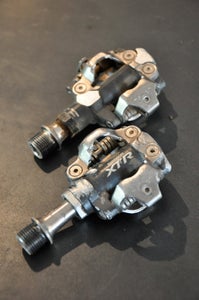 With 270 percent more surface area and oval-shaped axle body housing? Certainly those two new features alone would make it obvious. But at a quick glance it's hard to not simply write them off as last year's version.
Honestly, with so much pedal swapping in the quiver of bikes around here, I still catch myself triple-checking for assurance of which generation I'm about to run. But once out on the trail, it's quickly very obvious that these are a revamped version of the industry bench mark pedal.
The most obvious change comes from those new, shiny little contact points that are wholly responsible for the 270 percent surface-area increase. All but completely negating the familiar rocking effect of previous SPD generations, with a stiff-soled shoe these pedals now feel like they have the surface area closer to that of a BMX platform pedal. That said, the engagement, release, and float are essentially the same as they ever were, in a good way.
Side by side, it's more noticeable that the new generation pedal bodies are both wider and thinner than last year's pedal. As for width, Shimano added 12-mm toward the crank, which is said to help with bearing durability, as well as rider stability. And by using an oval-shaped axle body housing, they were able to reduce the thickness by 4mm, increasing pedal clearance and supposedly helping with mud/debris-shedding abilities, too. It hasn't been anything other than painfully dusty around here, so unfortunately we can't form an opinion on this claim.
2011 XTR PEDALS
Price:
$250
Weight:
310-grams (claimed); 308-grams (actual)
Available:
October 2010
Shimano.com
In addition to the design tweaks, they've also decreased weight by a handful of grams, thanks to lighter axles, and cutting out some of the girth on the outside of the pedal. It will be interesting to see how the pedals fare in the long-run with these reductions, as I don't know about you, but the ends of my pedals take a beating like Balboa, and lightening up axles simply makes me a bit nervous.
Of course, Shimano usually isn't known for taking chances, so odds are these SPD's will be just as stout as the ones before. We're also not talking about huge weight reductions, either, as according to our scale, the '11 XTR pedals weigh in at 308-grams, which is 18-grams lighter than our '10 XTR pedals.
Though we've only been able to log a few dozen hours on our new Spuds, thus far they've been flawless. Certainly there is a school out there that prefers a lighter pedal, but for a larger, more aggressive rider like myself, pedals should be a non-issue item, which has historically pointed me to Shimano SPDs. And if the durability is at the same standard Shimano has set with their previous pedals, I'll be the first in line to swap out my entire fleet's SPD's with the new XTR 980's.