Tested: Avid Elixir 3 Hydraulic Disc Brakes
When considering bike components, lower price can mean inferior performance. Singletrack.com's one-man wrecking crew Zach White says that's not necessarily the case with SRAM's new Avid Elixir 3 hydraulic disc brakes.
Heading out the door? Read this article on the new Outside+ app available now on iOS devices for members! Download the app.
[album id=70 template=extend]
Less expensive component options often come at an alternative price, like poor performance, durability, or a combination of the two.
ELIXIR 3 SPECS
MSRP:
$105 each
Weight:
405-grams claimed with 160mm rotor, 390-grams actual
Available:
This fall
Lever Material:
Black Aluminum Lever, Aluminum Body
Caliper Design:
2 Piston, Forged 2-piece Aluminum
Finish:
Grey, White, Lever: Tungsten Grey
Rotor:
G3 CleanSweep 160mm, 185mm, 203mm, 140mm available rear only
Pad:
Organic, Top-Loading
Fluid:
DOT 5.1
Mount: Ambidextrous
Adjustment:
Reach Adjustment, Tri-Align Caliper Positioning, Adjustable Banjo
Special Features:
TaperBore Technology, Matchmaker Compatible, Split Clamp
www.sram.com/avid
So when SRAM introduced the Elixir 3 with a MSRP of $105 per wheel, we thought it best to run them hard and put them up wet for a while before sharing an opinion. And now that we've logged almost 1,000 mountainous miles on our set, we feel they're definitely worth sharing an opinion of.
Pros: From a performance standpoint, the Elixir 3's are near impossible to tell any kind of difference in direct comparison to the more expensive Elixir CRs. Sure, there's a little added weight, and the pad contact adjustment is missing, but short of that, these brakes work equally as well as their more expensive big brother.
This isn't entirely surprising, as Avid uses the same TaperBore Technology found on their more expensive hydraulic disc brakes, which is said to be the reason for such good modulation that progressively increases braking power deeper into the lever stroke. The same TaperBore also omits the need for a big, bulky reservoir on the lever as well, reducing girth and weight.
Fade seemed non-existent, even on steep, fast, 15-plus mile descents, and fluid expansion from heat was only slightly noticeable on a small handful of rides where braking was excessive. With those two potential issues all but negated, there was never a reason to use more than one finger for braking from start to finish of any ride.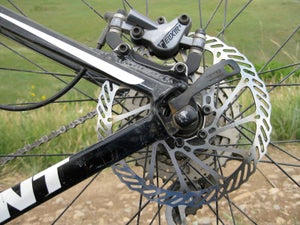 The calipers were easily adjustable during setup, offering plenty of rotor clearance. The ambidextrous levers were a quick install and didn't take up excessive handlebar real estate.  And though we didn't have a set of SRAM's Match Makers to play with, the Elixir 3's are supposed to be compatible with that system for an even cleaner setup.
With the adjustable banjo, rear brake installation is quite a bit more adaptable to varying frame designs. And, as with other Avid hydraulic brakes we've serviced, bleeding the Elixir 3 is about one step more complicated than making instant orange juice — as long as an Avid bleed kit is available.
Cons: Rotor squeal did rear its ugly head more often than not, though it usually hovered at or below tolerable decibles. This happened on ride three, and cleaning rotors and pads didn't seem to help the issue.
Those who are used to the inline pad contact adjustment and tool-free lever reach adjustment may miss it on the Elixir 3's, but it was never an issue with me.