Tested: Bontrager Rhythm Pro TLR Disc 29 Wheelset
Price aside, Singletrack.com's Zach White says Bontrager Rhythm Pro 29 is a great wheelset.
Heading out the door? Read this article on the new Outside+ app available now on iOS devices for members! Download the app.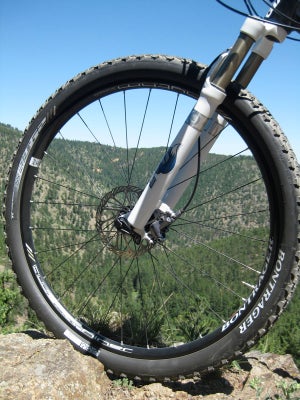 Billed as Bontrager's "best all-mountain wheelset," the Rhythm Pro TLR's offer a mix of features that fall on either side of the strength-to-weight fence.
On the lighter side, the 28-hole rims are laced two-cross all the way around with 14/15G spokes, which marry scandium rims with forged hubs that have then been CNC machined. On the stouter side, said rims are 28mm wide, and feature offset eyelets to offer more balanced spoke tension while still maintaining proper disc clearance. Bontrager also uses slightly higher flange hubs to increase lateral strength and improve durability, as well as an oversized drive mechanism with 3 pawls, again with the idea of improving durability.
Compatibility-wise, they are available in either a standard QR or a 20mm hub with 15QR adapter inserts up front. The wheels are only offered with a standard QR in the back. Each wheel comes with a UST rim strip and valve cores, as well as a tire lever (at least our set did), which hints at the process of setting up these tires tubeless.
Pros:
With just over 500 miles logged on these wheels, they've held up quite well. The freehub doesn't seem to be affected by either dust or wet, gritty conditions, and both rims are as straight and round as the day they were pulled out of the box. Neither hub has any play and both still spin smoothly.
Aside from the QR front hub option that isn't convertible, the ability to easily switch from 15QR to 20mm is a nice touch. Our front wheel came set up for 20mm, but it was a cakewalk to pop out the 20mm spacers and replace them with the provided 15QR adapters.
BONTRAGER 29er WHEELSET
Bontrager Rhythm Pro TLR Disc 29
Price: $349.99 front, $449.99 rear
Weight: Claimed 840g/1008g front/rear, actual 950g/1140g front/rear
with tubeless rim strips, valves, 15QR front hub adapters and rear QR
Conceptually, I appreciate the offset eyelets on the rims to avoid too deep of a dish for disc clearance. Whether or not it's worthwhile or if it creates an odd leverage on the rim has been argued, but considering the rims held up extremely well it'd be hard to naysay the design benefits using these wheels as an example.
Maybe the use of scandium rims paid off as the Rhythm Pro's aren't exactly featherweight, but for what they do tip the scales at these wheels roll slightly faster than expected.
Cons:
Mounting these wheels up tubeless is a bit of a pain. The provided rim strips take up enough room in between the bead locks that there's essentially no place to drop tire beads into in order to offset tire diameter from rim diameter during install. It's doable, but don't expect it to go smoothly. And if you happen to lose one of the core valves be prepared to shell out the better part of an Andrew Jackson.
Price aside, these seem like a great wheelset. But, for $800 it'd be nice if they could offer something a bit lighter.