Tested: Fox F100RLC Fork
Fox knocked it out of the park with its 2010 F100 FIT RLC. The only question we have is how Fox will possibly improve upon the fork in 2011.
Heading out the door? Read this article on the new Outside+ app available now on iOS devices for members! Download the app.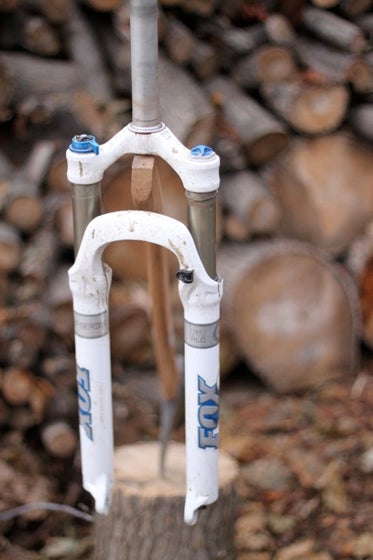 Fox Racing Shox's motor sport pedigree shines through in the latest iteration of its cross-country flagship fork — the F100RLC.
It works extremely well and, I would argue, to a level that hasn't before been achieved in a cross-country suspension fork. Its damper is best described as subtle and refined, but with a wide range. Most XC suspension forks either smack you in the face with their action — lockout, low compression and rebound — or provide vague feel; some do both without giving the "right" setting.
Why? I think the simple answer is twofold: It's what riders ask for and it's the solution that best fits a wide range of said riders.
Fox takes a different tack. It focuses most on keeping the front wheel on the ground with good quality suspension, rather than making sure the person riding it can feel something.
That's not to say that both can't be achieved, because I believe Fox has.
Fox built a damper called FIT (Fox Isolated Technology) that provides tuning adjustment that riders can better feel at the points they are thinking about it, like climbing, sprinting (i.e. low-speed circuits), but also works well when they aren't thinking about the fork; like hanging on for dear life on a rippin' descent (i.e. high-speed circuits).
FIT comes to Fox's cross-country and trail products by way of the brand's gravity development team and racers. FIT puts low-speed control of both compression and rebound in the hands of the rider. The rider also has control over a lever lockout and the ability to adjust the lockout's threshold force. These adjustable attributes should not be a surprise, as they've always been available with previous RLC dampers.
FOX FACTS: F100 RLC
MSRP
: $740
RLC Package (Rebound, Lockout, Low-Speed Compression)
FIT Damper (Fox Isolated Technology)
Wider low-speed compression adjustment range.
Shim-controlled mid- and high-speed provide consistent, safe control.
Shim-controlled high-speed rebound damping.
Three travel ranges
: 80mm, 100mm, 120mm.
Two dropout choices
: 9mm open, 15QR.
Canti boss still offered in 80mm, 100mm.
Super light
: 3.15-pounds claimed (9mm dropout at 80mm and 100mm travel), actual measurement confirms this.
Pro
: 71-grams lighter with the industry benchmarks of steering stiffness, adjustability, durability, tire clearance and brake line attachment.
Con
: The lockout lever is still small and hard to operate.
www.foxracingshox.com
The new technology is in the FIT damper's bladder design, which provides hugely improved and more consistent damping characteristics; stuff you can really feel on the trail. The range of the low-speed compression adjustment has also been greatly increased. The bladder keeps all of the damping fluid internal and also helps dissipate heat. The design also offers the lowest internal friction of any it has produced, according to Fox. Being completely sealed makes it highly resistant to cavitation, which is defined as the aeration of the damper's fluid resulting in a breakdown in damper control and performance.
You will notice that the rebound and threshold adjustments have traded places; this is also because of the damper. By rearranging the circuits Fox was able to reduce the unsprung weight — meaning the weight that moves, in this case, at the bottom of the damper — of the system. That reduces the amount of weight the damper needs to control allowing for better damper performance.
While it may not seem like much, reducing unsprung weight in the world of suspension has big benefits, much like reducing the rotating weight on a wheel. Bottom line it's important weight to lose.
Fighting the Weight War
Besides rearranging where the weight is, the damper unit is 71-grams lighter, according to Fox, than the previous model year. This massive weight reduction allows Fox to offer a fork that competes in the one arena that every World Cup racer cares about: The weight war. This is traditionally a place where Fox has suffered and instead made up for a heavier weight with suspension quality, this latest reduction will surely strike fear into Fox's competition.
Weight is the one thing riders have been begging for since the brand started making mountain bike suspension forks in 2002, a fork that can compete with the competitions' lightest models.
Hello racers. The F100RLC now weighs virtually the same as a 2009 Sid World Cup and only about 40-grams more than the 2010 Sid World Cup with its carbon steer and crown assembly and close to $400 less. You're probably sold on this simple attribute, but please read on.
Better and Better
Fox's F100 FIT RLC works better than the previous F100RLC. Every year Fox picks a feature and betters it. Last year, 2009, it was the linear quality of the air spring. Now that improvement is further capitalized on by the aforementioned separation of the damper's oil with the FIT bladder.
The new fork is phenomenal out on the trail. It seems even plusher than the 2009 model, but it never surprises you with a harsh bottom out, while the low-speed compression adjustment holds the fork up in its travel under braking.
As stated earlier, the best thing about the new fork is that you can tune it to feel how you want when you're climbing or hammering, yet no matter how poorly you inhibit its low-speed action (by making it really firm) it ends up doing a good job on the way down. This is because of the shim-controlled circuits that handle the mid- and high-speed hits. The range of the low-speed compression adjustment is noticeably wider and it seems to do a better job of supporting a rider and bypassing quicker after an impact.
I also feel that the rebound is also more consistent than on previous models, again, likely due to the new shim-controlled circuit. The rebound and bump threshold adjustments change places; rebound is now on the bottom of the leg, which is a preferred placement, since you're apt to more frequently adjust threshold than rebound. The only gripe is that the lockout lever is still small and harder to use than that of the competition — mind you this is the only flaw I could find with this fork.
The 32-F Series RLC forks come in three travel configurations, 80mm, 100mm and 120mm. Fox offers a traditional 9mm quick-release or a QR15 thru-axle and it also makes a version for 29-inch wheels. Our test fork preformed flawlessly for eight months of testing and is currently without weepy seals or anything of the sort.
The bottom line comes down to this: Fox knocked it out of the park with its 2010 F100 FIT RLC. Its new lighter weight and stellar FIT damper give no reason to look anywhere else for a cross-country race or light trail fork. The only question we have is how Fox will possibly improve upon this for 2011.
[nggallery id=59]