Tested: Fox Talas 32 FIT Terra Logic
Singletrack.com's Zach White takes Fox's totally revamped Terra Logic fork offering for 2011 on the trail.
Heading out the door? Read this article on the new Outside+ app available now on iOS devices for members! Download the app.
[album id=86 template=extend]
Read what Lennard Zinn says is new at Fox.
The Fork: If you think Fox is aiming for a retro 1970s throwback theme with their gold fork stanchions, think again. The Kashima Coat stanchions are a borrowed design from the motorsports world, and said to increase surface hardness four-fold when compared to a standard hard-anodized finish, theoretically greatly improving durability. And the bling is also said to improve actual performance in the form of friction reduction.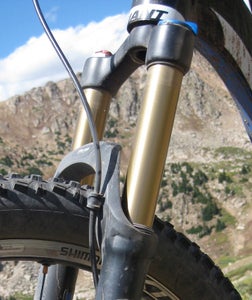 The adjustability in travel that Talas is known for is reduced this year from three settings to two. This may not sound like a good thing on the surface, but with a slight reputation for durability issues in the past, simplicity may be a step in the right direction of improving Talas reliability. It also seemed that most riders out there were usually toggling between the shortest travel for climbing and longest travel for descending anyway, so why not streamline?
On the inside, Fox is claiming more usable travel with lower compression ratios for better performance and durability. It's agreed that last year's Talas had a bit of a progressive feel into the bottom of its travel, especially in the shortest travel setting, so it's good to hear that Fox has addressed the issue for 2011. As for damping, they are sticking with the Isolated Technology system, which has helped reduce fork weight by a drop in oil volume.
Fox Terra Logic, Round Deux
Though Fox's Terra Logic idea is nothing new, the outcome of the revamped technology under the same label certainly is.  According to Elayna Caldwell, Fox's marketing manager, the inertia valve system has been "completely redesigned", and should fit a broader spectrum of rider's needs, verses the initial, very endurance-racer oriented Terra Logic option, which was only available on the F100X/80X, and has been missing from their line-up since 2007. Backing this forecast of acceptance from more than just the XC sect is the availability of
Terra Logic damping in the majority of Fox's 32 line-up, save the 32 Float and 32 831. However, there is still a line in the sand between gravity-oriented and endurance-oriented markets, as none of the 36-series forks(or the 40) will be available with the revamped inertia valve technology.
Trail Feedback
2011 FOX TALAS 32 FIT TERRA LOGIC
MSRP: $985
Travel: 140-110mm (2-position Talas)
Lower Leg: 15QR or 9mm open drop-out, both with post-style disc brake mounting
Steerer: Standard 1 1/8″ or optional 1.5″ taper
Spring: Air
Weight: 4.08lbs with 1-1/8 steerer and 4.06lbs with 1.5″ tapered steerer (claimed, with 15QR), 4.24lbs actual (1.5″ tapered steerer, with 15QR, cut, with star-nut washer)
Available: Now
Likes: Fox's 2011 forks as a whole are a nice improvement over last year. From the visually obvious Kashima Coat on the stanchions, to weight reductions across the line, it's hard to dislike where the company is going.
As for our Talas, switching back and forth with a simple 1/4-turn between 110-mm and 140-mm of travel was flawless every time, and the fork was quick to adjust to accompanying ride height as well. The loss of a middle setting from last year's fork didn't originally sound like a plus, but the 30-mm jump between the two new travel settings, verses last year's 20-mm increments, turned out to be very satisfying.
In addition, the two-setting option negated unclear travel choices made on the fly that would occasionally happen with the three-setting dial, leaving one wondering if they went from short-to-middle travel, or middle-to-long, etc.
The benefits of both a 15QR, and a 1.5″ tapered steerer have been reported on plenty of times already, but I'll say it again; both of these features drastically improve steering precision. There are probably smaller, more "nimble" riders out there who will stick with regular QR's, and possibly even talk themselves into avoiding 1.5-inch tapers for fear of added weight by the small handful of extra bearings in the bottom cartridge, but for the rest of us, make the switch if you can.
One of the most noticeable changes to this year's Talas is the drastic reduction of progressive end stroke. In both short and long-travel modes, spring rate felt consistent top to bottom.
For the endurance riders out there who like the idea of an inertia valve to keep their fork from bobbing while seated, this year's Terra Logic option is definitely your best bet. In any of the 15-click settings, the approximate 1 G-force breaking point* was as consistent as could be, and once the inertia valve was disengaged, full, unrestricted travel was available. There wasn't any random inertia valve engagement into the stroke, nor any "clunking" of engagement or disengagement. The inertia valve itself also allowed the slightest bit of top-end travel movement, approximately 1-cm, which is a good thing in my book as it combated a skidding affect over smaller bumps that wouldn't otherwise disengage the system.
Adjustment of Terra Logic allowed for what felt like an unrestricted fork when turned all the way off, to a locked-out feel at the full 15-clicks on. The intermediate adjustments were noticeable to within about two clicks of each other, but I personally couldn't tell a difference between, say, click eight and click seven.
Negative spring, though not externally adjustable, was spot-on for this fork, and kept rebound snap at bay even with the external rebound adjustment completely open.
Dislikes: Though Terra Logic has come a long way since its previous generation, it still seems to be more specific to forks specific to endurance-style racing, which isn't quite what the target market is for a Talas, at least in my opinion.
When the Terra Logic was set to anything above two clicks from completely open, my five-inch travel rear end felt progressively out of tune with the fork, even with Fox's RP23 Pro Pedal at setting-three. It should be stated that my bike came stock with a non-Terra Logic Talas, too, so we weren't trying to mix oil and water here.
I found myself really missing a lockout up top, but that could be specific to our regional riding. If you're in a similar situation where there's a good 20-to-45 minutes of road between home and the trailhead or tend to ride trails that are often connected by long sections of dirt/paved road, you may be wishing for a lockout, too.
While the inertia valve did an excellent job of keeping the front end bob-free in the saddle, once standing, the front end still bobbed, regardless of how stiff it was set. In addition, the pedal-induced bob seemed to give Terra Logic a bit of confusion, as the fork felt somewhat stiction-laden, which was more annoying than anything, but also felt like it was throwing a wrench in the usual rhythmic timing of a bobbing fork while climbing out-of-saddle.
There is essentially no getting around having the Terra Logic adjustment at the bottom of the fork, but that said, it was annoying to have to stop each time to fine-tune the inertia valve. And with the adjustment taking the usual place of the rebound damping knob, Fox opted to put said rebound adjustment up top. In my opinion, rebound damping shouldn't be the only reachable adjustment on the fork. If a rider isn't familiar with dialing in rebound, it may be all too tempting to start clicking away on the one and only big red knob within reach, thereby tuning the fork for an OTB catastrophe. Ever seen someone with way too much rebound damping on their fork hit a few subsequent bumps in the trail? It's not pretty.
Noted: From our standpoint, it seems like the fork may still target a racier audience than Fox was hoping for, which isn't a bad thing for said riders. When matched up with a hardtail, or a short-travel suspension frame that's been tuned towards stiffness, the Terra Logic would be a great choice. It just doesn't seem to be the best choice for general trail riding, or most full-suspension set-ups in general.
*Fox states it takes approximately one G, or gravitational force, to disengage the Terra Logic inertia valve.  They know the exact force, but won't tell us, or anyone else for that matter.