Tested: Lezyne Blox 23
With 23 tools the Lezyne Blox 23 isn't a bad arsenal to leave home with.
Heading out the door? Read this article on the new Outside+ app available now on iOS devices for members! Download the app.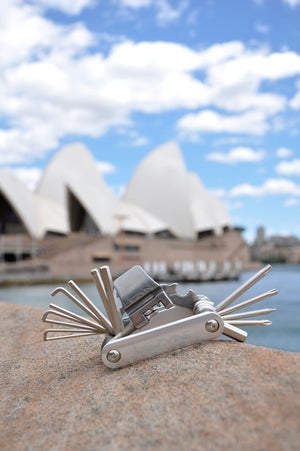 As one might guess, the Blox 23 gets its name by having 23 tool options in its one blocky package. Not a bad arsenal to leave home with, especially when it comes in such a pocketable package.
The Good:
The idea of having just about every tool that could possibly be needed in one little package is nice. The quality of the tool itself is also appreciated, as some multi-tools out there seem to be made of pewter, and not a metal strong enough to keep your knuckles safe. The Blox 23 offers shop-grade quality throughout the tool. Interface with most of the tools' intended uses is precise as well.
With many multi-tools, straight Allen keys can be more frustrating than useful. A box-style tool itself, when combined with only the long end of an Allen key, often doesn't allow proper alignment to adjust, or even get to, a bolt. Lezyne has at least partially addressed this in the Blox 23 by supplying both a straight and 90-degree angled 3mm, 2.5mm, and 2mm allen key, allowing for multiple lines of attack to smaller Allen bolts.
The neoprene tool cover is a great touch, keeping the tool clean and safer from potential rattling in a pack or pocket.
The Bad:
While Lezyne touched on the issue that arises with only offering straight allen keys in a multi-tool, the Blox 23 doesn't come with a 90-degree option for the more popular 4mm, 5mm or 5mm allen keys. A classic example of this issue is trying to use this tool to adjust my front derailleur's cable pinch bolt. The combination of bulky tool body and long, straight 5mm allen key was too awkward to be manipulated between the rear tire, frame and front derailleur cage. I did make it work, but it was at the serious threat of stripping out the bolt and losing some knuckle skin, and even then the bolt was only able to be turned in about 1/16-inch intervals.
LEZYNE BLOX 23
MSRP:
$34.99
230 grams
Height
20mm
Width
55mm
Length
90mm
www.lezyne.com
The Blox 23 did get me home after breaking a chain on the trail, but the chain tool itself is a bit of a bear to use and could use a little tweaking with the design. For one, it isn't removable from the bulky body that houses the rest of the tools, so operation is cumbersome. And two, even though the chain chamber has two fins, they aren't tall enough to provide proper bite on a link. This was an issue when the repaired link was too tight and needed the typical adjustment from the inside fin position.
Speaking of the chain tool, it's also home to three spoke wrenches. The two standard box wrenches work well enough, but the splined wrench doesn't offer enough bite to adjust a spoke with any kind of tension on it.
Overall:
The Blox 23 offers many of the tools necessary to get you home, and does so in one small, easily pocketable package. Granted it's at the expense of sometimes-cumbersome operation, and the splined spoke wrench is basically worthless, but if it was flawless, it just wouldn't be that much fun, now would it?