Tested: Niner Rip 9
The dually two-niner is a capable all-mountain sled with impressive downhill skills
Heading out the door? Read this article on the new Outside+ app available now on iOS devices for members! Download the app.
CHECK OUT THE NINER RIP 9 GALLERY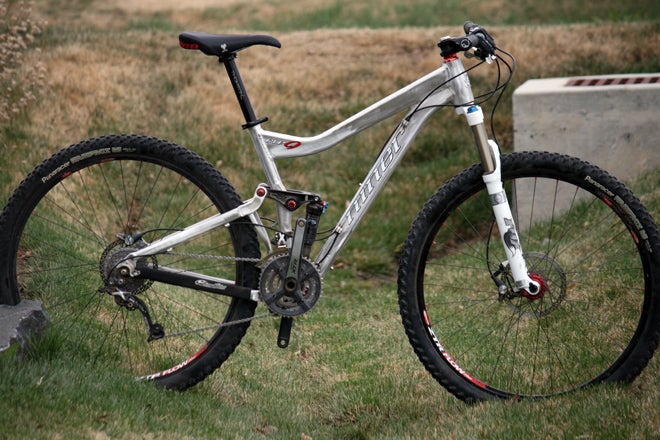 The trail bike category can be judged on climbing prowess, descending talent, or deftness in the corners.
We can nitpick component spec, suspension efficiency or system weight. We can argue all day about wheel size. But really, the most important metric for any trail bike is grins produced, and the 29-inch wheels of the Niner Rip 9 put a smile on my face so wide my ears started to hurt.
The details
NINER RIP 9
MSRP:
$1,800 (frame)
Pros:
Dialed geometry, smooth on the way down.
Cons:
Stacks up a bit on super high-frequency hits; you'll know you are climbing
The scoop:
Killer all-mountain machine, ready and able to take just about any type of riding you can dream up
www.ninerbikes.com
Our medium Rip 9 came in at a respectable but not extraordinarily impressive 27.4 lbs, built up with 9-speed XTR (including brakes), Chris King hubs, Stan's Flow rims and Thomson stem and seat post.
The frame itself is good looking, and the brushed aluminum finish will hold up to abuse better than paint. The hydroformed aluminum tubeset is matched to a 1.5-1.125-inch tapered head tube, sealed cartridge bearings all around, alloy hardware, and top tube cable guides in case you want to run a dropper seat post. All sizes have two bottle mounts, one inside the main triangle and one underneath the down tube, though Niner says some bottles may not fit on the inside of small frames.
Rear hub spacing on ours was regular 135mm QR, but the frame is available with a 135×12 MAXLE or 142×12 thru axle.
Rear squish is courtesy of 4.5-inches of CVA (Constantly Varying Arc) suspension, designed to eliminate chain-induced bobbing. To help cancel out rider input (weight transfer and imperfect pedal stroke), the Rip 9 comes with a custom-valved Fox RP23 shock, which has a nice stiff platform available at the flick of a switch.
The ride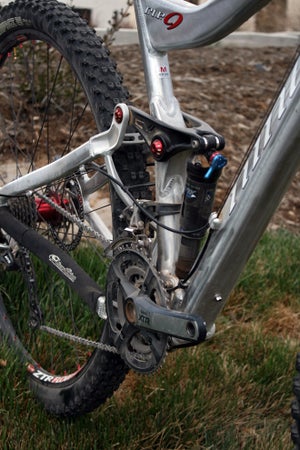 Niner originally sent over a Rip 9 for the VeloNews, our sister publication, Buyers' Guide photo shoot. We had heard good things, and so requested that they extend the loan and let us give it a real go. It's been ridden extensively in and around Boulder, Colorado, as well as taken a trip to the rocky, spiky trails outside of Tucson, Arizona.
I had the opportunity to ride the previous iteration of the Rip 9, and the new one is noticeably stiffer, even with the regular 135 QR rear dropouts. The tapered head tube and beefy tube set are definitely doing good work.
The most impressive feat of the Rip 9 is how different its rear end feels going up versus going down. Climbing is better than expected, particularly with ProPedal engaged. Suspension stays active but isolated from pedaling input, giving the Rip 9 excellent traction during tricky moves and on less-than-perfect (understatement of the decade) surfaces while retaining the ability to huff it up smooth singletrack.
It is a bit heavy, though, making climbing a tad less enjoyable.
And yet, turn the Rip 9 downhill and feels like far more than 4.5 inches of travel. The CVA suspension feels almost bottomless, opening up a host of line choices previously ignored for fear of death by tree. It's a true point-and-shoot on the downhills, quickly reacting to bumps big and small. It was hard to believe how well the Rip 9 descended given its (somewhat) easy climbing.
My only complaint about the rear end was a slight deficiency over high-speed stutter bumps — tall washboard type surfaces at 30-plus mph. Despite many changes to shock setup, I couldn't get it to react favorably to sharp impacts in quick succession. It was still plenty plush, the rear end just seemed to be packing up a bit. I actually intended to write this review over a month ago, but continued trying to resolve what I now have to accept as an unsolvable problem. But really, how often to I ride washboard dirt roads at 30mph? Not very.
Geometry is, as always with Niner, dialed to perfection. The Rip 9 doesn't feel sluggish even when things get tight, yet remains extremely stable at speed. No, it can't whip around switchbacks like a little 26-inch hardtail with a super steep head angle, but it'll get you to that corner so much faster it doesn't matter.
I absolutely love how the Rip 9 maintains traction mid-carve, and then springs back up out of a corner. Hitting S-bends in quick succession was the source of my ear-hurting grins. Lay the bike down into the first corner and a quick flick of the front end picked the whole thing up and laid it onto its other side with complete control. It's one of the few 29ers with which I've enjoyed kicking the back end around; usually it feels like I'm towing a tree back there. The Rip 9 felt agile and extremely responsive.
Bottom line
The Rip 9 is a supremely versatile machine. It's not the best climber, but it does just fine. And it definitely punches above its 4.5 inches of travel on the way down. Geometry is dialed, balanced between stable and flickable. The Rip 9 is a seriously good all-mountain machine.
Caley Fretz joined the Singletrack.com crew in May 2010. Beyond his journalistic pursuits, Caley is a Cat 1 road, cross and track racer, holds a Pro XC license, and is former President of the Colorado State University cycling team.