Tested Tires: Schwalbe Hans Dampf
The name of Schwalbe's Hans Dampf tire translates into English as "Jack of all trades." Yep.
Heading out the door? Read this article on the new Outside+ app available now on iOS devices for members! Download the app.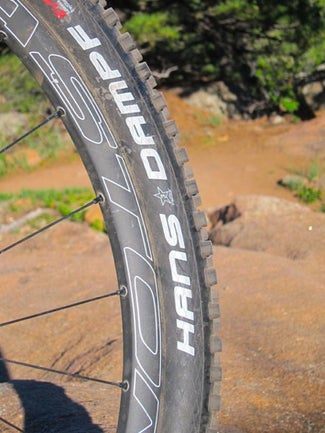 Hans Dampf translates from German into English as "Jack of all trades," which is exactly what Schwalbe designed the new tire to be in regards to trail conditions.
Featuring a unidirectional tread pattern, the tubeless-ready 2.35-inch tire weighs in at a reasonable 778-grams for general trail use and is designed to work in a multitude of conditions.
We mounted our set tubeless without any issue, and were even able to get away with using a rather, um, seasoned floor pump to mount the front tire. The back tire took a quick blast from the air compressor, and both tires set at around 32-psi. Both tires were very round and well balanced without any noticeable wobble.
As claimed, the Hans Dampf worked very predictably in every condition thrown at it. The  tire excelled in dry, rocky conditions, which wasn't all that surprising judging by the big, square knobs and being familiar with Schwalbe Trailstar rubber. The big surprise was how well they hooked up in wet, rainy, sloppy conditions over rocks and typical Colorado mud. After a few hesitant turns to get a feel for the footing in said conditions, speeds reached almost dry-conditions levels. They also shed Colorado mud very well, which wasn't expected for a tire of this tread pattern.
The Hans Dampfs were impressively predictable in sand-over-hardpack, and clean hardpack as well. In fact, there wasn't a single trail condition in Colorado or Utah that caused alarm in regards to traction. Jack of all trades, indeed. The only slight annoyance was the not-so-smooth rolling resistance that became apparent on smoother trail, but this is something that isn't exactly out of the ordinary on a 2.35-inch trail tire.
SCHWALBE HANS DAMPF
MSRP:
$96.65
Size:
2.35″
Weight:
750 claimed, 778 actual
Bead:
Tubeless-ready
Compound:
Trailstar
www.schwalbetires.com
It was also nice to see that the 67-EPI (threads per inch) casings were stout enough to allow the Hans Dampf to be run at lower pressures without the larger knobs folding in on themselves, or misbehaving at various pressures in general. Schwalbe's Snakeskin protection — a light and flexible layer added to the sidewalls for durability — probably lent themselves to this ride characteristic as well.
Unfortunately, while the casing held strong for the knobs, we did have one major puncture on our second ride that was caused by climbing a steep, rocky hill at low speed with 32-psi. The hole was large enough to render two scoops of Stan's sealant useless, but was small enough to keep an installed tube safe for the ride home. The hole was also patchable with a standard tube patch from the inside of the casing and has been run tubeless without issue ever since. So while the puncture was annoying, it wasn't reason to toss a $97 tire.
After approximately eight hours of being ridden hard by a 200-pounder, the side knobs showed obvious signs of wear. Performance loss was noted by this in turns that were pushed hard through, but otherwise the tire still handled quite well. Center knobs held up fantastically, which made braking consistent and predictable up to this point, and for hours beyond.
Overall, Schwable's Hans Dampf is a very impressive trail tire. Price may be a slight issue for some riders, and the performance does seem to come at the expense of limited longevity, but such seems to be the case with this level of performance.