The Next Big Hit: 29er Full Suspension
The Superfly 100 - a 29er full-suspension rig - incorporates all of the highest technologies found within the Gary Fisher and Trek family.
Heading out the door? Read this article on the new Outside+ app available now on iOS devices for members! Download the app.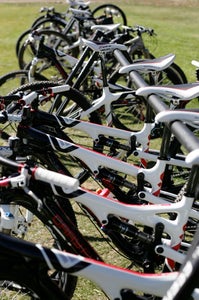 During the middle part of the 2009 racing season the Subaru-Gary Fisher team gave Jeremy Horgan-Kobelski, a racer with a preference for hardtails, a new full-suspension bike.
To the surprise of many he raced it in some of the biggest events during the second half of this season. JHK rode Fisher's new Superfly 100 in two world cups, the marathon national championships, which he won, and the last two stops of the Pro XTC series, of which he won the overall series.
It should be noted that JHK has raced the Superfly 100 more than any other full-suspension bike Fisher has provided him in his five years on the team, – 29-inch wheel or otherwise.
"It was one of the easiest transitions [to a new bike] I've ever made," Horgan-Kobelski said at Fisher's unveiling of new bikes last weekend in Park City, Utah.
So the Superfly 100 will likely go down as the bike to convert JHK to full suspension. It's also the lightest full-suspension bike that Fisher has ever produced, at 2,100-grams (medium, frame, shock and hardware). And in a departure from the original Superfly hardtail, which is made overseas, the Superfly 100 is 100-percent OCLV carbon, which is made exclusively at Trek's carbon manufacturing facility in Waterloo, Wisconsin.
Gary Fisher, the man, has been a 29-inch evangelist for many, many years, but his namesake bicycle brand has produced them for a decade. Working on the product for a decade is important, according to Fisher.
"When the first butted chromoly tubing came out, it took them about 10 years to get it so the stuff wouldn't break – that was back in the '20s," Fisher said. "When the first aluminum frames came out it took them 10 years until those things stopped cracking on a regular basis. When the first suspension came out, good old RockShox, we spec'd one on our bikes in '91 and our dealers thought we were crazy. It took about 10 years for those things to become refined enough to where everyone said, 'it's a no-brainer, I'm getting it.' So it's no coincidence: 29er – 10 years."
Superfly 100: Fisher's Most Advanced bike yet
Before we get back into the debate over wheel size, we should go over the specifications of Fisher's newest top-of-the-line model. The Superfly 100 incorporates all of the highest technologies found within the Gary Fisher and Trek family. From the Fisher side comes the decade worth of refinement to 29er geometry. Highlights here include the G2 geometry and fork offset and 29er Advantage, which pertains to creating the shortest rear center measurement possible for better, more 26-inch-bike-like handling.
SUPERFLY 100 FAQ
A couple of things that you may be wondering about Fisher's new full suspension frame:
Is it compatible with SRAM's new XX group? Yes, and the BB95 bottom bracket will accept Truvativ's narrowest 156mm Q-factor XX crank.
Who makes direct mount front derailleurs that will fit this bike?
Shimano makes a complement of direct mount front derailleurs and SRAM offers direct mount options with its XX group.
Can I use a MRP 1.X chainguide on the Superfly 100?
No, MRP's 1.X requires a threaded bottom bracket for mounting.
How does the ABP system allow compare to a standard drop in the event of a flat tire?
Slightly slower. National champion Jeremy Horgan-Kobelski estimated an extra 30 seconds to his repair time when asked by Mountain Bike Action Editor Jim MacIlvain to demonstrate.
Trek offers the whole of its latest suspension and carbon engineering advantage to Fisher's flagship, full-suspension project. These include the Net-Molded E2 tapered headtube, BB95 Net-Molded bottom bracket and ABP concentric rear pivot. In a first from Trek, all of the Superfly 100's bearing seats are Net-Molded as well; there is no metal molded into this frame, save for the threads for the direct mount front derailleur. Couple all of this carbon technology with one-piece OCLV seatstays and a 44-gram carbon swing link as the finishing touch. The Superfly 100 uses these features to produce 110mm of rear wheel travel. Together, all of these technologies make for one of the most advanced cross-country, full-suspension bikes available on the market for 2010 – 29er or otherwise.
Component Picks
Continuing the impressive story surrounding the Superfly 100 is its raceable, yet relatively affordable parts selection. Top of the line cross-country suspension components come from Fox Racing Shox in the form of the brand's 100mm F29 RLC and RP23 with Boost Valve. SRAM, Truvativ and Avid take care of the component group with a collective of the joint brands' "Design Your Ride" Redwin components.
A smart selection of Bontrager alloy and carbon components finish the package: Race X Lite alloy wheels, stem and Race Lite Big Sweep flat handlebar are complemented by the weight savings from the Race XXX Lite carbon seatpost. Maybe more impressive than the Superfly100's technological package or component picks is its price. While some manufacturers offer less for more, Fisher prices its flagship at an expensive, yet attainable $5,560.
Riding It
While a couple of hours on any bike are hardly enough to pass any sort of judgment, my initial impression was good. It was similar to my first ride, three years ago, on Trek's ABP suspension platform. During that launch I rode Trek's Fuel EX 9, a 5-inch-travel bike that pedaled uphill, and on flats, like a full-on cross-country race bike. From that point I was convinced that ABP is a good system and it doesn't disappoint on the Superfly 100.
I was able to ride the bike comfortably with the shock in the open position for just about the entire ride, save for checking out how it felt with ProPedal. Without going too much deeper, I'll leave my impression at this: If Trek had launched this bike, with all of the same technology at a higher price, I would have been impressed. The lower-than-expected price and the fact it has 29-inch wheels did not dampen my impression at all.
[imagebrowser id=25]