Too Coolio: Pedro's New 'Tülio' Skewer Tool
Pedro's new portable tool does many things, including paying tribute to one of cycling's early innovators by being, well, innovative. Singletrack.com talks to the guy who brought it to life.
Heading out the door? Read this article on the new Outside+ app available now on iOS devices for members! Download the app.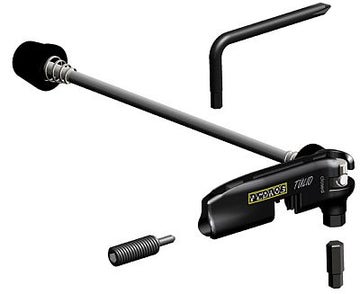 By Wendy Booher
Though it may sound simple, being a product designer – especially at a smaller company like Pedro's – requires a broad spectrum of skills that go beyond engineering.
Jay Seiter, a gifted mechanical engineer, was tasked with the responsibility to take a concept design for an unprecedented multi tool and bring it to a commercial product. As lead designer for Pedro's new "Tülio," Seiter commanded every aspect of the tool's development, from its ergonomic and aesthetic design to applying engineering analyses from the first prototypes through to production.
The "Tülio," which is an homage to Tullio Campagnolo, takes the idea of a portable tool to a new level. Seiter explains.
Where did the idea for the Tülio originate?
The concept behind Tülio was one of many product idea solicitations Pedro's receives each year.  Pedro's felt the concept had strong potential and was excited to have the opportunity to bring it to market as a successful commercial product.
What kind of rider did you have in mind as you were developing the tool?
Initially the Tülio was intended for mountain bikers. As development continued, however, we found the tool to be an asset for all types of riders. It is for riders who prefer uncluttered pockets or riding without a seat bag; for the cross-country racer; or for your friend who always forgets his multi tool. The Tülio is an integral part of the bike; riders will never again forget it. Personally speaking, the Tülio makes a great replacement for the cumbersome all-in-one tool that I've been carrying around for the past six years. It's also perfect for lift-assisted riding, dirt jumping, and freeriding, where backpacks and seatbags are less common.
Despite the weight stigma of a few extra grams, Pedro's successfully convinced racers at the Tour de Beauce to ride with the Tülio. What were the results?
We were fortunate to have a rider from the Garmin-Slipstream Junior Pro Team use the Tülio for a few stages of the Tour de Beauce. Though the rider was lucky not to experience any mechanical problems during the stages, the tool had no problem handling the bumpy roads of Quebec. It tucked nicely into the frame, away from competitor's wheel, and the additional 40 grams didn't affect the rider's performance.
As a skilled gravity rider – as well as R&D engineer for Pedro's – you likely put a few prototype versions of the Tülio through some tests of your own, what were those results?
In addition to Pedro's other testing of the Tülio, I did indeed have the unfortunate task of personally testing the Tülio out on the trails. Kidding aside, I was initially a bit skeptical about the Tülio. Skepticism quickly faded, however, after I started putting in some miles with a prototype on my bike. Though I don't make it to the downhill trails as often as I used to, my riding buddies would attest that I ride like I'm still on my downhill bike; the sets of bent cranks and a snapped freeride fork would say I still push my equipment pretty hard.  I am proud to say that after a few hundred miles of personal testing on the Tülio, I have yet to have a single issue. I definitely couldn't feel the extra 40 grams of weight since I'm pretty sure the mud on my down tube weighs more.
I also conducted "lab style" testing by replicating the use a Tülio would see from the consumer during its life. This testing included extensive use of each tool on a range of bikes. For example, one test involved pushing hundreds of pins out of a chain using the chain tool. As one would imagine, this is a time-consuming process, but it is important and helps catch any potential issues that FEA analysis missed or couldn't simulate.
Did you name this with Campagnolo's blessing?
After throwing around all sorts of names for the tool, Pedro's chose the name Tülio to pay tribute to Tullio Campagnolo as the inventor of the quick release skewer and a true cycling innovator. The Pedro's Tülio hopes to continue innovation in cycling by offering this advancement to the skewer.
Weight: 99g
Number of tools: 8 including 4/5/6/8mm hex wrenches, chain tool, 3.0 and 3.2 spoke wrenches, Number 2 philips screwdriver
Compatibility: 130 and 135mm rear quick release hubs with 10mm QR axles
Availability: In shops Spring 2010.
Projected retail price: $40 USD