Winter Wardrobe Clothing Reviews
Winter products you'll love from your head to your toes
Heading out the door? Read this article on the new Outside+ app available now on iOS devices for members! Download the app.
Winter Wardrobe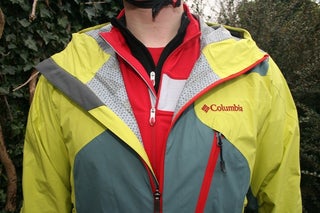 There is nothing like riding a crisp trail early in the year to shrug off any winter blues. However, crucial to the experience is correct clothing. How many times have you walked out the door dressed for the Arctic only to peel off layers as you warm up at the top of the first hill?
This guide is aimed at riding at a moderate pace in temperatures in the low thirties but can be adapted to slightly warmer or colder days (or nights) by amping up or downsizing the layers.
A key aim with all my riding gear is for it to be multi-seasonal. As a mountain bike guide, I don't want to have different sets of gear for different conditions or I end up with a huge closet and associated credit card bill. I prefer to layer with a core set of gear that I know works and that I just add to as the temperatures drop. It also helps if it is multifunctional — not just for the bike!
Base layer
Columbia Omni-Heat Heavyweight Long Sleeve Base-layer
For true winter weather when the temperature plummets you want a base-layer.  Columbia is an outdoors company who are largely reinventing themselves thanks to a huge investment in R&D.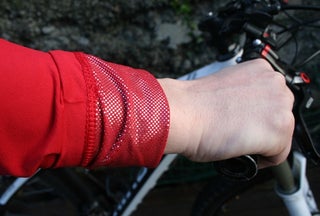 Omni-Heat is one of those why didn't someone think of this earlier developments, whereby they attached silver reflective dots to the inside of the fabric to reflect your heat back to your body. They look like tin foil but without the noise or feel. The result is a base-layer that the company claim is apparently 20% warmer than the competition.
While the percentage may be hard to pinpoint, it certainly feels warm. An anti-microbial finish also helps to keep away the stench associated with synthetic base-layers.
The extra-long sleeves on this garment help too when it comes to reach on the bike.  There is nothing worse than a top which pulls up to expose your arms when in the riding position because it wasn't designed for it.

Mid-layers
Icebreaker Mens SS Cadence jersey
This is easily my favorite jersey of all time and I now wear it year round. Eight months after first pulling it on it still looks as good as new, despite frequent washing.
Miracle merino wool is the order of the day, and if you are reading this and thinking, 'wool, really?' then bear with me. The rest of you are just nodding sagely.
Merino wool comes from a breed of sheep that live in the New Zealand Alps and face extremes of temperature in the summer and winter that has seen its wool able to adapt to both climates. Truly evolution in motion, it results in garments that provide great breathability and temperature regulation regardless of the conditions. It also has semi-miraculous properties that prevent/reduce the smell of body odor.
Icebreaker has been championing merino clothing since 1994 and this garment ticks all the boxes of comfort, fit, shape and breathability. The jersey has the standard three rear pockets, one of which has a further zipped pocket on the outside. The hem has a great silicone gripper to stop it rising up.
For those spring and autumnal days, add in the Icebreaker long sleeve Cadence jersey, perfect for when you need a second layer, or use it for that full-on winter layering wardrobe.


Waterproof & Windproof outer layer
Columbia Compounder jacket
Every now and again you come across a real game changer and the Columbia Compounder jacket is one. Gore-Tex has been the market leader for breathable jackets for thirty years but Columbia is seeking to change this with their Omni-Dry and Omni-Wick EVAP systems. The latter in particular is cleverly designed, spreading moisture across the surface of the material allowing it to evaporate quickly and easily. The net effect is a jacket which doesn't feel like a plastic bag, yet is waterproof, windproof and breathable, even during periods of high exertion and in the worst conditions.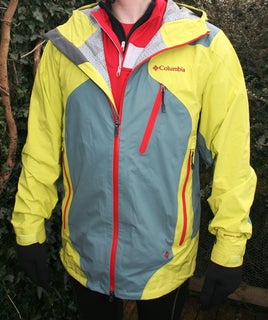 I have been riding this technology for a full year and I have tested it back to back with Gore-Tex on the same off-road course. The results were truly astounding. On a tough sustained climb of a few miles, I was opening the Gore-tex jacket fully to try and increase the air flow and still overheating. However with the Columbia one I was still fully zipped and comfortable come the summit. The jacket has pit-zips, but to be honest I haven't used them once.
In the rain it is as good as Gore-Tex, and handles mud and splatter really well too. The tail is dropped enough for cycling and the pockets are good with proper waterproof sealing and storm flaps at the top. I ride with my cell phone in the chest pocket and it is dry and safe regardless of the conditions.
The only thing that marks it out as anything but a purely cycling-specific item is the hood, although it is helmet compatible. It is extremely lightweight and packable and I have been wearing this year round. Highly recommended.

Extremities
Sealskinz mid-length, mid weight waterproof socks & Sealskinz merino liner sock.
The extremities are where cold can have a real effect and in biking, in particular, this is bad news. Contact with the controls is crucial and numbness from the cold is going to result in earth-sky-earth moments.
I have been using Sealskinz waterproof socks for several seasons now and year round. They feel slightly bulkier than regular socks, but they are waterproof, so no matter what the conditions are, your feet stay dry.
For 2012, they have redesigned them to be even thinner, more ergonomic and slightly articulated. I wear them with my standard shoe size. However, they are not the warmest, despite being made from merino, so I usually add in a thin cycling sock as a liner. The company does have a simple merino liner sock which is excellent and now a staple of my winter wardrobe too.
Sealskinz waterproof gloves
For the hands try this waterproof glove. Gripper dots on the palm and inside the fingers help with gripping the controls and the thermal regulation is really good. They are easy to get on and off and hold their shape. I often forget I am wearing them. Most winter gloves get sweaty or clammy when you take them off but not these. Really excellent.
Icebreaker Unisex Pocket 200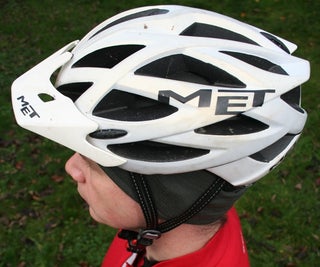 Don't forget your head with this lightweight and snug beanie hat that is thin enough for wearing under your helmet and keeping your ears nice and warm. It is reversible too which is handy, and it is small enough to easily slot into your jersey pocket if things warm up enough.
---
Ben combines work as a qualified mountain bike guide with reviewing and rating products for Singletrack.com as well as Outsider magazine and Spoke.ie and is also working on a PhD in tourism and entrepreneurship.  With 20 years of mountain biking behind him, Ben remembers the Girven Flexstem, U-brakes and the first time he saw a suspension fork with a 1-inch piece of elastomer in it. He has ridden bikes on four continents and has covered events as diverse as the 2007 mountain bike world championships, the Giro D'Italia and the Single Speed World Champs and lives in Dublin, Ireland.  He is happiest riding technical singletrack and was an early adopter of the 29er… for a European. Find him on Twitter: #spoketweets. Check out all of Ben's stories.