Wrenched and Ridden: Syncros FL Carbon Wheelset
If you're looking for a stiff-and-sturdy wheelset in a sub-1,500-gram package, the Syncros FL carbons are your (pricey) ticket.
Heading out the door? Read this article on the new Outside+ app available now on iOS devices for members! Download the app.
[album id=29 template=extend]
In case you've been living under a rock for the last decade, Singletrack.com is here to tell you: Carbon fiber is all the rage.
The "black plague" started with road bikes, moved to components and wheels, and currently infests mountain bike frames, handlebars, cranks and every other dirt-destined component you can imagine.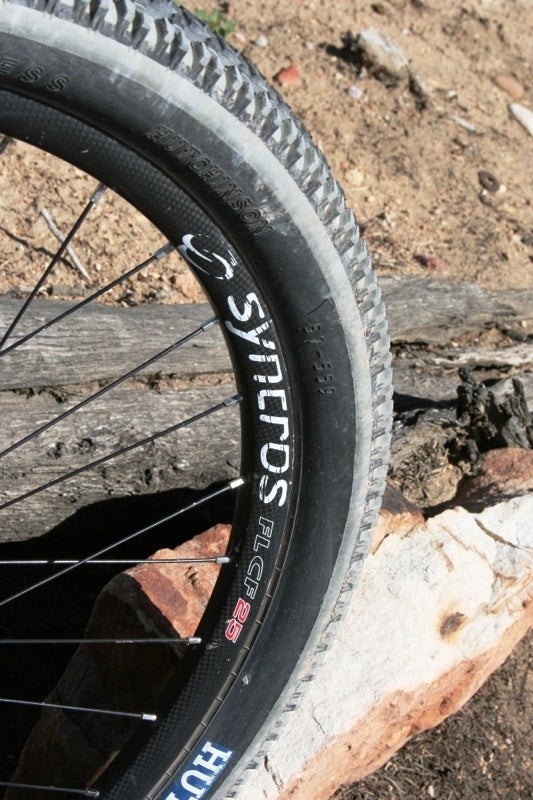 The final frontier in carbon mountain bike parts has been broached – Bontrager, Edge, Reynolds, DT Swiss, and now Easton and Syncros are making carbon fiber mountain bike wheels. Historically, the durability demands of off-road riding created major hurdles for builders of carbon rims, but the barriers are crashing down with new resins and construction methods. While brake heat was never the issue as it was with carbon road bike rims, impact resistance required dialing up to resist rock damage. Apparently it's there, because carbon mountain wheels are proliferating.
So when a pair of Syncros FL carbon wheels rolled across the Singletrack.com doorstep, I got to mount up my first-ever carbon mountain bike wheels. I'll admit to some early skepticism, but I'm happy to report the following: So far, so good.
Inclement spring weather limited my riding but I've managed just enough time to issue a positive report on this stout pair of hoops. I can't find much to dislike except the price, but that's almost a given when it comes to carbon candy.
The Wrenching
Aside from the carbon fiber rims, the Syncros FL carbon wheels are relatively standard in construction. My test hoops weighed 710 grams for the front and 850 rear (1560 grams total), as built with 32, 3-cross butted DT Swiss Competition spokes and alloy nipples. However, final production wheels are built with 28 spokes, and the weights are claimed at 690 grams front and 790 rear (1490 grams total).
They're hand built around Syncros FL hubs featuring Syncros' Enduro double row angular contact bearing system, which are 6-bolt disc compatible and available for either 9mm quick release or 15QR thru axle.
But it's the rims that command all your attention, built as they are with high-pressure forged monocoque 3K carbon fiber. The spoke holes are drilled through the tire bed, so they're not UST airtight. The spoke holes also lack eyelets, a mildly surprising omission that made me wonder about long-term durability, but I didn't have any problems at all during my (admittedly short) test period.
Syncros measures the rim width at 25mm. It's an important dimension because wide rims (and a correspondingly wide gap between tire bead hooks) help the tire become more stable on the rim. The sidewalls are straighter and less prone to rolling in the face of cornering side load. Plus, overall tire volume and tread contact patch go up. Even better, a wide rim accommodates wide tires all the more effectively, and as everyone knows, nice wide tires offer killer grip, bump absorption and rock ding resistance.
Sure enough, a caliper on the exterior of the rim shows that it's 25mm wide – on the outside. But the key measurement is inside width between the bead hooks. The Syncros FL carbons measure 19mm. More context on this dimension in a moment.
I'm a tubeless convert. With almost no exceptions, I won't run any mountain bike wheels with anything other than a Stan's tubeless conversion kit, or a full UST rim and tire setup. The stock Syncros snap-in rim strips are not airtight, but they're flex-free enough to permit easy install of standard Stan's rubber rim strips.
After installing rotors, cogs, Stan's rim strips and Hutchinson Python 2.35 tubeless tires with a little Slime Pro sealant for good measure, I hit the trail.
The Riding
SYNCROS FL CARBON WHEELSET
$1,900
for 9mm QR front (
$1,925
for 15 QR front)
The Scoop
: A reasonably light, stiff and durable (so far) off-road wheelset with carbon fiber rims.
Pros
: Quite lightweight for the width of the rims (19mm inside), stiff and sturdy.
Cons
: Pretty expensive, lacks stock tubeless compatibility, not as wide inside as some.
More info
:
www.syncros.com
As promised, Syncros FL carbon wheels are plenty stiff. I had no problems blasting through rocky chop and ripping tight, grippy singletrack. My testers stayed true and round for several weeks of rough, blocky desert riding. I'm not exactly flattening the climbs this early in the season, but these wheels were great – they're reasonably light and don't exhibit any wind-up or flex under pedaling load.
Granted, with fat tubeless tires rolling around at 30psi, I can't claim to attribute any exceptional riding characteristics one way or the other. The tires will always flex first, making it hard to interpret what's going on at the level of the rim and wheel build. But what I liked the most about the Syncros FL carbon wheels is what I failed to notice, which was any negative attribute whatsoever.
I'd love to get more time on the hubs in order to assess durability. As it was, I rode entirely on dry trails and for only a couple of weeks. It seemed like the rear hub wasn't as smooth after a few weeks as it was when I started. It will require more time to see if the feeling is real, imagined or becoming worse.
So what's the rub? At $1,900 (9mm QR) for an almost 1,500-gram wheelset, you'll have to want these babies pretty bad. And for the price, I'd love to see the inside width of the rims grow by 2mm.
On one hand, any mountain bike wheelset under 1,500 grams and sporting wide, bomber rims is worth wanting. Wide, light, stiff rims are always going to be sweet. And so far, they appear to have all-year, all-conditions durability. If Syncros added UST compatibility, the FL carbon wheels would become required rolling stock for your XC or trail rig.
On the other hand, if dropping weight is your thing, a pair of Stan's ZTR 355 wheels is typically almost 200 grams lighter and nearly half the price (about $950, depending on the build). Plus, they too sport 19mm inside width between bead hooks. They have industry-leading tubeless bead-hook technology, but they won't be quite as stiff and sturdy as the Syncros.
For another frame of reference, look at Easton's new Haven aluminum wheels. They retail for $850, feature UST airtight tubeless rims with an inside width of 21mm (outside width 26mm). But, they weigh almost 200 grams more, at 1,680 for the pair.
It all depends on what you want. If you're looking for stiff and sturdy in a sub-1,500-gram package, the Syncros FL carbons are your ticket. If you need something lighter or wider, or causes less damage to your paycheck, you'll have to keep looking.