National XC Champs from Around the World
No surprises out of the French XC nationals: Julien Absalon wins his ninth title. File photo Todd Wells and Georgia Gould weren't the only riders to win national titles this past weekend. Mountain bikers, many with well-known names, in countries all around the world raced in their…
Heading out the door? Read this article on the new Outside+ app available now on iOS devices for members! Download the app.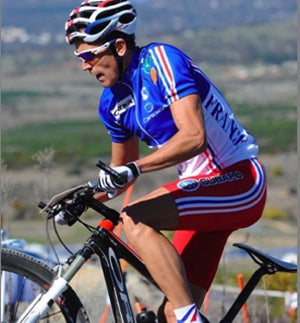 Todd Wells and Georgia Gould weren't the only riders to win national titles this past weekend. Mountain bikers, many with well-known names, in countries all around the world raced in their respective national championships.
Here's a run down of some of the more notable riders who will be sporting their country's colors for the next year.
Switzerland: With a crop of elite riders such as Nino Schurter, Christoph Sauser, Florian Vogel, the Flückiger brothers, Martin Gujan and the like, the Swiss XC nationals are practically a World Cup unto themselves. While not all the above raced last weekend, most did with Vogel finishing first ahead of his Scott-Swisspower trade team teammate Nino Schurter.
Vogel crossed the line in 1:43:55, about half a minute ahead of Schurter and third-place Balz Weber. Lukas Flückiger (Trek World Racing Team) was fifth at 2mins 27secs back.
For the Swiss women it was Nathalie Schneitter winning the national jersey 24 secons ahead of veteran Esther Süss.
France: No shocking upset came out of the French nationals as Julien Absalon (Orbea) cruised to his ninth tri-color jersey. Stéphane Tempier finished second.
Julie Bresset, the youngster currently leading the women's World Cup XC, finished 1mins 19secs in front of Sabrine Enaux.
Spain: The ageless José Antonio Hermida is once again Spain's top cross-country racer. The reigning XC world champ finished two minutes ahead of the runner-up. And unless you are a conniseiur of MTB in Espana, you likely don't know Rocio Gamonal Ferrera, the women's cross-country winner.
Canada: No huge surprises north of the border in the Canadian women's nationals, with Catharine Pendrel taking the honors. But in the men's event there was something of an upset… check out the race details here…
United Kingdom: With more than a few recognizable names, the British nationals are always of interest. This year saw Giant Off-Road Racing's Liam Killeen retain his title over a hard-charging Oli Beckingsale (Endura Racing). Despite her name, Boardman Racing's Annie Last was first in the women's event. Last outlasted Nikki Harris.
Netherlands: The news out of Holland is that defending champion Rudy van Houts (Multivan-Merida) took the title. That's noteworthy because van Houts was in the news the last year or so because of doping charges similar to that of Alberto Contador. If you haven't had your fill of "It was the steak" excuses and can stomach more "tainted meat" stories, here's the scoop on Rudi…
Norway: We've mentioned a few familiar names in this national championship round-up, and if we're talking about Norway how can Gunn-Rita Dahle's name not be at the top of the list? The long-dominant veteran and Olympic gold medalist Multivan-Merida rider won the women's title nearly four minutes ahead of U23 racer Elisabeth Sveum. Ole-Christian Fagerli won the men's national.
Italy: Cannondale Factory Racing's Marco Fontana will sport the green, white and red Italian jersey after winning the men's nationals. World Cup threat Eva Lechner (Colnago-Arreghini Südtirol) won another national championship — her thirteenth. And the guy crushing the World Cup U23 circuit, Gerhard Kerschbaumer (TX Active Bianchi), rode into a national title.
Belgium: For the Euro cyclo-cross geeks out there, here's a little something to hold you over until fall. CX rider Kevin Pauwels beat Sven Nys for the cross-country national title. Joyce Vanderbeken won the women's race.