Sheppard Takes High Cascade 100
Race tested bikes and bodies through technical lava rock sections, lots of challenging singletrack and more than 11,000 feet of climbing outside Bend, Oregon.
Heading out the door? Read this article on the new Outside+ app available now on iOS devices for members! Download the app.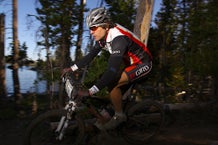 Endurance racers descended on Bend, Oregon Aug. 23 for the inaugural High Cascade 100 mountain bike race.
The rugged, high-desert course featured a mix of 70 percent singletrack, 10 percent ATV trails and 20 percent double track that began in Wanoga Sno-Park 11 miles west of Bend and included a loop around Mt Bachelor.
Bikes and bodies were tested through technical lava rock sections, lots of challenging singletrack and more than 11,000 feet of climbing. Promoter Mike Ripley of Mudslinger Events kept people rolling through the well-stocked aide stations with Hammer Nutrition calories, top-notch mechanical support and plenty of cheering and rock 'n' roll music.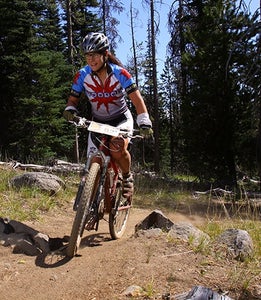 The field included endurance specialists Chris Sheppard (Santa Cruz WTB/Shimano/NoTubes), Evan Plews (Capitol Subaru Cycling) and Sloane Anderson (Pro Air/HFA) to renowned singlespeeder John"Fuzzy" Mylre (Niner/Ergon) and Angela Sucich (Voodoo/Recycled Cycles).
After a chilly start with temps in the 30's, things quickly heated up as Sheppard put in an attack up the long dusty climb to the Mt. Bachelor ski area parking lot. Only Mylre and Plews were able to match the acceleration and the gaps quickly formed that would set the scene for the rest of the race. Sheppard continued to increase his lead around Mt. Bachelor, up and over the uber-technical Kwol Butte and past the race halfway point.
Flat tires, high race pace and the technical ascents/descents began to take their toll as numerous riders DNF'd after the second aide station.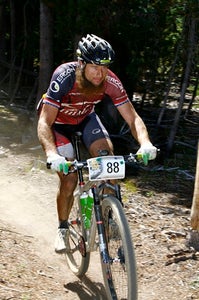 The battle in the for 2nd-5th stayed tight as riders bombed the buff Swede
Ridge singletrack, climbed the steep, wooded South Fork trail and headed
back to Wanoga Snopark for the final 11-mile loop. Sheppard kept the
pedal to the metal and smoked the course in 8:37 taking the win. Sloane
Anderson hung on to second at 9:26 and Paul Clark rounded out the Open Men
podium with third at 9:55.
Singlespeeder "Fuzzy" Mylre was able to keep pace with the top geared riders and completed the course in a speedy 9:33.
Angela Sucich put in a great effort to stay in front of  the rest of the women's field to take the win in 11:55.
Following the race, Mudslinger Events donated $3,500 to the local trail-building alliance, COTA, to help maintain the existing trail network, extend and connect
new trails and preserve access to to the trails in the area.