Snow? Downieville Classic is a Go
Race organizers and volunteers are digging out trail in California so the Downieville Classic can roll July 9-10.
Heading out the door? Read this article on the new Outside+ app available now on iOS devices for members! Download the app.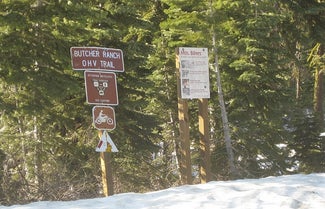 Mother Nature and her old man, Winter, threw a hell of a party up in California's Sierra Nevada this past snow season.
Now at the tail end of June and looking toward July 9-10 and the Downieville Classic, event organizers are just cleaning up after the winter blowout with snow throwers and shovels to clear trail because, well hell, there's a bike race to be had.
The Sierra Buttes Trail Stewardship, volunteers and Sierra County snow movers are working from atop Butcher Ranch Trail to get the upper reaches of the Downieville Classic course passable. But the cost — physically, emotionally and monetarily — has been high.
The price tag for snow removal is projected to be in the neighborhood of $20,000, a hefty sum for Downieville, a town of a few hundred people, and Sierra County, one of the Golden State's least populated counties.
JULY 2-3 SNOW PARTY
The Sierra Buttes Trail Stewardship is calling on volunteers to help with one more big push at readying the Downieville Classic course on July 2 and 3. Breakfast, bag lunch and dinner is provided on Saturday and breakfast and bag lunch Sunday. Cold beer is also on the menu. Meet at 9 a.m. on Saturday and Sunday morning at the top of Packer Saddle. For more information, go to
www.sierratrails.org
or call Yuba Expeditions at (530) 289-3010
Realizing the economic value of the Downieville Classic on the county's tourism economy, government officials ponied up $10,000 for big equipment to remove snow on the higher elevation areas of the course. The Sierra Buttes Trail Stewardship, a beneficiary of some of the race proceeds, has thrown in another $15,000 and Peter Berridge, from race sponsor Clif Bar, has donated $1,500.
"This is the 20th season I've been up here and I've never seen anything like it," Greg Williams, executive director of the trail stewardship, said of the snowfall. "And I don't care to see anything like it again."
That's because the heavy winter has all but KO'd the month of June for many higher-elevation activities, which in turn has hit the town and county's coffers.
Nonetheless, the race will go on, Williams said on Thursday afternoon.
"The county just broke through with the front-loader," he said. "The whole climb to Packer Saddle is snow free."
There will be patches of snow, but trail crews have hacked out trail in the white stuff, Williams said.
"There will definitely be some parts where people will ride through 10-foot snow tunnels," he said.