The Dirt: How Catharine Pendrel stays mentally tough after injury
Even a two-time world champion like Catharine Pendrel has to dig deep to find the motivation to bounce back from a major injury.
Heading out the door? Read this article on the new Outside+ app available now on iOS devices for members! Download the app.
Welcome to The Dirt, the weekly news round-up on what is happening in the worlds of gravel, mountain biking, and all things rough and dirty.
Back in June, Catharine Pendrel (Clif Bar) broke her left humerus in what seemed like an innocuous crash. This left the Olympic medalist off the bike for an extended period in the heart of the race season.
She returned to the World Cup in August and also raced world championships in Switzerland, where she was 14th. But she wanted to get in a bit more racing, so she continued on to the Swiss Epic stage race, which she won overall with fellow Canadian Haley Smith. Then, she came out for the final race of the Epic Rides Series in Bentonville, Arkansas. She nearly won that rainy 50-miler, only to be beaten in the very end by Erin Huck.
I caught up with two-time world champion at the Oz Trails Off-Road earlier this month to hear about how she has coped with injury this season.
VeloNews: Was that the worst injury of your career?
Catharine Pendrel: For sure. I broke two collarbones and a thumb, but this one was definitely the most severe. When I saw the X-rays, my heart dropped a little bit.
VN: I'm sure that reset everything for your season.
CP: Yeah for sure. I wasn't super happy with the start of my season. But you come back from mediocre races and you recharge and you're still motivated, and then it's a week later — boom. I was optimistic at first and then the doctors were like, 'Maybe you'll be back for September.' Luckily I beat that by quite a bit. I was back after 10 weeks. It was a slow process. I lost more than I desired in fitness. But I still think it was a good year. I ended it with good sensations even if the results didn't always show. I'm happy with my form and it left me positive, motivated for next year.
VN: Is it still affecting you while you ride?
CP: No, not at all.
VN: You wrapped up your European season with 14th at worlds. Tell me about that.
CP: I moved into top-10, flatted with a lap and a half to go, and that was a bummer. Sometimes you can't get the legs to come back after that. I felt really good until then. I'm happy with how I felt; the results will come eventually.
VN: Is it weird to be back in that part of the field being a multi-time world champion?
CP: It is. It's really mentally challenging because mentally I'm still always riding for a top-five and you have to still keep that intensity for the fight even if it's a different surrounding. There's so many races where I look around and I'm in 14th or 15th and all four riders with me have rainbow stripes on too. You just see how it's rare to stay on top for as long as I have. If I have to have a little low and come back, it's OK.
VN: To stay mentally strong, do you have a mantra or something?
CP: A lot of the work definitely has to happen before the race because you can't be in there and have any doubt or second-guessing your desire. I just say clear mind, not thinking of anything negative, you try to think of things that are positive and exciting that keep you fighting forward.
VN: Is the injury part of why you came out for this race so late in the season?
CP: Yeah definitely, the injury, taking two and a half months off racing in the middle of summer, made me want to do it. Clif Team, we're going to change our focus to a heavier emphasis on domestic stuff. I haven't been to an Epic Ride since 2009. In the middle of the season being in Canada it doesn't always work out to get here. This one was just to check it out, I've heard good things about the trails, and get excited to do more of these things next year.
VN: You expect you're going to move away from World Cup racing?
CP: Eventually. [laughs] With world championships in Canada that is still big on my radar I want to be the top three points earners for Canada for Olympics. There's potential to earn three start spots for 2020. So there's a lot of things that are really motivating to stay in the highest level, at the World Cup level. It could be that I sit out a World Cup or two but I will be at the majority of them, and I hope to be a contender.
Huck wins, Woodruff third in Greek stage race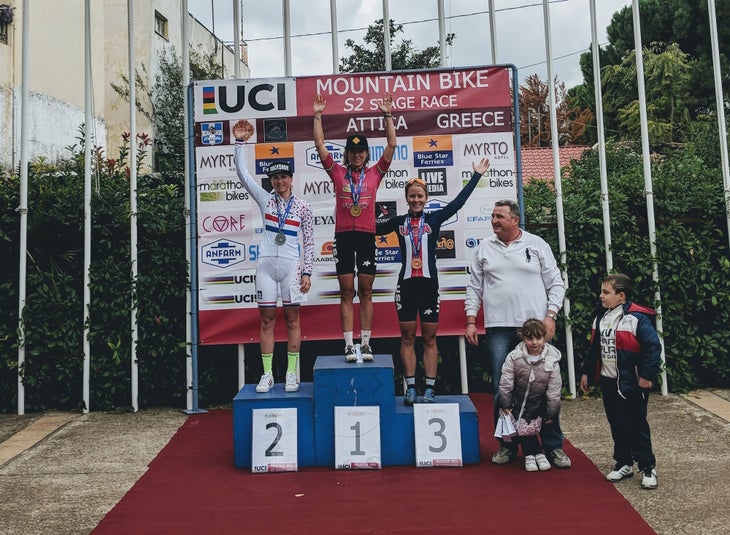 Fresh off her win at the Oz Trails Off-Road, Erin Huck jetted to Greece with Team USA to chase UCI points at the Attika stage race. And she came away with an overall win after attacking early on the final stage of the three-day race to scoop up the 11 seconds needed for victory. Her compatriot Chloe Woodruff was third behind Annie Terpstra.
The two Americans will remain in Greece for a second Attika stage race October 19-21.
New venue for Red Bull Rampage
The world's gnarliest freeride competition returns to the Utah desert on October 26, but this year, Red Bull Rampage will be held at an entirely new venue. According to organizers, this will afford an additional 150 feet of vertical and will feature steeper, more technical terrain. I'm not entirely sure how it is possible to send mountain bikers down terrain that's more extreme than the old venue. Tune in on RedBull.tv at 9 a.m. Pacific time Friday next week to see it for yourselves!
Got some news you'd like to share in The Dirt? I'd love to hear from you. Please email me your news and updates on all things gravel and mountain biking.