The Dirt: Jeremiah Bishop on the evolution of endurance MTB
Breck Epic winner Jeremiah Bishop talks about the evolution of endurance mountain bike racing. Plus, Leadville wraps up.
Heading out the door? Read this article on the new Outside+ app available now on iOS devices for members! Download the app.
Welcome to The Dirt, the weekly news round-up on what is happening in the worlds of gravel, mountain biking, and all things rough and dirty.
This week, we've got a Q&A with Jeremiah Bishop (Canyon-Topeak) who just won the 10th edition of the Breck Epic mountain bike stage race. I caught up with Bishop back in May at the Grand Junction Off-Road, the second race in the Epic Rides Series, to talk to him about how endurance mountain bike racing has evolved over the years.
VeloNews: What's the craziest adventure you've ever done?
Jeremiah Bishop: Probably training for the Munga, the million-dollar race across South Africa. They had a bank bond, they had a lot of stuff that looked like this thing was definitely on, Carl Platt, five-time winner of Cape Epic, was registered. But they had a big-time sponsor pull out.
Incidentally, the training I did for that was some of the coolest shit I've ever done in my life. I've won some cool races, but they were in the possible realm of things people were trying to do.
But trying to do a 20-hour solo mission in the dark, by myself, on this bikepacking route called Stokesville-Douthat-Stokesville, that was really scary. It's really neat stuff. That was one of four big training missions I did. I'm very methodical in my preparations.
Even though I'd never done anything like the Munga before, 1,000 miles across the desert, I knew I had to have a sequential build for it. You chip off pieces, you build up to tougher, nastier stuff.
I raced Hampshire 100 completely self-supported that fall, no outside assistance. I started with 10 pounds of stuff, I ran out of water with an hour and a half to go. They had an aid station about 12 miles to go, they had Coke and Skittles. I just tried not to look — I was cracked.
VN: That's some discipline!
JB: Dude, for $750,000 [at the Munga] you can have some discipline!
VN: What are your main racing goals these days?
I've been with Canyon-Topeak for several years now, and I'm a team rider for the races, oftentimes I'm a backup team rider for Cape Epic, TransAlp, Andalucia bike race …
Last year I did Margie-Gessick 100 in Michigan — they were calling it the hardest 100-miler in America. And I was like yeah, yeah, yeah, it's in Michigan. Let's see. Yeah, I almost died! It was just so bad. … That race is so hard. A lot of granite domes, it's in the old mining belt of Michigan. So it's these small mountains in the Upper Peninsula. Really good trailbuilding community.
I like to do different races, try different things. That one just caught my attention because they said it was so miserable. No aid stations, no course marking. I was ready for it though.
The lowlight of the race was filling up my hydration pack underneath a Home Depot, there was a creek — it was a Lowes, excuse me — we were racing for hours and hours, no aid stations, and I was definitely out of water. I had an inline water filter. I saw this creek. I could go to a gas station, lose the group and have to come back to the course. Or I could use my in-line filter. I'm not sure what was in that water. And it worked like a champ. Somebody got a picture of this. It was hilarious.
Just putting myself out there in uncomfortable places, it's fun.
And then big races like Transalp, I'm doing hardcore domestique work like Ben King. Riding at the front like crazy to help Alban or Kristian back after a flat, giving them a wheel, the stuff that doesn't seem glamorous, but I'm good at it.
Last year I even had a chance to lead the team at Transalp. Last year we were third, and I became the first American rider in the 30-year history of the event land on the podium.
VN: Talk to me about the difference between the mountain bike marathon scene in Europe versus the U.S.
JB: It's very performance-oriented there, even among amateurs. You have guys out there on trainers. It's a pretty hardcore level.
You don't do Transalp if you're looking for beer time. It's fun but it's a little more serious environment.
The U.S. races are cool because now we're getting a high-performance level but also the backdrop is fun for the majority of the crew. It's a win-win. That would be one thing I'd say for the biggest races in Europe. They have the amateur finish mentality. Tens of thousands of people do the Birkebeiner in Norway, the Riva bike festival, just thousands of people out there having a great time riding bikes.
VN: How many different mountain bike races have you done over the course of your career?
JB: Total race starts, probably 1,400 or 1,500.
I've probably done at least 1,000 unique events. Everything from six-pack downhill events, which is pre-enduro, Tour de Burg — I cut my teeth on all these underground races they're a lot like the stage races I now do.
Tried BMX racing a little tiny bit, did some NRC road races here and there, did a couple 'cross nationals. I won a couple UCI 'cross races, just the right conditions, right place, right time. Just trying different rides and different races is part of what I think makes a well-rounded rider. And that's what I've always strived for, to be a well-rounded rider, to win a fat-tire crit, a cross-country, or a short-track national championships.
VN: Talk about the level of specialization in mountain bike racing — how do pro racers strike a balance between World Cups and endurance events?
At some point, you have to figure out what makes you happy.
In my career, there were sort of these tugs of war. When I was with Trek-Volkswagen, they needed me to be at the World Cup when the team was at its biggest. And then there were other times when the team was more U.S.-focused. … That drive to do the entire World Cup circuit takes a lot of mental energy, a lot of commitment.
Being an early adopter of the endurance races in North America came at a risk. I was getting a lot of flack from Sho-Air about sneaking off and trying to make the schedule so I could do Breck Epic, sneak into Transylvania Epic, or Pisgah stage race. I'd squeeze those in and come back feeling kind of hammered for the Wisconsin XC race.
But all those races are just awesome. I did Transalp, what was it? Damn near 20 years ago. For me, that was a big eye-opener of how awesome stage races are. It just made me tick. I just love being in the hurt locker, digging day after day.
VN: Do you feel there's been a shift in sponsor interest toward longer races like Epic Rides?
JB: Absolutely, it's the bikes people want to buy for their activity, go out with their friends to go explore cool places.
Of course what we're seeing here [in Grand Junction] is a more professional version of that with the Epic Rides races. We have a lot of great races, hundreds of races all over the country. On the endurance side, quite strong. Thirteen races in the NUE last year, and about 10 this year, with a bunch of provisional events.
There are all kinds of different varieties of events. But having a professional platform is different. I can go to some small races, and sponsors are cool with that, but they need us at Cape Epic, they need us at races where there's good media, good crowds, higher profile.
VN: Would it be a good thing to have a marathon mountain bike race in the Olympics?
There's been a lot of talk about that. It's become quite a different sport. Having not too long ago raced some of the Red Bull edition World Cups. I love it but it's very hard.
It's evident that marathon riders like Kristian Hynek are proficient at World Cup XC, but he's not Nino proficient.
It would absolutely be hugely beneficial to have it in the Olympics though. I did the first marathon world championships, it was for training before XC worlds. I was like well, why not.
It started to become a big thing, but yeah absolutely it would be huge. It's very difficult to think that the Olympics would add another cycling sport. You look at BMX's inclusion. As soon as you add another they usually take an event out.
Worlds was a huge step, and then you started to see big salaries for specialist athletes. You look at Christophe Sauser's late career, focusing on Cape Epic, marathon worlds.
Now you're definitely seeing a separation with big teams that are focused on marathon. Our team is squarely focused on marathon. They don't care about me doing World Cups. They want to have us leverage races that capture the imagination of the customers — crazy places, exotic travel, amazing trails you only get to dream about.
VN: And also people who are doing it at the same race, they can relate to professionals.
JB: One hundred percent, yeah. At Leadville, people compare their times to our times, and jaws drop. And they're just like, "OK I get it. That's amazing." It's very much like the Boston marathon experience. You're in there, in the mix.
This interview was edited for clarity and length.
Grotts and Connors repeat at Leadville Trail 100 MTB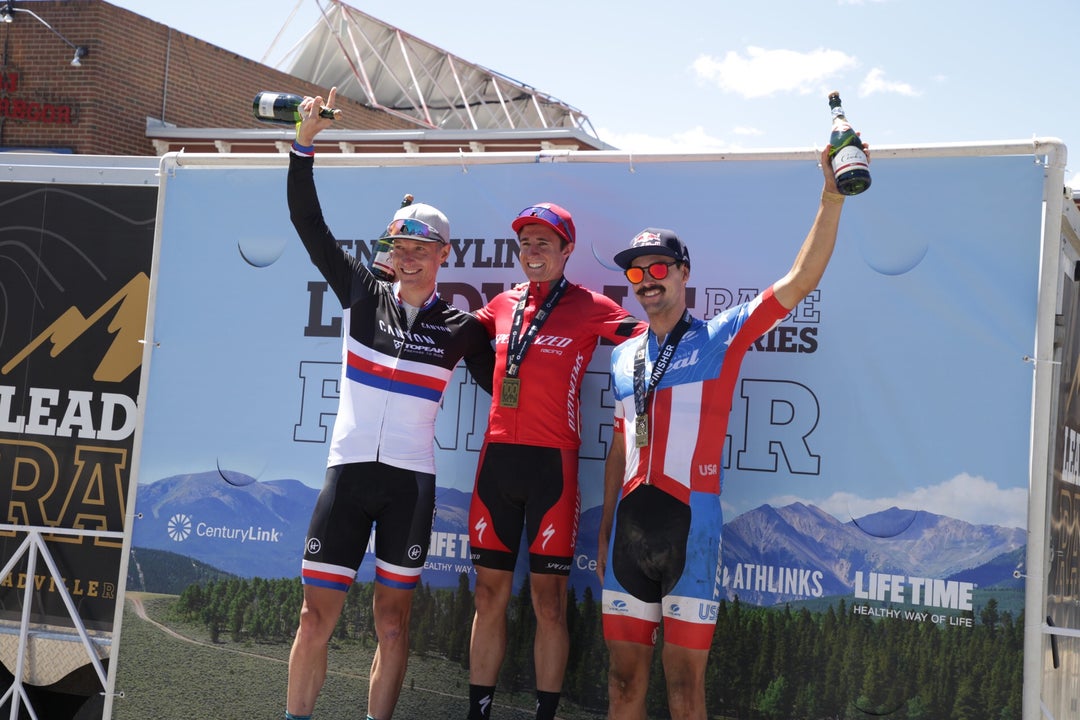 The 25th edition of the Leadville Trail 100 mountain bike race celebrated two familiar faces atop the podium Saturday as Howard Grotts (Specialized) and Larissa Connors (Sho-Air-Felt) successfully defended their titles.
Grotts finished in downtown Leadville, Colorado after just 6:18:08 of racing over 104 miles. Kristian Hynek (Canyon-Topeak) was second, and Payson McElveen (Orange Seal) was third.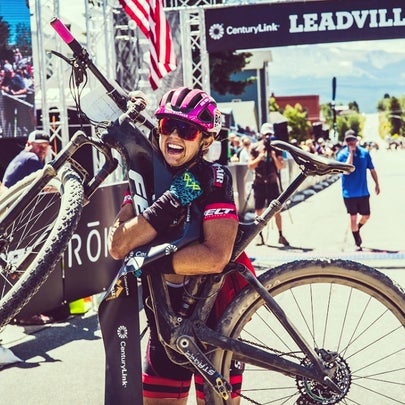 Connors won by a convincing margin, finishing in 7:40:13, nearly half an hour ahead of second place Julie Dibbens. Chase Edwards was third. It was also a remarkable win for the Californian because it was her fifth marathon mountain bike race victory in just six weeks. Connors won the Tatanka 100, Breck 100, High Cascades 100, Pierre's Hole 100. Combined with her win at the True Grit 100 in March, Connors won four National Ultra Endurance (NUE) events, earning her the series overall.
"Leadville is more about the people and achieving something super difficult than it is about being pro and serious," Connors said. "The highlight every year is cheering for everyone climbing Columbine as I descend, and thinking about how they will all tackle maybe the hardest race of their life on that day. It was crazy humbling and inspiring to hear them cheer for me by name when they too were in the middle of accomplishing something so incredible!"
Courtney and Blevins shine at Mont-Sainte-Anne World Cup
Americans Kate Courtney and Christopher Blevins (Specialized) rode onto the podium in the Canadian round of the mountain bike World Cup in Mont-Sainte-Anne.
Courtney started off the weekend with a third place in Friday's short track XC, behind teammate and winner Annika Langvad and Jolanda Neff (Kross), who was second. This gave the 23-year-old American a front-row start in Sunday's XC, which she capitalized on, riding top-three for most of the race. However, she suffered a late-race flat tire on the rocky course and was out-sprinted by Anne Tauber in the end, settling for sixth place.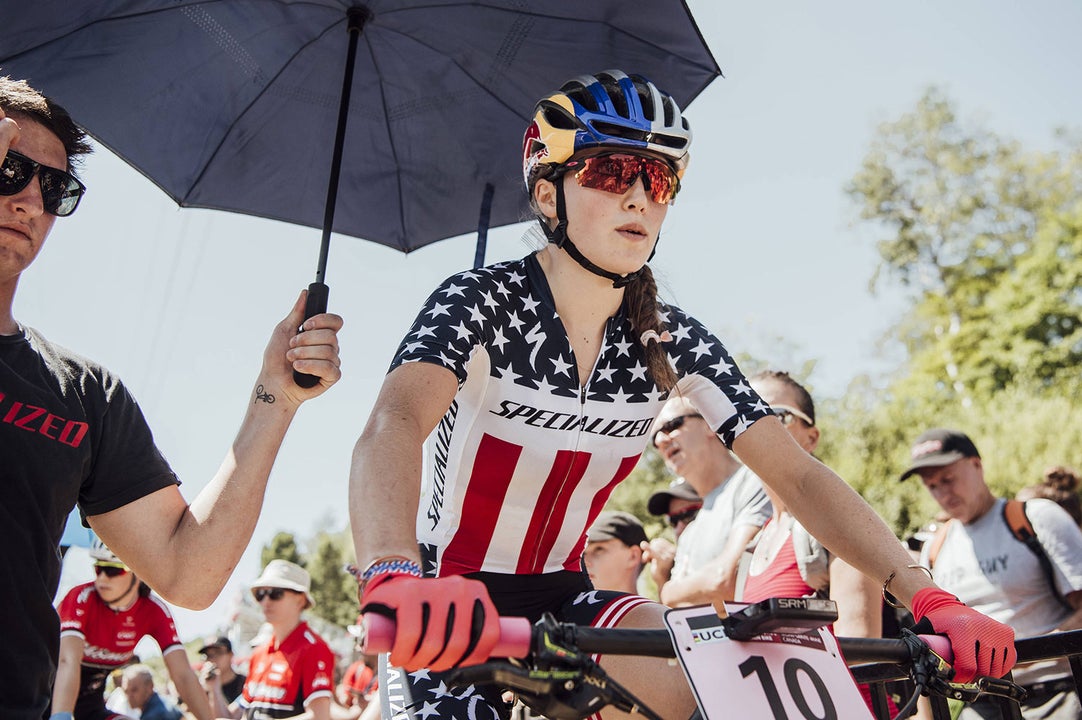 In the under-23 men's race, Blevins proved his potential with a second place finish to South African Alan Hatherly. Blevins is more than simply a mountain biker as well — on Thursday he starts the four-day Colorado Classic stage race with Hagens Berman-Axeon.
Durango Pro XCT and Pro GRT races canceled
In the aftermath of the enormous wildfire that engulfed 50,000 acres of forest in southwestern Colorado, organizers of Purgatory's Revenge were forced to cancel the race that was scheduled for August 30-September 2.
"The 416 Fire, which started 10 miles north of Durango, played a direct role in the race's cancellation by delaying race course trail construction. All registered participants will receive a full refund and we are hopeful to bring this race series back to Purgatory in the future," said Hogan Koesis, Purgatory mountain bike director.
Read more about how the fire has impacted mountain bikers in the Durango area >>
Got some news you'd like to share in The Dirt? I'd love to hear from you. Please email me your news and updates on all things gravel and mountain biking.