The Dirt: Levi Kurlander on giving back to Durango Devo
The 23-year-old talks to VeloNews about his dual role as both a pro cyclist and the executive director of a youth sports program.
Heading out the door? Read this article on the new Outside+ app available now on iOS devices for members! Download the app.
Welcome to The Dirt, the weekly news round-up on what is happening in the worlds of gravel, mountain biking, and all things rough and dirty.
About 10 years after Levi Kurlander discovered a love for bikes with the Durango Devo mountain biking program in Colorado, he returned to the program at the start of 2018. Now, the 23-year-old is executive director of one of Durango's largest youth sports programs with about 500 kids, from two-year-olds on push bikes to high school seniors vying for NICA glory. Kurlander is also a pro mountain bike racer for Orange Seal, and in 2018 he won stages 4 and 5 at the Breck Epic. He nearly made the final podium until a broken wheel spoiled his day on the final stage.
I caught up with Kurlander at the Carson City Off-Road back in June to hear about how he found his calling in giving back to the program that got him started as a cyclist.
VeloNews: Growing as a junior you rode with Durango Devo.
Levi Kurlander: Yeah, I kind of started mountain biking later than a lot of my friends did. I really didn't get into riding very seriously until high school. I got my introduction to racing and really started to progress with Durango Devo in the O.G. days of Devo with Chad Cheeney. I started with Devo in I think their second year of operation in Durango. I got the first taste of what Durango Devo was all about.
I was probably 13 at that point. I did one year with Devo in their U-14 program and then moved up to the U-19 team, which is their high school team. I got introduced to racing there, started as a Cat. 3. Honestly, I didn't have a result to speak of necessarily until I was a junior or senior in high school, but I learned to love riding with the team. Durango Devo has a unique way of making a super-individual sport into a team sport with a team atmosphere, and that sense of inclusion got me hooked on it. And yeah, here I am, I've come full circle, running Durango Devo now and racing for Orange Seal. It's a tough balance.
VN: What did you like about Durango Devo when you were a kid?
LK: It's just an awesome opportunity to hang out with your friends. There wasn't any pressure to race or ride hard, but every four days a week after school you got to hang out with your best friends and ride bikes. It was pretty sweet.
VN: Did you stay involved with the organization after you graduated?
LK: We kind of parted ways a little bit. I went on to Fort Lewis and started racing competitively there, and started "training" as much as an 18-year-old is able to train. Devo is about developing the fundamentals of that love of riding and then the racing comes later, depending on the person. Once I started getting into that competitive side of things we parted ways for a few years before I moved back to Durango [from Boulder in 2018] and got a job at the other end of things.
Then I had this opportunity with Orange Seal to bring my racing to the next level with a true professional team, and it just so happened that the opportunity with Devo coincided with that. It works out really well that I have a flexible enough schedule with Devo that I can work basically a full-time job but still have enough time to train and be out of town on the weekend for races.
I got lucky with good timing there to have it all fall into place at the right time.
VN: How did you come upon the opportunity to work for Durango Devo?
LK: It's pretty funny actually, I honestly just saw a tweet from Chad [Cheeney] that said, "We're looking for a new director, who wants it?" At first I thought no that's a lot of work, I won't have time for that. But the more I thought of it, man this could be cool. Be my own boss, I could make my own schedule, I could continue to race. It was a pretty cool opportunity to give back to the program that got me started on this path to begin with. I figured why not, give it a whirl. I didn't expect anything out of it. I figured there would be plenty of well-qualified candidates for that job. And next thing I know, I'm moving back to Durango and starting things up with Devo.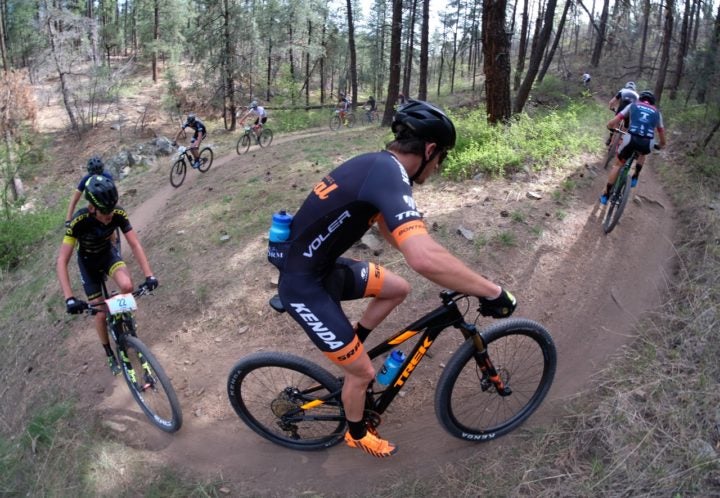 VN: How do you strike a balance between that job and training and racing as a pro?
LK: It's tough. There's a ton of guys out here that do it too. There's a ton of guys working full-time jobs still racing, training. They're just full days. I try to train during the prime time of the day, train in the mornings, and I end up working late into the night most days. I'm able to craft my own work schedule around my training schedule so I can get what I need done. In the spring especially I was working 50- to 60-hour weeks on top of a 20-hour training load. That was a little too much. I had to dial it back a bit. I had to learn how to delegate a little better. Every waking hour of the day was either Devo or training. That was burning me out pretty quickly. I learned how to adapt to the job, delegate, be efficient with my time. That's not to say that 90 percent of the pro field out there isn't doing the same thing with whatever job it is. It just so happens that I'm lucky enough to create my own schedule. That lets me do what I need.
VN: How much of your job has you out riding with the kids?
LK: I've been riding a little bit with the kids. Most of my job involves big picture stuff, what the vision of Devo is. What we're working toward, how we can support these kids. Our tagline is "creating lifelong cyclists." Like I said, it's a situation where you have a super-individual sport where you're trying to create this team atmosphere out of it, and that's where a lot of my work hits the ground, trying to craft a team atmosphere with the coaches and the kids to build that love of riding your bike and hanging out with your friends for the community aspect of it.
VN: How many coaches work for Durango Devo?
LK: This spring we had 93 coaches on our payroll. We had a little over 600 registrations in the spring — about 500 individual kids. It's one of the largest youth sports organizations in Durango. Youth soccer and mountain biking in Durango are where it's at.
And NICA too has a big impact in recruiting some of the high school-age kids who have never really ridden before and getting them involved in the sport. I think NICA is doing a lot to advance mountain biking in a really cool new direction that we haven't really seen before.
VN: You draw some of your participants from NICA?
LK: Durango Devo actually runs the NICA programs for both Animas High School and Durango High School. We're a huge supporter of NICA and vice-versa. That's another big place where we get a lot of our kids.
This interview was edited for length and clarity.
Got some news you'd like to share in The Dirt? I'd love to hear from you. Please email me your news and updates on all things gravel and mountain biking.