The most epic day of Epic Rides
Thunderstorms, sharp, nasty rocks, and flat tires galore make the Oz Trails Off-Road a race of attrition and an instant classic.
Heading out the door? Read this article on the new Outside+ app available now on iOS devices for members! Download the app.
BENTONVILLE, Arkansas (VN) — Riders, spectators, mechanics, team managers, reporters — no one could recall a mountain bike race that was quite as unpredictable and wild as Sunday's Oz Trails Off-Road.
One by one, flat tires knocked top contenders out of the race. But then, as their rivals would also flat, they'd ride back into the picture, only to see their hopes dashed again with another puncture. It was a topsy-turvy day. Only a handful of the top pro men avoided flats.
"It was insane," said Payson McElveen (Orange Seal). "You were winning, then you were in 10th, then you were in third, then you were in 20th, then you were in fifth."
In large part, the flat tires were due to sharp flint rocks that litter the singletrack in Northwest Arkansas. The race was also drenched by a heavy thunderstorm that rolled through in the morning. But also, so much was on the line. This final stop in the four-race Epic Rides Series offered a $60,000 prize purse, with $10,000 apiece to the winners of the men's and women's pro races. The field was stacked, and the riders were willing to push the limits for one of the biggest payouts in cross-country mountain biking.
At the finish of the 50-mile race, riders recounted their misadventures in the dark forest north of Bentonville. Here are a few of the riders' stories, in their own words.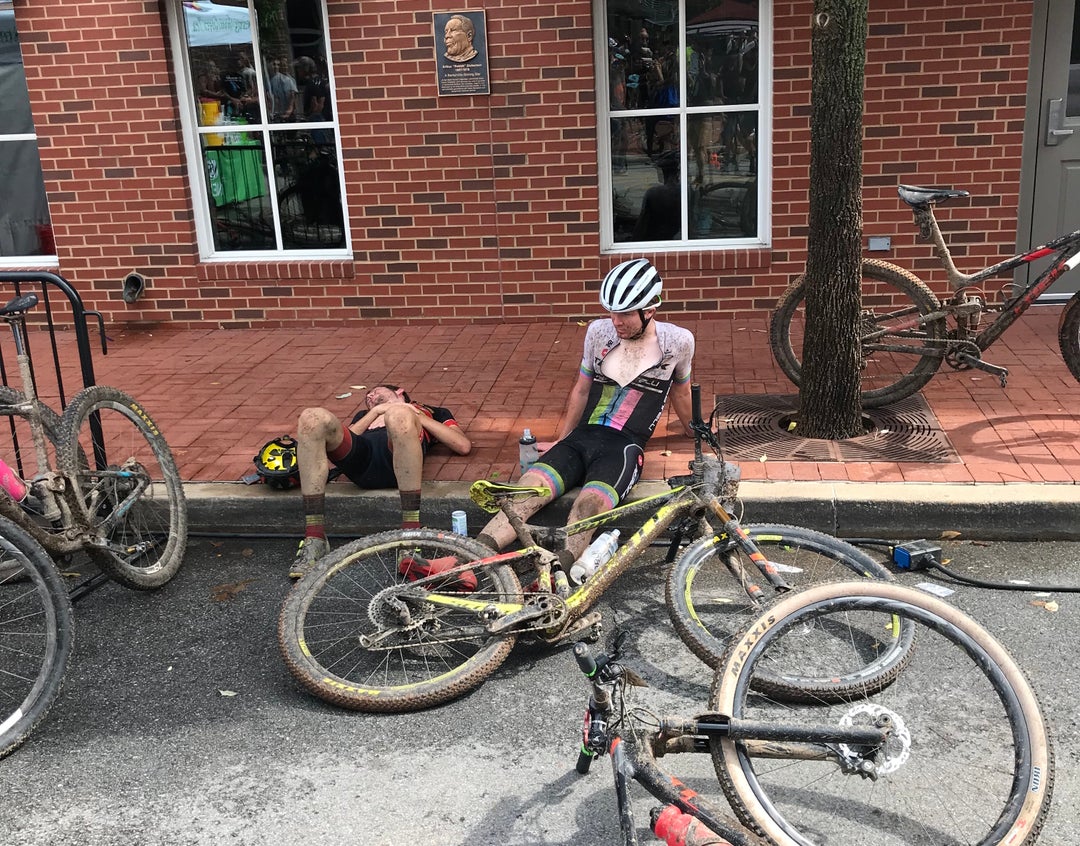 Carl Decker (Giant), 6th:
On why he didn't flat: "Clean livin', man!"
"I've never seen any flats like this. Probably 80-90 percent of our race flatted. It was like riding through a glass factory."
Luke Vrouwenvelder (LukeVCoaching), 2nd:
"I was a little out of control coming into those corners too hot and punctured.
"I got passed by a few guys the first time, felt it go flat again. I was like, 'S—t I gotta stop again.'
"This [high-volume CO2] saved my butt. I aired it up three times. I think it was still going flat as we came home. But it was good enough."
Payson McElveen (Orange Seal), 19th:
"My hands were so wet and tired that I couldn't get the tire off. Everyone was helping each other out there so much. Russell [Finsterwald] gave me a lever, [Ryan] Standish gave me a tube. I got three CO2s from other people. Fixed that, but it took like five or six minutes. Then I was stopped again because I only had 20psi in the tube and I knew that wasn't going to last. So I stopped again and got another CO2 from somebody. Put it up to like 50psi, and then put a crazy slice in it and just rode the rim for the last 45 minutes.
"Somehow I only lost three spots in 45 minutes of riding the rim!"
Jeremiah Bishop (Canyon-Topeak), 38th:
"Yeah that was ridiculous!! I was fairly sure after that last flat and 2" cut I was done, but since my Virginia boys Bryan and Eddie were also down to solder it to the finish I was like, 'Ok let's just Fondo it.'
"It was actually fun after that. We helped a few of the ladies that were slumming. It was like an adventure race!"
Geoff Kabush (Yeti), 9th:
"It was chaos. All of a sudden I was in third … I was like 'what!?'"
Chloe Woodruff (Pivot-Stan's No Tubes), DNF:
On why she gave her wheel to Erin Huck, who went on to win the race: "Erin [Huck] had a pretty good gap on us she was on fire and I had a front flat she had a rear flat we could have both sat their and thrown tubes in and neither of us would have been in contention for the win. I was not very confident in my prep coming into this. I had my money on Erin."
Erin Huck (Construction Zone), 1st:
On getting a wheel from Woodruff mid-race: "That was awesome I almost started crying.
"I kept getting punctures in the front. I don't know if they were unique punctures or it didn't seal. I stopped and it would seal. That happened about three times."
Catharine Pendrel (Clif Bar), 2nd
"I thought it would be a group of five to the finish — what's going to separate us? And then literally I heard Chloe [Woodruff] or somebody behind me flat and then I saw Erin fixing a flat. I didn't know what happened after that.
"You want to push the singletrack but I was trying to be pretty cautious and keep air in and be consistent."