Tour Divide: Escaping Montana
Snow and hail blowing from every angle — in June? Welcome to the Tour Divide.
Heading out the door? Read this article on the new Outside+ app available now on iOS devices for members! Download the app.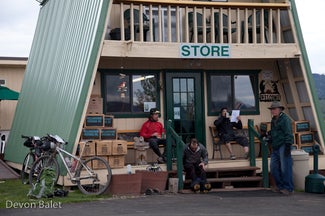 Snow and hail blowing from every angle — in June? Welcome to the Tour Divide.
As riders who chose the southbound route, they continued to battle intense weather conditions through most of Montana. Just outside of Butte, riders faced Mt. Fleecer, topping out at 9,436 feet, they returned with many stories.
Rob Roberts took a spill on the decent, turning his front wheel into a taco and leaving him with a bulging black eye. After two days of rest, he packed it in.
Others reported snow and winds whipping from every direction, complicating the steep decent.
"It was like a 45 or 50 degree angle; you couldn't even grab your front brake while you walked or your bike would go over," said Derek Bentley.
Ripe from Colorado riding, Gates Carbon Drive rider Jake Kirkpatrick and his counterpart, Niner rider Dejay Birtch, were the only ones to report descending the whole thing on their bikes. The exhilaration was written on their faces as they described the heart-thumping downhill.
"That was the steepest thing I have ever ridden — hands down" said Birtch. "If every day could be like today… it would be alright."
Later, Vance McMurry, descending Mt. Fleecer in the dark, was chased off the mountain by a pack of wolves.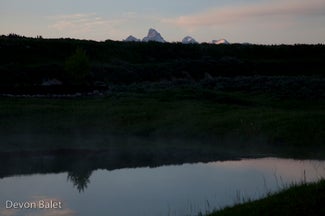 Leaving Wise River and traveling along the Pioneer Mountains Scenic Byway riders were treated to a high mountain plateau with icy cold bubbling creeks, snowcapped mountain views and large glacial boulder fields. This area touches several Lewis and Clark historical sites and natural hot springs. From there towns are few and far between, most with limited options for re-supply.
After passing through Grant, the route travels 64 miles of dirt road to Lima. Caroline Soong, of Boulder, Colorado, still leading the women, got the award for most candy bars on her gas station re-supply totaling $28.05.
Over the next 100 miles weather would change dramatically. Riders who left early endured consistent dumping rain and muddy roads. At times riders had to walk, push and pull as mud caked their bikes making them unrideable. Most detoured at Red Rock RV Park for a quick hose down.
Those that left late enjoyed the comfort of cloud cover and the ease of drying tacky roads.
At Continental Divide crossing number 6, several riders gave Montana the single-finger solute. Hoping for clearer skies, warmer temperatures and drier roads, they rode in to Idaho.
Passing Henry's Lake and dropping in to Big Spring, the rail trail that lay ahead was laden with fine lava rock. Climbing out of Warm River, the trail meandered through high-mountain farmland and crossed several wooden trestles.
Derek Bentley, Lance Griffin and Adam Guske found shelter in Drummond at the local saloon. Concerned for rider's safety the bar keepers left them with three hot pizzas and a campfire out back.
With under 200 miles to the Wyoming border, Idaho seemed a blip on the map.
As anticipated, more riders have dropped from the ranks, bringing the current number down to 72.