Tour Divide: Rolling Through Montana
Pain, suffering, anguish, triumph, defeat and exhilaration: Six days into the Tour Divide and every emotion known to man has surfaced
Heading out the door? Read this article on the new Outside+ app available now on iOS devices for members! Download the app.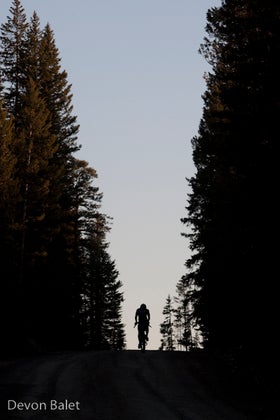 Sitting at The Outdoorsman Sports Shop in Butte, Montana it is tough to comprehend the experiences dealt by the Tour Divide of the last several days.
Life seems to be running in fast-forward as we try desperately to keep track of riders stretching the 2,700 miles from Banff, Alberta, Canada to Antelope Wells, New Mexico. In six days we have seen every emotion known to man — pain, suffering, anguish, triumph, defeat and exhilaration.
In years past, half the Grand Depart has quit within the first week. Thus far dehydration, asthma and mental breakdown have taken four riders. Rob Leipheimer of The Outdoorsman expects that number to grow substantially in the coming days.
"The stretch from Helena to Butte is really rough," he said. "Lava Mountain is unbelievable."
An alternate route removes the snowiest pass but it is only replaced with a gnarly hike up a mountain followed by swampy wet roads. Riders arrive in Butte and often head for the bike shop. Haggard and abused, for many this becomes the end of the line.
Nearly 400 miles from the U.S.-Canada border, emotion was only vaguely apparent on the face of Jefe Branham as we caught him at the Continental Divide crossing number 5 just outside of Butte.  He stopped for a few moments to chat, smiling and relaxed as if out for a casual cruise in the late evening hours. He shared his story of almost hitting a mountain lion while ripping down a forest road.
"If it had not seen me and jumped out of the way, I would have hit it," Branham said about the big cat, then admitted his concerns about having a bear encounter. "I read like three books about bears just before this trip and now I have bear-a-phobia."
Branham is a singlespeeder from Gunnison, Colorado, currently in the lead of the Tour Divide. It was almost an hour before we saw Ethan Passant and Kurt Refsnider, also of Colorado. The sun had all but faded and lights were necessary to point the way up the muddy road. They played the role of hunters well and kept their pace. The trio will likely top 1,000 miles on day six in their quest for the Wyoming border.
Throughout the following days, many riders will roll through Butte. But none with a smile as broad as Caroline Soong of Boulder, Colorado.  Currently the lead woman, Soong was hardened as an endurance runner when she met Kurt Refsnider. They have been camping and riding together for the last year of so. Spending several nights in a sleeping bag, alone, once under a bridge near Swan Lake, Montana to keep dry, Caroline is taking it all in stride.
Most of the Grand Depart riders will soon meet the Idaho border. Anxious to leave the Montana rainy season behind, little consolation awaits them. Reports of "incompatible rider groups" are coming from the south where riders are attempting the traditional route in reverse. While northern riders are struggling through snow and rain, southern riders are tortured by temperatures in the triple digits.
Despite the mental and physical brutality of this epic challenge, the spectacular scenery and quiet roads offer an unparalleled experience. Most riders still know they are lucky to be here. Small towns with friendly people usually show up precisely as needed just like a ten-mile rolling decent with a tailwind and view.