Tour Divide: Starting is Half the Battle
They say that getting to Banff for the start of Tour Divide is half the battle, and a battle it was.
Heading out the door? Read this article on the new Outside+ app available now on iOS devices for members! Download the app.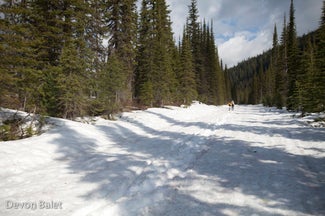 Our story started in Boulder, Colorado, and if all goes well, will end in Boulder, Colorado.
There are a lot of roads and trails and people between Boulder and Banff, Canada and Boulder again. No real telling what detours lay ahead. It was obvious that this attitude was best adopted early.
They say that getting to Banff for the start of Tour Divide is half the battle, and a battle it was. Rain, snow, floods, ice, wind and a herd of Buffalo were just a few of the obstacles that we encountered along the way. Headed for the start with singlespeeders Jake Kirkpatrick, Dejay Birtch, and photographer Devon Balet, Mother Nature had our rapt attention.
The implication of this year's weather gripped our riders from the beginning of the long drive north. Record snowfall in the Rockies and a late spring wreaked havoc on the Tour Divide route. Many of the passes are not only snow covered but impassible. The last week has been a constant struggle to stay on top of new alternate map cues and reconsider gear selection, faced with the brutality that the snow just isn't going away.
TOUR DIVIDE
Start:
June 10 in Banff, Alberta, Canada
Finish:
Antelope Wells, New Mexico
Route:
Canadian provincesAlberta and British Columbia. States: Montana, Idaho, Wyoming, Colorado and New Mexico
Distance:
2,745 miles, 200,000 feet of vertical
Rules:
100-percent self-supported
2011:
83 racers (15 starting in New Mexico)
2010 Winner:
Matthew Lee 17 days, 16 hrs, 10 mins
LIVE TRACKER
Upon arrival at the YWCA in Banff, the popular rider bedding spot, it was apparent that most riders had the same focus. Everyone was calm, extra courteous and in good spirits. The chatter centered around the obvious, who had the coolest, lightest bike, the newest map cues and snow shoes.
For the first time in many years Matthew Lee did not line up alongside the others. His presence was felt though, and I suspect this ride would not even happen without him. The rollout was unceremonious and upbeat, everyone was glad to see blue skies despite the chill.
On route, riders had their first taste of wet, cold, frozen feet beginning around the 60 mile mark. Reports suggest that it was just nasty enough to really suck but that the snow wasn't deep enough or in long enough stretches for snowshoes to do their job. Riders had no choice but to suffer through the long snowy climb, post holing, pushing bike and gear. The decent was rideable for those with good handling skills and a well balanced load.
Next, riders moved in toward Elkford where several stopped for a solid meal and some for the night. Those who pushed on were greeted by a serious headwind on gently rolling roads to Sparwood. We encountered several speeding by on Elk Valley Road. The first pack of four included Kurt Refsnider, Ethan Passant and Jefe Branham. They were tucked in and time trialing like a freight train.
Despite their early start Errin Vasquez and Erik Maky of California were overtaken late in the evening.
"It was humbling to see those guys just fly by" said Erik. "We camped back the gravel road to Elkton, it was gorgeous. A bunch of the front runners, one of the Brits and some of the boys stayed behind the 'Elky Welcome' sign… they just fell asleep behind it."
Several pushed on into the darkness to hotels and camping spots safe from wildlife. Next stop USA.