Trek Unveils 'Gary Fisher Collection'
Instead of a standalone Fisher brand, the mountain bike pioneer's bikes will now be distributed exclusively through Trek retailers under the Gary Fisher Collection moniker.
Heading out the door? Read this article on the new Outside+ app available now on iOS devices for members! Download the app.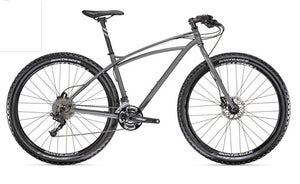 Reports of Gary Fisher's demise — of his bicycle brand, that is – are greatly exaggerated.
"Trek Absorbs Gary Fisher Brand" says one headline about the announcement by Fisher and Trek of the new Gary Fisher Collection. "Trek Drops Gary Fisher Brand" says yet another.
Absorbed, dropped or whatever, Fisher's bikes will live on albeit a little differently than they have under the Trek umbrella for the last 14 years. Instead of a standalone Fisher brand, the bikes will be distributed exclusively through Trek retailers under the Gary Fisher Collection moniker.
Depending on the spin, the move was done because Fisher's market position wasn't large enough to cover costs associated with engineering, marketing and other expenses, according to Bike Europe. Or, according to Trek, the move dramatically expands exposure for Fisher bikes, which will now be available in eight times more retail outlets around the world and seen by ten times more internet viewers.
"This makes sense. I love this strategy," Gary Fisher said in a release. "I've been working with Trek on the Fisher Brand since 1996, but this puts me right in the middle of the best team of bike people. I can now bring my ideas to Trek, number one bike brand in the world. Better bikes and more people on those bikes. I love it."
Trek President John Burke said the company wasn't taking full advantage of Fisher.
"We realized we could bring Gary's ideas to many more people by creating the Gary Fisher Collection," Burke said.
The Gary Fisher Collection will give Trek retailers access to a lineup of 29ers, dual sports, alternative road and pavement bikes.
From Trek's King of the Mountain Blog
Trek 29ers — Thank You Gary!
Wow. What an annoucement, eh? If you haven't heard… Trek just announced its most recent awesome plan to bring Fisher closer to the Trek family, with the inauguration of the Fisher Collection. Check it out on our homepage: trekbikes.com
We are so stoked to announce this for so many reasons. And I could go on and on about how excited I am to finally (!) see a Trek 29er come around, but I really think the best person to explain this all is Gary himself.
Q: Gary, what do you think?
A: Wow. I mean, I am the luckiest guy around. I just inherited the biggest, greatest bike engineering team in the world. Industrial designers, carbon engineers, marketers [thank you, Gary]… It really doesn't get any better than this!
Q: So you're excited, eh?
A: Oh man, am I ever! The Trek Superfly — the best looking mountain bike we've done to date. The Transport, this bike I'm really excited about. I mean, transportation bikes are the future, and to get one of these to market with the power of Trek behind it — this bike is going to move the meter. And the electric meter too since it's available as an electric bike!
Q: And what about that Sawyer?
A: Classic design, incredible execution. Steel is real, and you get on this bad boy out  on the trail, and you'll know exactly what I mean!
Q: And what does this mean for the future of Gary Fisher, the man?
A: Oh crap, this means it's time to get to work! In the past, I always felt like we were doing our own thing on the sidelines, but now I'm front and center! I will work more closely with the team, and that's going to be a delight. Unfortunately, this means my months of vacationing in the Caribbean are over… that is, unless they get some WiFi down there!